Most Overrated Saturday Night Live Cast Members
There have been 100+ cast members throughout 47+ seasons in the show's ongoing run. There are a few stars you may not find to your taste of humor. Let's make this clear this does not mean they are terrible. We are looking at their work as maybe not as well renowned as you may have remembered. Sure some of these great minds were able to transition in such a way, but their work on SNL... I'll let you judge yourself how funny you thought of them.

The Top Ten

1 Seth Meyers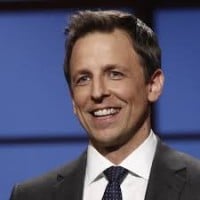 I'm not saying Seth Myers is the worst on the Weekend Update (which he isn't). He isn't one I liked initially seeing a lot of the material he was given on SNL was always a very strict serious supporting role in many of the skits he was in. This feels to be reflected on his late-night show where every bit he does is something to go against the former previous potus. The Jokes weren't all too bad until you realize they don't age like fine wine in a rewatch.
2
Leslie Jones

Like Jimmy Fallon, Leslie Jones breaks character the most in the shows history hands down. Coming onto the scene as an unknown on the Weekend Update segment. She eventually gets into the starting role with the rest of the gang. Her roles are either good, or they are totally misfired breaking character or the impersonation fell flat.
3
Pete Davidson

Pete Davidson is an American actor and comedian. He is a cast member on Saturday Night Live. Davidson has also appeared on the MTV shows Guy Code, Wild 'n Out, and Failosophy.
Pete Davidson when he first came onto the show was very good, but once he dated Ariana Grande and went into this weird phase on SNL. I didn't care for him as much. Especially when he came up with the Chad character was introduced I lost all faith in him. I feel like, he was misutilized at one point, but now they give him things that are forced to be controversial jokes which is now what he runs with. Sure a joke that gets waves is fine once in and while, but when it's overblown. It ain't as funny anymore.
4
Andy Samberg

Andy Samberg is an American actor and comedian. He is a member of the comedy group The Lonely Island, he portrays the childish but charming Detective Jake Peralta on the police sitcom Brooklyn Nine-nine, and was a cast member on Saturday Night Live, where he and his fellow group members have been credited ...read more.
Andy Samberg may have been a big game-changer in terms of the internet comedy wave he created as that went on the rise that it did. Too bad his impersonations are not anywhere close on par. Felt the need to put Samberg on here knowing his work wasn't the sharpest out there in a cast with a lot of talent that could do multiple ranges better overall.
5
Jimmy Fallon

James Thomas "Jimmy" Fallon is an American comedian, television host, actor, singer, writer, and producer.
I find Jimmy Fallon to be incredibly funny when he doesn't break character so often as he did in his prime. Before getting the late-night gig full time. Fallon at times had impersonations that either really fell flat or as said he cracks up at the wrong times whether that made the skit better or not depends on the person's outlook of what they find funny.
6
Julia Louis-Dreyfus

Before we knew her on shows like Seinfeld, and Veep. JLD was not all that good on SNL in the early '80s. She was mainly used as a supporting player for the bigger stars at that time. She was in her young phase where she didn't really get to showcase what she could have been until very late in the decade.
7
Kate McKinnon

Kathryn McKinnon Berthold, commonly known as Kate McKinnon, is an American actress, voice actress, and comedian.
8
Dennis Miller

Dennis Miller is an American stand-up comedian, talk show host, political commentator, sports commentator, actor, television personality, and radio personality.
I mean... he was fine on the weekend update segments at times, but at other times on his own with no help on the other side. The jokes sometimes came off very flat looking back. Sure Dennis Miller had a long reign for a while, well until some current anchors surpass him (urgh). Perhaps this does reflect greatly considering his bust in the Monday Night commentary booth in 2000, 2001. Afterwards, you never hard him for quite a long time since this embarrassment he looks back on. Still, the man had his high's, but looking at his work here I can see why some of the stick fails big time.
9
David Spade

Davis Spade's time felt incredibly short in ways that a lot of his stick was just being a supporting player with little spotlight. When he is given this though, Chirs Farley ends up being the big carrier of the laughs than he is. Spade at times can be very funny, but most of the time he is given roles to the second fiddle for the most part.
10
Chevy Chase

Chevy is the first to host Weekend Update. Does that make him the best? Well in his one season he played a big role only to leave that fast like a speeding bullet. Sure he went on to bigger things. I never really got a lot of his stick myself. Still, they needed a tall guy who was funny at that time, and eventually, they replaced him with Bil Murray who is a .. much better taste of humor in comparison.
The Contenders
11
Adam Sandler

Adam Richard Sandler is an American actor, comedian, screenwriter, and film producer. After becoming a Saturday Night Live cast member, Sandler went on to star in many Hollywood feature films that combined have grossed over $2 billion at the box office.
Depending on how your taste is of the very witty comedy variety. I can understand why many thought of Adam Sandler's reign on SNL not quite as great you may have remembered. Sure Adam did have original memorable skits. Most of which very bizarre/singing talent he had going. Heck, there are some people who don't find Adam Sandler that funny. I'd say once he left SNL. His comedy movies were undeniable (mid-late 90's), to say the least of the greatness we got out of him. Whereas on SNL... a bit rough looking back at times.
12
John Belushi

John Adam Belushi was an American comedian, actor, and singer. Belushi is best known for his "intense energy and raucous attitude" which he displayed as one of the seven original cast members of the NBC sketch comedy show Saturday Night Live.
13
Phil Hartman

Philip Edward "Phil" Hartman was a Canadian-American actor, voice actor, comedian, screenwriter, and graphic artist.
14 Joe Piscopo
15
Jane Curtin

BAdd New Item