Top 10 Most Pathetic and Shameless Ripoffs of Popular Shows/Video Games
The Top Ten
1
Digimon (copied Pokemon)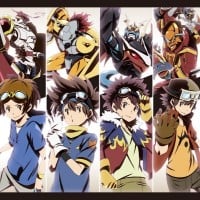 "Digimon" is a term commonly used to describe a variety of Japanese anime series based on the Bandai virtual pet brand "Digimon" (Dejimon). As of 2017, there are 7 series: "Digimon Adventure" (1999), "Digimon 02" (a.k.a. "Digimon Adventure 02") (2000), "Digimon Tamers" (2001), ...read more.
! STOP SAYING THIS A RIPOFF! NOT EVERY MONSTER CATCHING RPG ADVENTURE GAME IS A COPY OF POKEMON. NOT TO MENTION POKMON WASN'T THE FIRST MONSTER COLLECTING RPG GAME, THAT WAS SHIN MEGAMI TENSEI WHICH CAME OUT BEFOR POKEMON! pokemon fans ares getting more dumber and dumber
2
Welcome to the Wayne (copied Gravity Falls)

Don't think this is a ripoff... - PageEmperor
3
Scaredy Squirrel (copied SpongeBob SquarePants

Ha, I remember when I used to read those books. - Luckys
4
Niko and the Sword of Light (copied Avatar: the Last Airbender

And Wakfu - Discord1
5 FortressCraft (copied Minecraft)
6
Log Horizon (copied Sword Art Online)

Log Horizon is a Japanese novel series written by Mamare Touno and illustrated by Kazuhiro Hara, published by Enterbrain in Japan since 2011. Yen Press began publishing the novels in English translation in 2015. ...read more.
7 Filly Funtasia (copied My Little Pony: Friendship is Magic)
8 Miracle Star (copied The Amazing World of Gumball)
9
Brickleberry (copied both Family Guy and South Park)

Brickleberry is an American adult animated television sitcom that aired on Comedy Central from 2012 to 2015. The series was created by Waco O'Guin and Roger Black and executive produced by O'Guin, Black, and comedian Daniel Tosh.
10
Fortnite (copied Team Fortress 2)

The Contenders
11 Hello Neighbor (Copied Granny)
12 Pacific Heat (Copied Archer)
13 Overwatch (Copy of Team Fortress 2)
14 Pet Alien (Copied Fairy Odd Parents)
15
Kaze no Stigma (copied Shakugan No Shana)

Kaze no Stigma is a Japanese light novel series written by Takahiro Yamato and illustrated by Hanamaru Nanto. After the death of the author on July 20, 2009, the story remains incomplete at twelve volumes. A 24-episode anime adaptation directed by Junichi Sakata and animated by Gonzo aired from April–September ...read more.
16 Astro Plan (copied Mobile Suit Gundam)
17 De:vadasy (copied Neon Genesis Evangelion)
18 Robot Taekwon V (Aka. Voltar the Invincible) (copied Mazinger Z)
19 Macross Frontier (copied Mobile Suit Gundam Seed)
20 Macross (Aka. Robotech) (copied Mobile Suit Gundam)
21 Undertale (Copied Earthbound and Cave Story)
22
Beethoven (copied Fred and the Nature Gang and The Simpsons)
RYCE NEWTON! REMEMBER RYCE NEWTON! AND EMILY NEWTON, TOO! THEY ARE RIPOFFS OF EMMA AND ALICE FROM FRED AND THE NATURE GANG!

AND GEORGE NEWTON IS A SIMPSONS REJECT! - RebeccaSpark
23 Rainbow Ruby (copied Strawberry Shortcake and Toy Story)
24 Sonic Shuffle (Copied Mario Party)
BAdd New Item