Top 10 Shows on PBS Kids with the Best Opening Theme
The Top Ten
1
Sesame Street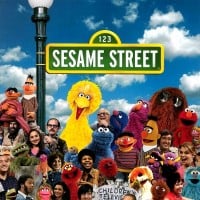 Sesame Street is a long-running American children's television series, produced by Sesame Workshop and created by Joan Ganz Cooney and Lloyd Morrisett.
It's basically lalalala
When it's been around that long... HAS TO BE #1!
No the old one is lalala but it has lyrics
"Sunny days,sweepin the clouds away"
"On my way to where the air is sweet"
"Can you tell me how to get,how to get to Sesame Street"
2
Liberty's Kids
Love the rap part. When you see this you know you are in for a treat.
Best PBS Kids intro ever!
3
Between the Lions

Between the Lions is an American children's television series designed to promote reading. The show was a co-production between WGBH in Boston and Sirius Thinking, Ltd., in New York City, in association with Mississippi Public Broadcasting, in Mississippi.
Like the pun lol
PERFECT. IT JUST GOES SO PERFECTLY WITH THE SHOW!
4
Magic School Bus
Surfin' on the soundwaves, swinging through the stars, take a left at your intestine, take your second right past Mars, ON THE MAGIC SCHOOL BUS!
This is one of my all time favorite theme songs. The lyrics are so awesome, and it does exactly what a theme song is supposed to do, it gets you pumped to watch the actual show! My and my cousin took a 20 minute walk down her street, and the whole time we played this song on full blast!
Heard in the Genesis video game as I turn on my classic game system with the game cartridge inserted.
"please let this be a normal show"

"With the Friz? N O W A Y! "
So perfect. So 90's. So AWESOME!
5
The Cat in the Hat Knows a Lot About That

The Cat in the Hat Knows a Lot About That! is a Canadian/British/American co-produced animated television series that premiered August 7, 2010 on Treehouse TV in Canada, on September 6, 2010 on PBS Kids in the US and also in the UK on CITV and Cartoonito. The award-winning series is based on Random ...read more.
They hit it on the mark with this. It's... The... Cat in the Hat!
6
Arthur
The Arthur theme song isn't exactly original. I think the Arthur theme song is copying the Fat Albert theme song because the Arthur theme song goes like this:
"Everybody say HEY! What a wonderful kind of day"
And the Fat Albert theme song goes like this:
"Hey, Hey, Hey! " And "Na, na, na gonna have a good time! "
Both theme songs are about "Hey" and "Good times and wonderful days"
I like the singer's voice. This goes along well with the series.
7
Reading Rainbow

Reading Rainbow is an American half-hour children's television series that aired on PBS Kids from June 6, 1983, to November 10, 2006, with a total of 155 half-hour episodes spanning over 21 seasons.
A classic that has been engraved in culture.
I Like reading rainbow because I miss it
8
Cyberchase

Cyberchase is an American–Canadian animated television series on PBS Kids. The series focuses around three Earth kids, Jackie, Matt, and Inez, who are brought into Cyberspace, a digital universe, to protect it from the evil Hacker. Cyberchase was created by Thirteen. It was first shown on WNET as ...read more.
I need to know why Cyberchase isn't number 1. This theme song will have you replaying it over and over and over again (Trust me I've done it before. Not only that but this show will bring fond memories to those who grew up with PBS Kids in the 2000's. If you are a parent then highly recommend you watch this show with your child because it is very educational and it helps children with math and they even squeeze in some science topics too!
9
Wild Kratts

Wild Kratts is an American-Canadian educational children's animated series created by Chris and Martin Kratt.
Wild kratts theme song is great because it has the different animals in it
The theme song is awesome and it has a nice tune
Love the show and it's nature wildness
Not good, but at least better than seasame streets song
10
Word Girl
It's honestly very catchy
Look Out! Here She comes!
The Contenders
11
Curious George

Curious George is an American animated television series based on the children's book series of the same name which features Jeff Bennett as the voice of The Man with the Yellow Hat.
12
Ready Jet Go

Ready Jet Go! is a CGI animated television series created by Craig Bartlett which premiered in the United States as part of the PBS Kids block on February 15, 2016 . The series is produced by Wind Dancer Films and Snee Oosh, Inc. in cooperation with NASA's Jet Propulsion Laboratory. The show is aimed ...read more.
The theme song is awesome, it has a 50s rock and roll theme, and besides which theme song is better: the rjg theme or the dora theme? right answer: ready jet go
I like the theme song because I starts out kind of like a old movie then all of a sudden it has a twist to it
13
Dinosaur Train

Dinosaur Train is an American/Canadian/Singaporean children's animated series created by Craig Bartlett, who also created Hey Arnold!. The series features a curious young Tyrannosaurus rex named Buddy who, together with his adopted Pteranodon family, takes the Dinosaur Train to explore his time period, ...read more.
I hate this show but the theme song yeah its kind of good.
14
Mister Rogers' Neighborhood

Mister Rogers' Neighborhood is an American half-hour children's television series that was created and hosted by namesake Fred Rogers.
15
Bill Nye the Science Guy
This theme song is so dang catchy
Science rulesss
16
Odd Squad
How can you not love this show? As soon as you hear "My name is Agent Olive..." you know you are in for something special!
Great show for all! Great music, too! Go Soundcheck!
17
Fetch! with Ruff Ruffman

Fetch! with Ruff Ruffman, sometimes shortened as Fetch!, is an American animated television series that was on PBS Kids.
I LOVE that show. That should've been number 1. If Fetch was still on, It would've been 13 years old. THAT SHOULD'VE BEEN IN THE TOP 5 and TOP 10! DON'T MAKE IT 25! MAKE IT GET TO TOP 10 OR Top 5!
It was a funny game show about animals
Is a game show
18
Nature Cat

Nature Cat is an educational American-Canadian children's animated comedy adventure television series.
But, it tchotchkes about exploring the doors with my 2015-2018
19
Clifford

Clifford the Big Red Dog is an American-British educational animated children's television series, based upon Norman Bridwell's children's book series of the same name. Produced by Scholastic Productions, it originally aired on PBS Kids from September 4, 2000 to February 25, 2003.
Clifford is tomorrow
20
Dragon Tales

Dragon Tales is a Canadian-American animated pre-school fantasy adventure children's television series created by Jim Coane and Ron Rodecker and developed by Coane, Wesley Eure, Jeffrey Scott, Cliff Ruby and Elana Lesser.
21
Jay Jay the Jet Plane
I like how they made a annoying rhythm work. The lyrics and the voices are perfect, and the transitions don't hurt your eyes. (Wild Kratts, take notice! )
22 The Electric Company
23
Thomas the Tank Engine & Friends
They don't really HAVE a song!
Thomas was my favorite show when I was a toddler and yes, they have a song, but no, I wouldn't classify it as a real top 10 material song and besides, the song changed basically every year so it's not exactly symbolic.
24
Noddy
This song is extremely catchy and I love it! "Welcome to our place! We've been waiting. Time for some fun and ce-le-bra-ting! Something is always ready to pop! Here at the Noddy Shop! "
25 The Ruff Ruffman Show
PSearch List