Top 10 People that are Often Thought of as Stupid but Are/Were Actually Quite Smart
Don't be fooled by how these people act or you might be sorry later
The Top Ten
James Rolfe (AVGN)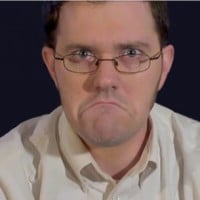 James Duncan Rolfe is an American actor, comedian, filmmaker, film and video game critic, and internet personality, best known for starring in the web television series The Angry Video Game Nerd, a joint production of Rolfe's Cinemassacre Productions, GameTrailers, and ScrewAttack.
Who thinks he's dumb? It's very apparent that he has a lot of knowledge in media history, no matter what medium, from his videos alone.
Who would've thought that the Angry Video Game NERD would be, well, smart
I knew he was smart since the beginning
Is able to solve the Rubik's Cube as a weekly if not daily errand with remarkably little effort, reprogrammed the Nintendo Entertainment System into a "Nin-Toaster" that actually worked for real, made some of THE most cinematically brilliant videos to ever grace the Internet, etc
Ian Carter (iDubbbzTV)

Ian is actually a very intelligent person. A lot of people write him off as an immature edgelord, but you can see how much time and thought he puts into each one of his videos.
What a classic.
Seriously, whatever you do, do NOT let yourself get Content Copped by this guy; to say that he will absolutely ROAST and MUTILATE you would be the understatement of the century (just ask Keemstar and Tana)

Long story short, don't be fooled by his Bad Unboxings
Samuel Jackson

Samuel Leroy Jackson is an American actor and film producer. He achieved prominence and critical acclaim in the early 1990s with films such as Jungle Fever, Patriot Games, Amos & Andrew, True Romance, Jurassic Park and his collaborations with director Quentin Tarantino including Pulp Fiction, Jackie ...read more.
No one thinks he's dumb.
Jules: "Does Marsellus Wallace's physical appearance and/or skin complexion rather admittedly strikingly resemble that of a female canine and/or an egregiously intoxicated Paris Hilton in rather embarrassingly heated automobile pursuit by local law-enforcement authorities? "

Brett: "WHAT?! "
(gunshot)
Jules: "DOES! HE! LOOK! LIKE! A B*TCH?! "
Weird Al Yankovic

Alfred Matthew "Weird Al" Yankovic is an American singer, songwriter, parodist, record producer, satirist, actor, voice actor, music video director, film producer, and author.
He pretty much skipped every remaining grade of the entire American primary/middle/high school system altogether once he finished elementary; he was seriously just THAT sodding smart and talented of a parodist (and in songs like Albuquerque, Hardware Store and Word Crimes, I must say that it does actually show quite a bit)
Alex Horton/Bolton (I Hate Everything)

Pretentious as hell (and honestly, RalphTheMovieMaker is overall smarter than him from what I can gather from their content), but deserves to be here regardless, most due to his utterly horrendous hatebase

For the most part, I've NEVER seen someone give more rational rants on things; honestly, he almost plays it TOO safe, but at the same time also makes me feel roughly three times smarter than I actually am just from HEARING him talk (well, that is, except for when he says things like "remember when music was good back in my day? ")
Vladimir Putin

Vladimir Vladimirovich Putin has been the President of Russia since 7 May 2012, succeeding Dmitry Medvedev. He was also President from 2000-2008.
Masculinity aside; Vova has stayed on top of the political pyramid in Russia for decades through careful planning of policies, and links both inside and outside of Russia. It is preposterous to call him dumb as much as I dislike him myself.
If the backstory behind Team Fortress 2's Heavy class wasn't indication enough for you, just because the Russians like to devote absurd amounts of their free time to stereotypically masculine things like 24/7 workout routines, hulking muscles, nigh-indestructible military super-armor straight out of Halo, terrifyingly large weapons, bear hunting and disgustingly strong alcoholic beverages doesn't mean that they aren't also CONSIDERABLY better educated and tactically organized than most outsiders probably think
In fact, if you even DARE to deny this about good old President Putin, you'd better believe that he will NOT hesitate to quite literally CASTRATE you (if you don't know what that means, don't ask)
Adolf Hitler

Adolf Hitler (April 20, 1889 - April 30, 1945) was a German politician who was the leader of the Nazi Party, Chancellor of Germany from 1933 to 1945, and Führer of Nazi Germany from 1934 to 1945. As dictator of Nazi Germany, he initiated World War II in Europe with the invasion of Poland in September ...read more.
Only an uninformed person would say that the man is dumb. A great orator who excels in populist rhetoric and circumventing the political system, he is hardly an idiot.
Very deeply insane and degenerate indeed, but still a quite simply brilliant tactician and artist nonetheless; as much as historians (most definitely including myself, mind you) may utterly DESPISE this man for what he did to Germany during World War II, the planning behind it was amazingly complex and (at least at the time) left EXTREMELY little room for error; as heartlessly hateful and prejudiced as he may have been, he was also BY FAR one of history's most powerful speakers as well
Way smarter than that filthy yid Einstein
Nobody thinks hitler is stupid, he is a horrible person but he's smart, he's the most evil person to ever live, but he wasnt stupid
Kanye West

Kanye Omari West is an American rapper, songwriter, and fashion designer. He was born on June 8, 1977 in Atlanta, Georgia. After West's parents divorced, him and his single mother moved to Chicago, Illinois. At the age of 10, West temporarily moved to Nanjing, China, because his mother was teaching ...read more.
Kanye West has a lot of knowledge about artistry, lyrical symbolism and music. While he started off with great but fairly conventional/straightforward production methods and lyricism, since 2010 he digs far into abstract art / avantgarde territory. People who can use rhetoric figures, metaphors and intertextuality need a certain intellect.
Always getting attacked for presenting new ideas
Ignoring his INFURIATING egotism (even going as far as to actually call himself Yeezus in the ACTUAL OFFICIAL NAME of one of his albums) and that utterly horrid "Beyonce had one of the best videos of all time" diss he made against Taylor Swift, he really is genuinely one of the best rappers I've ever heard (call him a discount Eminem if you want, but at least Kanye is still good as far as I know)
Joji Miller (Filthy Frank)

Say what you will about the astonishingly brain-dead stupidity of his actual Youtube content and ESPECIALLY his music, but you can NOT deny how hilariously spot-on of a Youtube satirist Papa Franku was (and yes, he actually DID in fact turn out to be a genius in real life; who would've thought, am I right)

Although iDubbbz quite honestly makes him look like a joke by comparison, he will most certainly be dearly missed by his fans, and for better reason than most people realize
Anyone who thinks he is dumb is wrong. He's full of so much information it's filthy
Donald Trump

Donald John Trump (born June 14, 1946) is an American businessman, television personality, politician, and the 45th President of the United States. Born and raised in Queens, New York City, Trump received an economics degree from the Wharton School of the University of Pennsylvania in 1968. In 1971, ...read more.
With a 98.62% corporate success rate, Trump entered the race as a highly experienced Chief Executive Officer. In his first year, even heavily Democrat news agencies have conceded he has been highly success as the Chief of America's Executive Branch of the U.S. Government, particularly with respect to supercharging the U.S. economy, resulting in the lowest unemployment rates in decades.
People are going to ridicule him solely based on the "petty stuff" he's done and said instead of his policies but he is indeed a successful corporate businessman.
No, he's as stupid as everyone think's he is. And the way he's acted as president has only proven how stupid he is.
He's a toddler
The Contenders
Marshall Mathers (Eminem)

Eminem, born Marshall Bruce Mathers III, is an American rapper, actor and music producer born on October 17, 1972 in St. Joseph, Missouri. Eminem has sold over 300 million records making him the bestselling hip-hop artist of all time. In addition to his solo career, he is a member of D12 and (with Royce ...read more.
Donald Trump rant was not good lol
After his recent Revival album (shudders intensely), even I can admit that it's pretty hard to take him seriously, but mostly everything else he did before that (including his freestyle Donald Trump rant that he posted on Youtube prior to Revival's release) was straight-up solid gold with a capital G
Barack Obama

Barack Hussein Obama II served as the 44th president of the United States of America. He was elected in 2008 after serving in the Senate from 2005-08, beating John McCain and becoming the first African-American to be elected President of the United States. He was elected again in 2012, beating Mitt ...read more.
Osama Bin Laden

Osama bin Mohammed bin Awad bin Laden was a Saudi Arabian-born stateless terrorist. He was a founder of al-Qaeda, the organization that claimed responsibility for the September 11 attacks on the United States, along with numerous other mass-casualty attacks against civilian and military targets worldwide. ...read more.
Genghis Khan

Genghis Khan c. 1162 – August 18 1227, born Temüjin, was the founder and Great Khan of the Mongol Empire, which became the largest contiguous empire in history after his death.
James Franco

James Edward Franco is an American actor and filmmaker. His first prominent acting role was the lead character Daniel Desario on the short-lived cult hit television program Freaks and Geeks.
Madonna

Madonna Louise Ciccone, known professionally as Madonna, is an American singer, songwriter, actress, and businesswoman. She influenced a lot of singers such as: Lady Gaga, Jennifer Lopez, Rihanna, Beyonce Knowles and Britney Spears. She is known as Queen of Pop and at modern pop culture specifically ...read more.
Reggie Fils-Aimé

Reginald Fils-Aimé is an American businessman, most recognized as the former president and chief operating officer of Nintendo of America, the North American division of the Japanese video game company Nintendo, from 2006 to 2019. Prior to his promotion to President and COO, Fils-Aimé was Executive ...read more.
He helped with VARIOUS Nintendo games, such as Splatoon, Arms, Kirby Triple Deluxe and Super Mario 3D Land.
Matt Stone

Trey Parker

Randolph Severn "Trey" Parker III is an American animator, director, producer, screenwriter, actor, and composer.
Doug Walker (Nostalgia Critic)

Dimash Kudaibergen

Dinmukhamed Kanatuly Kudaibergenov, commonly known as Dimash Kudaibergen (born May 24th, 1994) is a Kazakh singer, songwriter and multi-instrumentalist. Dimash is best known as a contestant of Chinese talent show "Singer 2017" where he was declared a runner-up. He is also known for possessing a wide ...read more.
I love him! Take that haters.
Can you guys just STOP PUTTING HIM ON EVERY SINGLE LIST?
Kealia Ohai

Kealia Mae Ohai is an American soccer player. She captains the Houston Dash and is a member of the United States women's national soccer team. She scored the single winning goal in the final match of the 2012 FIFA U-20 Women's World Cup; the only goal Germany conceded in the entire tournament.
Rob Gronkowski

Robert Paxton Gronkowski, nicknamed "Gronk," is an American football tight end for the Tampa Bay Buccaneers of the National Football League. After retiring at the end of the 2018 NFL Season, Gronkowski came out of retirement to play with former Patriots teammate Tom Brady for the 2020 NFL season.
Mike Trout

Michael Nelson "Mike" Trout, nicknamed The Millville Meteor, is an American professional baseball center fielder for the Los Angeles Angels of Anaheim of Major League Baseball.
Marilyn Manson

Brian Hugh Warner, better known by his stage name Marilyn Manson, is an American musician, songwriter, actor, painter, multimedia artist, author, and former music journalist.
PSearch List