Top 10 People and Characters Whose Name Begins with the Letter "A"
Since I'm completely low on ideas for lists at the moment this is the best I could come up with for now people and fictional characters whose first name begins with the Letter A

The Top Ten

1 Arnold Schwarzenegger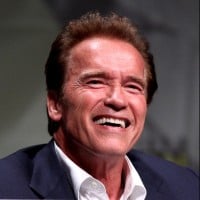 Arnold Alois Schwarzenegger is an Austrian-American actor, filmmaker, businessman, investor, author, philanthropist, activist, former professional bodybuilder and former politician.
Get to the chopper.
2
Abraham Lincoln

Abraham Lincoln was the 16th President of the United States, serving from March 1861 until his assassination in April 1865. Lincoln led the United States in its bloodiest war and its greatest moral, constitutional, and political crisis. Abraham Lincoln was born in Feb. 12, 1809, in Hardin County, Kentucky. ...read more.
One of the best presidents of all time. abolished slavery in the us. amazing president.
3
Al Pacino

Alfredo James "Al" Pacino is an American actor and filmmaker. Pacino has had a career spanning more than five decades, during which time he has received numerous accolades and honors.
oh my gosh I love him.
4
Akuma - Street Fighter

Akuma known as Gouki in Japan is a character of the Street Fighter series and recurring antagonist, first appearing in Super Street Fighter II Turbo as a hidden character and boss who could be summoned after certain conditions were met, an emotionless and powerful warrior fixated on mastering the Satsui ...read more.
5
Agnes Johnson - The Loud House

6
Adam West

William West Anderson, known professionally as Adam West, was an American actor known primarily for his role as Batman in the 1960s ABC series of the same name and its 1966 theatrical feature film.
7
Alice Cooper

Alice Cooper is an American singer, songwriter, musician and occasional actor whose career spans over five decades.
8
Anakin Skywalker - Star Wars

Anakin Skywalker is a fictional character in the Star Wars franchise. He appears in the original trilogy as a main and pivotal antagonist serving the Galactic Empire, while his past as Anakin Skywalker and the story of his corruption are the focus of the prequel trilogy.
the best
9
Adelaide Chang - The Loud House

10
Andre 3000

André Lauren Benjamin, known by his stage name André 3000 is an American rapper from Atlanta, Georgia, and is most known as one half of the hip-hop duo OutKast. Despite never actually releasing an official solo studio album, 3000 has built up a strong following online among hip hop listeners and often ...read more.
My Favorite Rapper
The Contenders
11
Alexander Bell

Alexander Graham Bell was a Scottish-born scientist, inventor, engineer and innovator who is credited with patenting the first practical telephone.
12
AJ Styles

Allen Neal Jones, better known by the ring name AJ Styles, is an American professional wrestler currently signed to WWE.
13
Alexander the Great

Alexander III of Macedon, commonly known as Alexander the Great, was a King of the Ancient Greek kingdom of Macedon and a member of the Argead dynasty.
14
Alexandra Daddario

Alexandra Anna Daddario is an American actress. She is best known for playing Annabeth Chase in the Percy Jackson film series, and Blake Gaines in San Andreas.
15
Alice - The Loud House

16
Albert Collins

Albert Gene Drewery, known as Albert Collins and the Ice Man, was an American blues guitarist who was one of the most influential in the blues business. He was famously known for using a capo and alternate tunings.
17
Ahsoka Tano - Star Wars the Clone Wars

Ahsoka Tano is a character in the Star Wars franchise. Introduced as the Padawan apprentice of Anakin Skywalker, she is a central protagonist of both the 2008 animated film Star Wars: The Clone Wars and the subsequent TV series.
18
Albert Einstein

Albert Einstein was a German-born theoretical physicist who developed the theory of relativity, one of the two pillars of modern physics. His work is also known for its influence on the philosophy of science.
19
Alyson Stoner

Alyson Rae Stoner is an American actress, singer-songwriter, choreographer, voice actress, singer, dancer and model.
20
Anna Katagowa - Burn Up Excess

21
Ash Ketchum - Pokemon

Ash Ketchum, known as Satoshi in Japan, is a fictional main character in the Pokémon franchise owned by Nintendo. Ash is training to be a Pokemon Master, with his buddy Pikachu. Ash tries to stop the evil Team Rocket from stealing his Pikachu.
22
Anthony Padilla

23
Aristede - Dark Shadows - Original Series

24
Albert King

Albert King Nelson, known professionally as Albert King, was an American blues guitarist and singer, and a major influence in the world of blues guitar playing.
25
Adella - The Little Mermaid

PSearch List