Top 10 People Most Likely to Be the Next Prime Minister of Israel After the 2019 Israeli Elections
Who you think will win the elections and will become the next prime minister, who has the most chances?

The Top Ten

1 Benjamin Netanyahu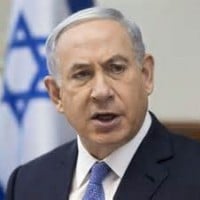 Benjamin "Bibi" Netanyahu is an Israeli politician serving as the 9th and current Prime Minister of Israel since 2009, previously holding the position from 1996 to 1999.
Is known throughout Israel by the nickname "Bibi."
Strong army record, serves in the Israeli Defense Forces in the elite commando unit Sayeret Matkal.
Leader of Likud (right wing party), by age 46 became Israel's youngest ever Prime Minister, huge political career being elected prime minister 4 times and currently serving as Prime minster form 2009 till the next elections will determine the fates.
The one thing that can damage his chances is several un-proved claims of corruption charges and currently under investigation awaiting decision of attorney general if there going to press charges against him.
If he will be elected this time he will become the prime minister that had served the longest in office from the time of Israeli declaration of independence and will surpass Ben Gurion who currently holds the record.
Born 21 October 1949 - AndreySim85
2
Benjamin Gantz

Is known throughout Israel by the name Benjamin "Benny" Gantz is general and was the 20th Chief of General Staff of the Israel Defense Forces.
From a party called "Hosen L'Yisrael" (center-wing), founder of the party and fresh in politics, he currently holds the most promise in hearts of many Israeli's unite the center/left wings parties under his leadership and wining the election, becoming prime minister.
Much of his options are unknown at this stage, as he rarely gives interview to the press.
However hi military career speaks vastly about his character as a leader, he tall and handsome and inspiring hope with his presence.

His lack of political parliamentarian experience may ruin his chances to win the election.
Born 9 June 1959 - AndreySim85
3
Yair Lapid
An Israeli politician and former journalist, Was an author, T.V. presenter. Currently Chairman of the Yesh Atid party (Center-Wing).
Have a well oiled PR machine and loyal team of volunteers that supports him.
Charismatic leader, speaks well in Hebrew and English, know how to hold an interview and to give speeches.
His main shortcoming is that he often contradict himself on different interview occasions he says one thing and when it suits him otherwise he says the opposite thing.
Also he lacks an impressive military record which is important to Israeli voters.
Also he struggling to maintain balance between atheist voters and religious sector, sometimes he pushes too strong for equality which creates a political outrage from the religious parties that he might need their support to become prime minister.
Born 5 November 1963 - AndreySim85
4
Avi Gabay
An Israeli politician and the current leader of the Israeli Labor Party "Ha Avoda" (left-center-wing).
Was CEO of the telecommunications Israeli company Bezeq.
In the army served as combat intelligence officer.
Charismatic leader with strong achievements in private sector., but his winning chances are looking bad, his party almost crushes in the polls, internal fights and conflicts tearing it apart from inside which makes loyal voters of the party lose faith and abandoned the party toward more promising contenders.
Also he had several unsuccessful interview which has outraged his base left winged voters.
many believe that he lacks a proper political parliamentarian experience to be come prime minister.

Born 22 February 1967 - AndreySim85
5
Naftali Bennett
Naftali Bennett is an experienced politician from New Right party (right wing), served several times as minister Between.
He is successful entrepreneur In 1999 he co-founded and co-owned Cyota which later sold in 2005 for $145 million, as well he has also served as CEO of Soluto which sold in 2013 for a reported $100â€"130 million.
In his army service in the IDF he served in Sayeret Matkal and Maglan units as a company commander, today servers in reserves with the rank of major, served in the Israeli security zone in Lebanon during the 1982-2000 South Lebanon conflict.
Strong politician and charismatic leader, but currently he doesn't poses enough political support as he shares his political base with the current prime minister Benjamin Netanyahu which draws Bennett's supporter to vote for him.
Also some part of center wing voters find Bennett's views too radical or too religious.

Born March 25, 1972 - AndreySim85
6
Ayelet Shaked
A politician, activist, and computer engineer. She has served as a member as Minister of Justice since 2015, Although representing a religious party she identifies herself as a secular politician.
She is considered one of Israel's most active and influential legislators.
Currently she is Bennet partner and together with him established the New Right party (right-wing).
Widely viewed as a potential future Prime Minister but not at those elections.
Smart confident and strong leader, that get's things done.
Currently she doesn't poses enough political support as he shares her political base with the current prime minister Benjamin Netanyahu which draws Shaked's supporter to vote for him.

Born 7 May 1976 - AndreySim85
7
Tzipi Livni
A prominent Israeli politician. A member of the Knesset and the leader of the Hatnuah (The Movement) party (center-left wing),
She is a former Foreign Minister of Israel, the former Leader of the Opposition.
In 2011 was named one of "150 Women Who Shake the World" by Newsweek.
She earned a reputation as an honest politician who sticks to her principles.
Currently look like she has no chances to win the election and as of the polls it looks like her party will not even make into the next Knesset, it looks like she must join into some other party in order to save her political career.
Born 8 July 1958 - AndreySim85
8
Avigdor Lieberman
Known as well by the name Evet Liberman.
A Soviet-born Israeli politician who with vast expirience and long record of serving in Kneseet which includes several various ministrial posts.

He is the founder and leader of the secular-nationalist Yisrael Beiteinu party (right-wing-party).
Considered to be strong and fierce politician.
His chances to win are close to none as he currently fights for his party survival after after total crushes in the polls led by many political failures involving his several party members indictment and incarceration for corruption and theft, as well many in the public lost in his ability on delivering after a problematic and not very reassuring serving as Defense Minister in the current Kneseet.

Born 5 July 1958 - AndreySim85
9
Tamar Zandberg
A politician who currently serves as a member of the Knesset and as the chairwoman of Meretz (Left -Wing) was previously a member of Tel Aviv-Yafo City Council.
Very strong female politician, considered to be the new hope for the left-wing parties of Israel as her party is truly the last one the fully represent the left-center wing ideas without leaning to the center.
She has almost no chance to win as her party is not considered to be a main stream among Israeli voters which are leaning toward center-right wing.
Also she very young and lacks the proper political parliamentarian experience.
Born 29 April 1976 - AndreySim85
10
Ayman Odeh
It's interesting that Israel has a person running for Prime Minister that still believes placating the Palestinians will bring about peace when it's obvious that will only lead to harming Israel and maybe even her destruction.
An Israeli Arab lawyer and politician, He is a member of the Knesset and head of the Joint List, a political alliance of three Arab-dominated parties.
Was raised in Haifa identifies himself as a socialist.
Trying to maneuver between appealing the Israeli Arab voter needs and trying to support Palestinians claims against Israeli debated occupation leads him straight into a political storm.
Smart and charismatic.
Upholding relatively moderate and reasonable beliefs and political views to other representatives of his party.
has no practical chance to win the election as he represent the Arabic minority voters with no option to create coalition around him.
Additionally some members of his party opposing the right of Israel for existence and other dispute Israeli borders and the right of governance.
Born 1 January 1975 - AndreySim85