Top 10 People Named Kim
The Top Ten
1
Kim Hyun Joong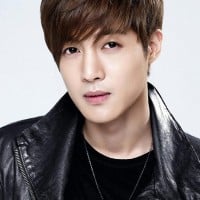 Kim Hyun-Joong is a South Korean entertainer, actor, singer, dancer, and the leader and main rapper of boyband SS501.
Kim Hyun Joong is a good man with a big heart, very respectful, kind, maybe too! He is very talented in a lot of things. Plus he is very very handsome, has 4D humour. All the package is perfect!
Kim Hyun Joong is a great human being, kind, humble,charismatic and authentic
Very Talented and beautiful person inside and out
He is the best and one and only one actor who I LOVE the most and really very very talented and a hard working guys. And especially he is very down to earth and a kind hearten person. In one word he is #UNBREAKABLE
2
Kim Basinger

Kimila Ann Basinger is an American actress, singer and former fashion model. Following a successful modeling career in New York during the 1970s, Basinger moved to Los Angeles where she began her acting career on television in 1976.
I don't give a crap about that K Pop star at the top!
Love her!
She's so cute. - Q-ube
3
Kim Jong-Un

Kim Jong-un is the Chairman of the Workers' Party of Korea and supreme leader of the Democratic People's Republic of Korea, commonly referred to as North Korea.
Yeah, almost the entire North Korean dynasty - Metal_Treasure
I love his sexiness
The only person that comes to my mind when I hear/read the name Kim.
He is one of the biggest reasons of Earth's dawn. - Q-ube
4
Kim Il-sung

Kim Il-sung was the supreme leader of the Democratic People's Republic of Korea, commonly referred to as North Korea, for 46 years, from its establishment in 1948 until his death in 1994. He held the posts of Prime Minister from 1948 to 1972 and President from 1972 to 1994. He was also the leader of ...read more.
5
Kim Jong II

Kim Jong-il was the supreme leader of the Democratic People's Republic of Korea, commonly referred to as North Korea, from 1994 to 2011. By the early 1980s Kim had become the heir apparent for the leadership of the country and assumed important posts in the party and army organs.
He's Kim Jong-Un's father. - NickelodeonYesAddminNo
6
Kim Wilde

Kim Wilde (born Kim Smith) is an English pop singer, author, DJ and television presenter who burst onto the music scene in 1981 with her debut single "Kids in America", which reached number two in the UK. Her version of the Supremes' song "You Keep Me Hangin' On" also went on to be a major UK and US ...read more.
Why are the votes not counting? Do the honourable thing and close the poll or make it work!
The best Kim..bought so much happiness to millions. Thank you Ms Wilde x
The real number one Kim. Forget the rest
7
Kim Carnes

Kim Carnes is a two-time Grammy Award winning American singer-songwriter. Born in Los Angeles, California, Carnes now resides in Nashville, Tennessee, where she continues to write music.
She's got Bette Davis eyes - dingodile2603
8 Kim Soo Hyun
9
Kim Gordon

Kim Althea Gordon is an American musician, songwriter, and visual artist. Born in Rochester, New York, Gordon was raised in Los Angeles, California, and studied art at the Otis Art Institute.
10
Kim Heechul

Kim Hee-chul, better known by the mononym Heechul, is a South Korean singer, songwriter, presenter, and actor.
The Contenders
11 Kim Petras
12 Kim Richards
13 Kim Peek
14 Kim Yuna
15
Kim Kardashian

Kimberly Noel "Kim" Kardashian West is an American reality television personality, actress, socialite, businesswoman and model.
She's a thot and she's plastic. This dimwit got famous for no reason. - NickelodeonYesAddminNo
Tyler joseph just farted on my toe
No not her - ElSherlock
Well, well, well. If an Arianator didn't force Kim K. up this list... >8( - The Ultimate Daredevil
16
Kim Petersen
AKA, King Diamond.
17
Kim Yoo-suk
An athlete who hates it when the people shout his name - waldo
He must have been teased in school!
18 Kim Gravel
19
Kim Jaejoong

Kim Jae-joong, also known mononymously as Jaejoong, is a South Korean singer, songwriter, actor, director and designer. He is best known as a member of the Korean pop group JYJ, and was one of the original members of boy band TVXQ.
Kim Jaejoong is a miracle, the former agency blocked their album sales reached solo the first second albums in their own after the army launched a free publicity signings, monthly sales reached the first list, album sales total is second in Korea, but he is the two album of the sum, is the sum of other people three or four album.
I love all of Kim Jaejoong especially his voice.
I love all of Jaejoong's voice
Kim jaejoong is best singer
20
Kim Taehyung

My bias! V for ever! - lionsforlife
My baby...
I LOVE YOU
Excuse me, he should be number one. My bias shouldn't be all the way down here (I'll fight you if you disagree). - vVKimTaehyungVv
21
Kim Deal

Kimberley Ann "Kim" Deal is an American singer, songwriter and musician, best known as the former bassist and backup vocalist of the alternative rock band The Pixies, and the lead vocalist and rhythm guitarist for The Breeders.
22 Kim Spradlin
23
Kim Baker
Kim Baker is in Cheaper By The Dozen
My Favourite Kim
24
Kim Nam-joon
Leader of BTS and the king of jams.
Why aren't the BTS members higher up? - vVKimTaehyungVv
25
Kim Jong-kook
Kim jong kook is running man member.
PSearch List