Top 10 People Who Do Not Deserve to Have a School Named After Them in Their Honor
Here's the list that shows what would cause controversy if these horrible people who left a negative impact on humanity had gotten schools named after them. People on this list can range from very evil dictators, serial killers, mass murderers, and terrorists to just controversial pop musicians.

This list is similar to my "Most Stupid People/Things to Name a School After" list but I didn't like that one, so I chose to recreate it under a similar title.
The Top Ten
Adolf Hitler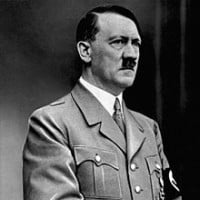 Adolf Hitler (April 20, 1889 - April 30, 1945) was a German politician who was the leader of the Nazi Party, Chancellor of Germany from 1933 to 1945, and Führer of Nazi Germany from 1934 to 1945. As dictator of Nazi Germany, he initiated World War II in Europe with the invasion of Poland in September ...read more.
Joseph Stalin

Joseph Vissarionovich Stalin was a Georgian dictator, and was the leader of the Soviet Union from the mid-1920s until his death in 1953. Holding the post of the General Secretary of the Central Committee of the Communist Party of the Soviet Union, he was effectively the dictator of the state.
Osama Bin Laden

Osama bin Mohammed bin Awad bin Laden was a Saudi Arabian-born stateless terrorist. He was a founder of al-Qaeda, the organization that claimed responsibility for the September 11 attacks on the United States, along with numerous other mass-casualty attacks against civilian and military targets worldwide. ...read more.
Mao Zedong

Mao Zedong, also transliterated as Mao Tse-tung and commonly referred to as Chairman Mao, was a Chinese communist revolutionary and founding father of the People's Republic of China, which he governed as Chairman of the Communist Party of China from its establishment in 1949, until his death in 1976. ...read more.
Who on earth would name their school after an idiot who killed over three times as many people as the second most, Stalin? (Stalin killed 23 million, Mao Zedong killed 78 million.) - Bammer73
Pol Pot

Pol Pot, born Saloth Sar, was a Cambodian revolutionary who led the Khmer Rouge from 1963 until 1997. From 1963 to 1981, he served as the General Secretary of the Communist Party of Kampuchea.
Justin Bieber

Justin Drew Bieber (born March 1, 1994) is a Canadian singer, songwriter, and record producer. He currently resides in Ontario, Canada and is Christian. He is the son of author Pattie Mallette. ...read more.
Justin bieber high school.
Ted Bundy

Theodore Robert Bundy was an American serial killer, kidnapper, rapist, and necrophiliac who assaulted and murdered numerous young women and girls during the 1970s and possibly earlier.
John Wayne Gacy

John Wayne Gacy, Jr., also known as the Killer Clown, was an American serial killer and rapist who sexually assaulted and murdered at least 33 teenage boys and young men between 1972 and 1978 in Cook County, Illinois.
Eric Harris and Dylan Klebold

Lee Harvey Oswald

The Contenders
Marquis de Sade
Even though he was a famous writer. - JoLeKosovo
Josef Mengele

Josef Mengele was a German Schutzstaffel officer and physician in Auschwitz concentration camp during World War II.
Ivan IV

Ivan IV Vasilyevich, commonly known as Ivan the Terrible or Ivan the Fearsome, was the Grand Prince of Moscow from 1533 to 1547, then Tsar of All Rus' until his death in 1584. The last title was used by all his successors.
Gary Glitter

Gary Glitter is a former glam rock singer and songwriter. He sold over 20 million records and regained media attention in 1999 when child pornography were found on his laptop and committed sex offences with children. He was sentenced to 17 years in prison in 2015.
Kim Jong-il

Kim Jong-il was the supreme leader of the Democratic People's Republic of Korea, commonly referred to as North Korea, from 1994 to 2011. By the early 1980s Kim had become the heir apparent for the leadership of the country and assumed important posts in the party and army organs.
Donald Trump

Donald John Trump (born June 14, 1946) is an American businessman, television personality, politician, and the 45th President of the United States. Born and raised in Queens, New York City, Trump received an economics degree from the Wharton School of the University of Pennsylvania in 1968. In 1971, ...read more.
Who would name their school after a racist?
Kodak Black

Bill K. Kapri is an American rapper better known by his stage name Kodak Black. He is noted for his singles "Roll in Peace", "Tunnel Vision", and "No Flockin", as well as his numerous legal issues.
He has been charged with a variety of crimes including rape and assault and he is barely out of school himself. his music is not great from what I have heard either he has made songs about defending his crimes claiming things like that he wouldn't have been punished if he was white and even a brag song when he was released from prison. I don't think he deserves a school named after him. - Powell
Vladimir Lenin

Vladimir Ilyich Ulyanov, better known by the alias Lenin, was a Russian communist revolutionary, politician, and political theorist.
BAdd New Item