Top 10 Best Performances in Office Space
Yeah, hi, it's me again with another list being made. Ugh... if you couldn't tell from the small looking profile picture of Bill Lumbergh than you already know I'm a big fan of the comedy Office Space, and in large part who was in the movie really shows the legacy even in the late 90s. One of Mike Judge's greatest works, here are the best performances in this memorable comedy film because that would be terrific... thanks!

Viewer discretion is advised.
The Top Ten
Gary Cole as Bill Lumbergh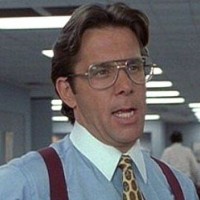 Completely mastered Lumbergh. - iliekpiez
''Hello Peter, whats happening? Ummm, I'm gonna need you to go ahead come in tomorrow. So if you could be here around 9 that would be great, mmmk... oh oh! and I almost forgot ahh, I'm also gonna need you to go ahead and come in on Sunday too, kay. We ahh lost some people this week and ah, we sorta need to play catch up. Thanks! '' Now is it of any surprise Cole's performance was just flawless in this movie as the head boss... yeah exactly ughh... how about those TPS reports M'kay. ''Oh, and remember: next Friday... is Hawaiian shirt day.'' - htoutlaws2012
Ron Livingston as Peter Gibbons

''Eight, Bob. So that means that when I make a mistake, I have eight different people coming by to tell me about it. That's my only real motivation is not to be hassled, that and the fear of losing my job. But you know, Bob, that will only make someone work just hard enough not to get fired.'' Peter is one of the main focuses of the film from him being stressed over his job to a girlfriend intentionally cheats on him, but thanks to hypnosis he has a radical time of not caring about anything for a brief state of days. The irony is everything he said early on in the film is what he would do put into trace. Eventually admitting it worn off after a week once the building collapsed of initech he works with Lawrence on construction. - htoutlaws2012
Jennifer Aniston as Joanna

''How dare you judge me? I mean what are you? You think you're some kind of, like, angel here? No, you're just this penny-stealing... wanna-be criminal... man.'' A chotchkie's waiter who loves Kung Fu, and strangely plays along with Gibbons the next time they met. Eventually Joanna catches on to what he does near the mid end to the film, and thus quits her job as a waitress because of lack of expression, and giving the bird to Mike Judge in his Mr. Vandresen voice nice stuff. - htoutlaws2012
Diedrich Bader as Lawrence

Works pretty hard...a fine engineer by the show finale.
''Peter... watch out for your cornhole, bud. I'll tell you what I'd do two chicks at the same time, man.'' Probably the first notable movie by Bader before becoming a more recognized voice in the 2000's. Talking in a southern accent his sound is much more different than what he would become in Napoleon Dynamite. - htoutlaws2012
David Herman as Michael Bolton

''PC load letter! What the f*** does that mean? '' Indeed what does that mean exactly was it a coincidence? yet again back than a printer was not nearly that fast or they made it a terrible load out printer purposefully. It gets better what he makes a crucial mistake by having the consultants call him Mike turning on the entire pretty much an interview. Next thing you know his the on coordinating the money steal in the very botched numbering thus He, Gibbons, and Samir all concerned for good reason of this bad idea. - htoutlaws2012
Stephen Root as Milton

''Mr. Lumbergh told me to talk to payroll and then payroll told me to talk to Mr. Lumbergh and I still haven't received my paycheck and he took my stapler and he never brought it back and then they moved my desk to storage room B and there was garbage on it...'' If you've I guess read the comics that's where the idea for this film was pitched, but Milton is shown a lot, but his not the real main focus as to Gibbons is for the most part. While his more crazy than of funny dialogue he does play a key roll by destroying the initech building ultimately. - htoutlaws2012
Ajay Naidu as Samir Nagheenanajar

He along with the three other main protagonists just work at initech because that's what they do. Samir is a great character due to his quick outbursts and his hatred for the horrid printer which he destroys along with Peter and Michael. - htoutlaws2012
Richard Riehle as Tom Smykowski

''Well-well look. I already told you, I deal with the god damn customers so the engineers don't have to. I have people skills; I am good at dealing with people. Can't you understand that? What the hell is wrong with you people? '' His not the total focus more of a support character, but one with some great lines of delivery that's for sure. - htoutlaws2012
John C. McGinley as Bob Slydell

''I'll be honest with you, I love his music. I do. I'm a Michael Bolton fan. For my money, I don't know if it gets any better than when he sings When a Man Loves a Woman". His the more funnier of the two consultants his expression are great, and his passion for the singer Michael Bolton is straight up comedy gold. - htoutlaws2012
Greg Pitts as Drew

Show you my Oh face, Oh, oh - westofohio
He doesn't appear in the film until halfway into the thing in which he had this to say... '' I'm thinking I might take that new chick from Logistics. If things go well I might be showing her my O-face. "Oh... Oh... Oh! You know what I'm talking' about. "Oh! " This meant that everybody from initech were invited to Tom's party of I guess being fired from the place tried to kill himself, and other things instead he severely injures himself. Meanwhile his most memorable dialogue ends up being this... ''Luberg f***** her.'' Peter gets that wrong impression in his dream which ends up being both hysterical and what it would lead into. - htoutlaws2012
The Contenders
Galaxy Blue Sapphire Offers best office spaces and Retail shops at Greater Noida West
Galaxy Blue Sapphire Plaza is the commercial development that offers premium office spaces and retail shops.

· Located at Greater Noida West or Noida Extension.
Close proximity to the metro station.
· Proper connectivity to NH-24 and other Delhi-NCR regions.
· Vaastu compliant commercial project.
· Earthquake resistant tower with 22 floors.
Call for more detail: 8010272272 - Galaxyblue
BAdd New Item