Top 10 Performers from Week 1 of the NFL 2021 Regular Season
Well, it's been long enough since we have done these traditional daily weekly lists of the best and worst showings. Let's highlight the greatness that we witnessed to kick off the 102nd NFL season.

The Top Ten

1 Chandler Jones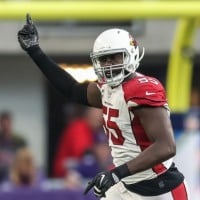 Yeah, this is not even close, the returning Chandler Jones made a statement and just silenced anything the Titans tried to throw at them on the offense for the most part. All in large point to the great Chandler Jones reminding us why he is an amazing pass rusher when he gets to you often its game over. For Ryan Tannehill, he felt it five times as hard on the ground while also eating up Taylor Lewan as he admitted he had a bad day blocking post-game. If this is what Arizona will look like in every week they lay with Jones back. This is a great start for this Cardinals bunch putting on a great impression. 5 sacks in just the first game in the season is unreal. Chandler Jones is on his way to that record with an extra game in place.
2
T.J. Watt

Ladies and gentlemen that is what elite Steel Curtain defense looks like in the 1970s. This is the old Steelers football you gotta respect that style of playing these guys put on. T.J. Watt led this Steelers bunch to be ruthless and relentlessly put all the pressure they could on Josh Allen, and they came up big winning that battle shutting him down well. The big payday he got looks well worth every penny after this big stunner to go 1-0 in a rather difficult gauntlet to venture through.
3
Tyler Lockett

I was not expecting that performance Tyler Lockett was going to do to the Colts in this one. After hearing how he escaped a major injury prior to this game. I thought Seahawks were gonna be limited on Lockett in this game to avoid any more serious aggravating to that extent. He ended up burning the Colts what was a good secondary coming into his game. Seattle not only beat Indy the way they did. Beating a defense's strength against the pass by nearly 2 touchdown differential which Lockett's 2 touchdowns ended up being that huge of an outcome.
4
Rob Gronkowski

In what was the best game of week 1, The first game of the season didn't disappoint. The passing game on both sides went in a back and forth slugfest, and Tampa Bay being the one on a winning edge at the very last second. Very fortunate to have the goat get them in field goal position in a magically scare Dak had generated. All in the while it appeared that The Cowboys all game had trouble trying to stop the old veteran Gronkowski all game as he kept craving them moving down the field and grabbing himself 2 touchdowns. Not bad to start off your season I must say.
5
Xavien Howard

In a tight game to take control and start off at the top of the AFC East 1-0, both the Dolphins and Patriots were motivated to play hard at the start of the whistle seeing the Bills lose earlier. It came down to The Patriots' final drive if they were to get out with the win. Deja Vu once again hit on Belichick as Xavien Howard got the last laugh again. Instead of popping Cam Newton out with a fumble. He managed to pop it out of Damien Harris to scope up and secure the victory. This is why Howard is vital to Miami's success folks. Making huge plays like he has done for them in critical situations.
6
Javon Hargrave

Philly's veteran defensive line manhandled the mediocre Falcons offensive line to pieces after the 1st quarter they never found an answer to counter. All thanks in large part to Javon Hargrave getting into the face of Matt Ryan many plays late to secure a somewhat surprising 1-0 start. Being the lone team on top of the NFC East division after one week is a bit more of a stunner to say the least.
7
Ja'Marr Chase

I told ya this could happen, but you didn't believe me. The Bengals stun the Vikings and slept on them. I was more shocked that Ja'Marr Chase's big catch early on in the game ended up being the biggest difference in this contest. After having huge criticism about his horrid pre-season season showing. Chase made it count as it stuck Vikings fan's hearts in the chest.
8
Brandin Cooks

Tyrod Taylor gets an honorable mention he looked very good shredding that Jags secondary the way he did. This one goes to Brandin Cooks though, still showing he can get the job done no matter what team he plays for. Ironically the two journeyman players connecting strong here proved to be too much for an inexperienced coaching staff of Jacksonville.
9
Jameis Winston

I was expecting him to be the one with the rough game and not the other way around. In a strange turn of events. Winston threw 5 touchdowns and took advantage of every mistake the Packers made in motion. The perfect game managing plan where he didn't have to do too much to get a shocking W.
10
Christian McCaffrey

Although a quiet showing for most of his highlights. CMC looked like he was back in great form as a dynamic dual-threat player the Jets were having a hard time stopping.
BAdd New Item