Top 10 Performers from Week 15 of the NFL 2018 Regular Season
The Top Ten
1
Deandre Hopkins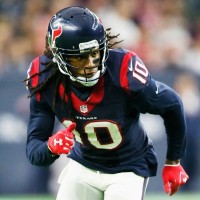 DeAndre Rashaun Hopkins, also known as "Nuk," is an American football wide receiver for the Arizona Cardinals of the National Football League. Hopkins was drafted 27th overall to the Houston Texans in 2013.
One of the best of his position once again shined on Saturday Night outmatching Trumaine Johnson as it led to not only a crucial victory, but might have got the #2 seed for the bye well done Texans. - htoutlaws2012
2
Geno Atkins

Although a meaningless game Atkins wrapped up 3 sacks, and puts forceful pressure on both Carr and Richard. - htoutlaws2012
3
Khalil Mack

Khalil Mack is an American football defensive end and outside linebacker for the Chicago Bears of the National Football League.
Mack attack strikes again, and made sure to have one of the more lethal quarterbacks in Rodgers not have anymore shine as Da Bears are the winners of the NFC North this hasn't happened since 2010. - htoutlaws2012
If it's not already obvious the Khalil Mack deal is paying off for da Bears who are division champs for the first time since 2010 and they reached the NFC championship. Will history repeat itself? - Randomator
4
DeForest Buckner
First rounder from the 2016 draft came up big in pressure on Wilson all game long as the offensive line kept committing key penalties just to stop him. - htoutlaws2012
5
Marlon Mack

Did anybody ever expect that Marlon Mack would out due Ezekiel Elliott I sure didn't see this turnout be as ugly as it seems to be. - htoutlaws2012
6
Jaylen Samuels
Samuels was huge for Pittsburgh and they needed that one big, New England could not stop the run, and they were pressured, and off the field on offense equals a much needed victory to keep their hopes intact. - htoutlaws2012
7
Mike Williams
Sure Rivers had a great bounce back 2nd half, but Mike Williams the IV had a pretty solid game and the Chiefs had trouble stopping him and you could tell even at the end with big two point gamble payed off Anthony Lynn should be in consideration for coach of the year. - htoutlaws2012
8
Dalvin Cook

Cook came to play and the offense came alive when they needed to. Can the Vikings be fortunate, and consistent enough to make it with some teams behind them? - htoutlaws2012
9
Derrick Henry

Henry did it again, having another fantastic great game this late in the game pushing his team for some hope down the stretch. - htoutlaws2012
10
Josh Allen

Think about this he had virtually no running back all four were out towards the end of the game, he still managed to win the game almost virtually all by himself Josh Allen has won me over he is a risk taker, and he is deadly for a 6'5 sized quarterback now he needs support on offense. - htoutlaws2012
BAdd New Item