Top 10 Performers from Week 16 of the NFL 2018 Regular Season
The Top Ten
1
Nick Foles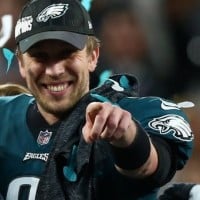 Nicholas Edward Foles is an American football quarterback for the Chicago Bears of the National Football League. He was named MVP of Super Bowl LII.
Had himself quite the immortal day as a Christmas gift to the people of Philly by keeping his team in the playoffs How much magic does this team hope to have left as Foles has transformed this team into a competing team once again.
Apparently St Nick still has some Magic. That was a Christmas miracle for Philly who is still barely alive. How much longer can he go well have to see
2
Kyle Rudolph

Kyle Daniel Rudolph is an American football tight end for the Minnesota Vikings of the National Football League.
Rudolph the purple people eater had himself quiet the nice looking game as he was granted his wish of grabbing up the Hail Mary as once again Lions defense was unprepared. - htoutlaws2012
3
Malcolm Butler

Malcolm Terel Butler is an American football cornerback for the Tennessee Titans of the National Football League.
His had a not very good season really, but Butler cam up big against the mediocre John Johnston picking him off twice as to the anger of the betters, Titans still alive thanks to a great defensive stands.
4
C.J. Anderson

Wow what a fill in for C.J. Anderson to be a great pull in guy for the knee-less Todd Gurley who was a no go. Arizona was totally unprepared for the run, and they payed for it with another embarrassing loss. - htoutlaws2012
5
Sony Michel

Its pretty clear this New England Offense is not the same why is that the running attack is what's carrying this aged old offense oddly enough. Sony Michael just took the goods the rest history now the question is are they good enough to have actually earned that bye? - htoutlaws2012
6
Aaron Rodgers

Aaron Charles Rodgers is an American football quarterback for the Green Bay Packers of the National Football League.
In a meaningless battle Rodgers didn't care what the situation was had himself a great game, and came back to now be shut out on the road if you will bad terminology, but hey what can you do with bad decision from this team this season with a incompetent coach for so long finally caned. - htoutlaws2012
He actually looked like he was having fun playing, which he hasn't done in quite some time. Perhaps with no playoff pressure, he relaxed a bit. - PackFan2005
7
Deion Jones

His been banged up most of the season, and a big key to that defense, and it shows when he got into the face of the quarterback a lot giving him pressure like throws to take the very hurtful win for Atlanta. - htoutlaws2012
8
Patrick Onwuasor
Baltimore's defense in general was great in what they had to do was shut down Philip Rivers all the way through, and that's what happened. Lookout the rest of the AFC start taking notice of the Ravens. - htoutlaws2012
9
Jaylon Smith
In a must clinch situation thanks to a key turnover that made the difference by Jaylon Smith the Cowboys are the NFC East champs, but could they go out immediately is the other question. - htoutlaws2012
10
Telvin Smith

Telvin Smith is an American football linebacker for the Jacksonville Jaguars of the National Football League.
You want a very underrated linebacker right now not named Ryan Kerrigan let's look at Telvin Smith who is also a force to be reckoned with, and Tannehill felt it with his incredible pick for the touchdowns to end the Dolphins road officially thanks to a defense that plays pride, but of arrogance than logic. - htoutlaws2012
BAdd New Item