10 Most Badass Pets to Have
Dogs and cats are great pets to have, but they are lame! (No offense) This list will show the most badass pets to ever have, legal or illegal. They are cool to have, and they have to be non-extinct, so no dinosaurs and megafauna. I hope you enjoy this list, and make sure to follow me if you enjoy the lists I make.

The Top Ten

1 Crocodile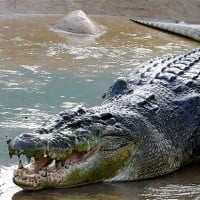 Crocodiles (family Crocodylidae) or true crocodiles are large semiaquatic reptiles that live throughout the tropics in Africa, Asia, the Americas and Australia. The term crocodile is sometimes used even more loosely to include all extant members of the order Crocodilia, which includes the alligators and caimans (family Alligatoridae), the gharial and false gharial (family Gavialidae) among other extinct taxa. ...read more.
Badass and also incredibly dumb to keep as a pet.
2
Tiger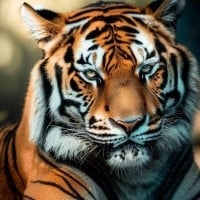 The tiger (Panthera tigris) is the largest living cat species and a member of the genus Panthera. It is most recognisable for its dark vertical stripes on orange fur with a white underside. An apex predator, it primarily preys on ungulates such as deer and wild boar. It is territorial and generally a solitary but social predator, requiring large contiguous areas of habitat, which support its requirements for prey and rearing of its offspring. Tiger cubs stay with their mother for about two years, then become independent and leave their mother's home range to establish their own. ...read more.
3
Eagle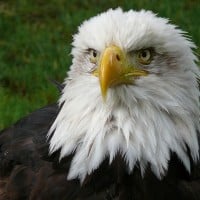 Eagle is the common name for many large birds of prey of the family Accipitridae. Eagles belong to several groups of genera, some of which are closely related. Most of the 60 species of eagle are from Eurasia and Africa. Outside this area, just 14 species can be found - 2 in North America, 9 in Central and South America, and 3 in Australia. Eagles are not a natural group but denote essentially any kind of bird of prey large enough to hunt sizeable (about 50 cm long or more overall) vertebrates. Eagles are also one of America's national symbols.
4
Anaconda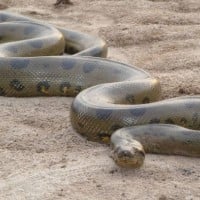 Anacondas are group of large snakes of the genus Eunectes. They are large snakes found in tropical South America.
5
Lion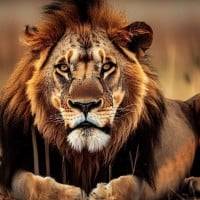 The lion (Panthera leo) is a large cat of the genus Panthera native to Africa and India. It has a muscular, broad-chested body, short, rounded head, round ears, and a hairy tuft at the end of its tail. It is sexually dimorphic; adult male lions are larger than females and have a prominent mane. It is a social species, forming groups called prides. A lion's pride consists of a few adult males, related females, and cubs. Groups of female lions usually hunt together, preying mostly on large ungulates. The lion is an apex and keystone predator; although some lions scavenge when opportunities occur and have been known to hunt humans, the species typically does not actively seek out and prey on humans. ...read more.
6 Scorpion
7
Wolf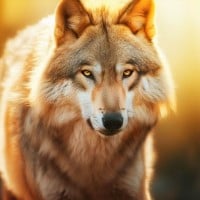 The wolf (Canis lupus), also known as the gray wolf or grey wolf, is a large canine native to Eurasia and North America. More than thirty subspecies of Canis lupus have been recognized, and gray wolves, as popularly understood, comprise wild subspecies. The wolf is the largest extant member of the family Canidae. It is also distinguished from other Canis species by its less pointed ears and muzzle, as well as a shorter torso and a longer tail. The wolf is nonetheless related closely enough to smaller Canis species, such as the coyote and the golden jackal, to produce fertile hybrids with them. The banded fur of a wolf is usually mottled white, brown, gray, and black, although subspecies in the ...read more.
8
Piranha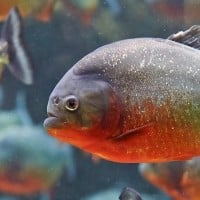 A piranha or piraña, a member of family Characidae in order Characiformes, is a freshwater fish that inhabits South American rivers, floodplains, lakes and reservoirs.
9
Grizzly Bear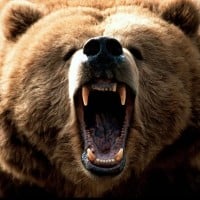 The grizzly bear less commonly called the silvertip bear, is any North American morphological form or subspecies of brown bear.
I think Putin owns one
10
Shark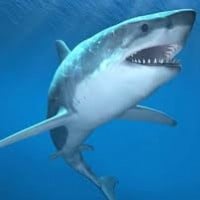 Sharks are a group of elasmobranch fish characterized by a cartilaginous skeleton, five to seven gill slits on the sides of the head, and pectoral fins that are not fused to the head. Modern sharks are classified within the clade Selachimorpha (or Selachii) and are the sister group to the rays. However, the term "shark" has also been (incorrectly) used to refer to extinct members of the subclass Elasmobranchii, which are technically outside the Selachimorpha clade. Notable examples of improper classification include Cladoselache, and various other members of the Chondrichthyes class like the holocephalid eugenedontidans.
Hey, it's Doby from Anchorman 2! A pet shark, how cool.
The Contenders
11
Tarantula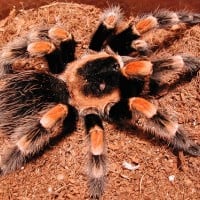 Tarantulas comprise a group of large and often hairy arachnids belonging to the Theraphosidae family of spiders, of which approximately 900 species have been identified.
12
Horse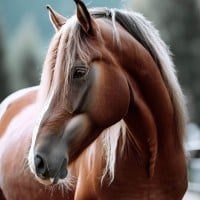 The horse is an odd-toed, hoofed mammal of the taxonomic family Equidae whose sole major subspecies (Equus ferus caballus) is a domesticate, although wild subspecies have survived into the modern period. All subspecies, including the two extant ones, descend from the Pleistocene Equus ferus. The horse has evolved over the past 45 to 55 million years from a small multi-toed creature, Eohippus, into the large, single-toed animal of today. Humans began domesticating horses around 4000 BC, and their domestication is believed to have been widespread by 3000 BC. Horses in the subspecies caballus are domesticated, although some domesticated populations live in the wild as feral horses. These feral ...read more.
13
Beaver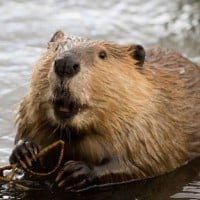 The beaver is a primarily nocturnal, large, semiaquatic rodent. Castor includes two extant species, the North American beaver and Eurasian beaver. Beavers are known for building dams, canals, and lodges.
14
Kangaroo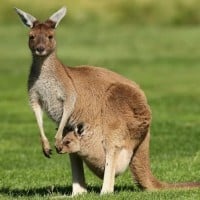 The kangaroo is a marsupial from the family Macropodidae. In common use the term is used to describe the largest species from this family, especially those of the genus Macropus: the red kangaroo, antilopine kangaroo, eastern grey kangaroo, and western grey kangaroo.
15
Ferret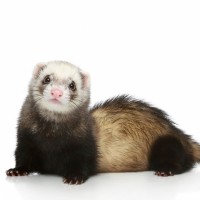 The ferret is the domesticated form of the European polecat, a mammal belonging to the same genus as the weasel, Mustela of the family Mustelidae.
16
Gorilla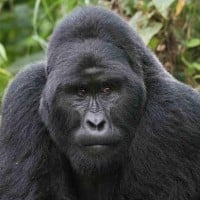 Gorillas are herbivorous, predominantly ground-dwelling great apes that inhabit the tropical forests of equatorial Africa. The genus Gorilla is divided into two species: the eastern gorilla and the western gorilla, and either four or five subspecies. The DNA of gorillas is highly similar to that of humans, from 95 to 99% depending on what is included, and they are the next closest living relatives to humans after chimpanzees and bonobos. ...read more.
17
Snowy Owl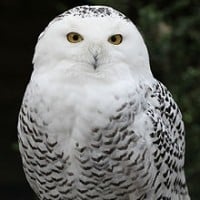 The snowy owl is a large, white owl of the typical owl family. Snowy owls are native to Arctic regions in North America and Eurasia.
18
Black Mamba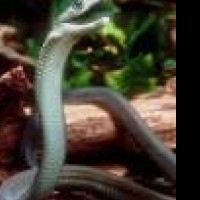 The black mamba is a species of extremely venomous snake, a member of the family Elapidae native to parts of Sub-Saharan Africa.
19
Hawk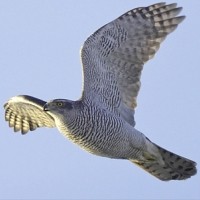 Hawks are a group of medium-sized diurnal birds of prey of the family Accipitridae which are widely distributed and varying greatly in size.
20
Mosquito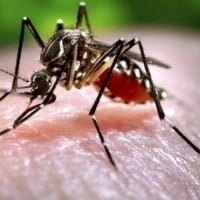 Spanish for "small fly," mosquitoes are insects that have been known to cause various diseases. A sample of diseases caused by mosquitoes: malaria, yellow fever, Chikungunya, West Nile virus, dengue fever, filariasis, Zika virus.
21
Wolverine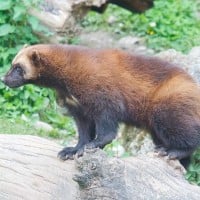 The wolverine, Gulo gulo, also referred to as the glutton, carcajou, skunk bear, or quickhatch, is the largest land-dwelling species of the family Mustelidae.
22
Dingo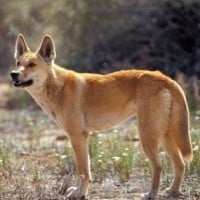 The dingo is a wild dog found in Australia. Its exact ancestry is debated, but dingoes are generally believed to be descended from semi-domesticated dogs from East or South Asia, which returned to a wild lifestyle when introduced by Aborigines into Australia.
23
Bat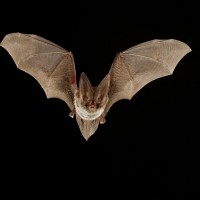 Bats are mammals of the order Chiroptera. With their forelimbs adapted as wings, they are the only mammals capable of true and sustained flight. Bats are more agile in flight than most birds, flying with their very long spread-out digits covered with a thin membrane or patagium. The smallest bat, and arguably the smallest extant mammal, is Kitti's hog-nosed bat, which is 29–34 millimetres in length, 150 mm across the wings and 2–2.6 g in mass. The largest bats are the flying foxes, with the giant golden-crowned flying fox, Acerodon jubatus, reaching a weight of 1.6 kg and having a wingspan of 1.7 m (5 ft 7 in). ...read more.
24
Kookaburra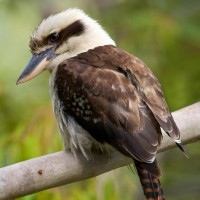 25
Mountain Lion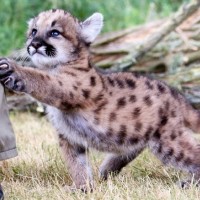 The cougar, also commonly known as the mountain lion, puma, panther, or catamount, is a large felid of the subfamily Felinae native to the Americas.
PSearch List