Play Store's 2017 Top Games
TheStrategyGamer
The 2017 Top Games on Playstore List 1
-Addictive
-Strategy
-Time Killer
Note: The games I chose is opinion based
Check out the games!
The Top Ten
1
Mobile Legends: Bang Bang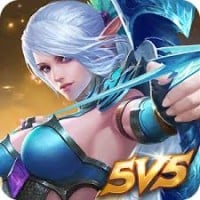 I love the game yeah you are right it is kind of like Dota 2 and League of Legends but unique in its way! - CutieShy
Heck yes! - MLPFan
"A 5v5 classic 3-lane combat made by Moonton from the Philippines and it was released on November 2016"
Review: MLBB for short is a game like Dota because of the 5v5 and 3-lane combat thing but it is very unique. It is very different to Dota and it makes the game interesting because it introduce a new kind of MOBA game on your mobile.
Currently Ranked 1st on Play Store - TheStrategyGamer
2
Clash of Clans
"An epic combat strategy game made by Supercell from Finland and was released on August 2012"
Review: COC for short is a strategy game where you build your base and attack other people's bases to gain trophies and reach higher league. The game had an event called "Clashcon 2016" on October where China was victorious on the Clan War Tournament. The game is a good strategy game where you can make or join a clan and carry it to the top with a help of your friends and clanmates and raise your trophy to go up the leaderboard.
Currently Ranked 3rd on Play Store - TheStrategyGamer
3
Candy Crush Saga
"A fun matching puzzle for all ages made by King from Sweden and was released on April 2012"
Review: Addictive game but I only play it when am bored but my mom always play it well at work she is too busy. Enough about me so the game is a fun candy puzzle game to be specific. The game has hundreds of levels and a lot of mechanics you will find out as you progress to the game. The game is fun even if you complete all the levels there is still more to come on the update.
Currently Ranked 4th on Play Store - TheStrategyGamer
4
Yu-Gi-Oh! Duel Links
"Yu-Gi-Oh from the Manga Series where you summon monsters, spells, and traps made by KONAMI from Japan and here some of the release dates
September 2016 (Closed Beta)
October 2016 (Singapore and Australia)
November 2016 (Japan)
January 2017 (Worldwide)"
Review: The game is now available and I think it is like Yu-Gi-Oh in my phone where I can summon things using cards, buy cards, create your deck, and battle others. The game is very fun if you like strategy based card game and enjoyed the Manga Series Yu-Gi-Ho.
Currently Ranked 38th on Play Store - TheStrategyGamer
5
Plant vs. Zombies Free
"A tower defense game with plants against zombies made by Electronic Arts from California and was released on May 2009"
Review: I been palying the game since 2010 and I really learned a lot about strategy it really helped my mind to figure things out and still have fun. I quit playing on th.e PC and moved on to the mobile version and it was the same but easier because it will be easy to just tap the sun and plants.
Currently Ranked 6th on Play Store - TheStrategyGamer
6
Temple Run 2

"A running, swiping, and tilting game made by Imangi Studios from Nort Carolina and was released on January 2013"
Review: The game is addictive to play and my highscore is 2 million. No one cares about my highscore anyways the game is a fun time killer for people like me who are bored or just want to have fun.
Currently Ranked 8th on Playstore - TheStrategyGamer
7
Subway Surfers

"A running and swiping game made by Kiloo from Denmark and was released on May 2012"
Review: Well the game is like Temple Run 2 but without the tilting, different graphics and gameplay. The game is fun and my highscore is 200 thousand. I think it is also a great time killer and also no one cares about my highscore so I should shut up.
Currently Ranked 10th on Play Store - TheStrategyGamer
8
Silther.io
"A snake game made by Lowtech Studios from the USA and was released on March 25 2016"
Review: The game is like the hit game Agar.io and it is a unique game it brings back the snake game in Nokia! The goal is become the biggest snake by eating other well the killing stuff is different because you will die when you hit the body of other snakes so size does not matter but size matter on trapping others. My highscore is 40 thousand, I played it on my PC and moved on the mobile version
Currently Ranked 14th on Play Store - TheStrategyGamer
9
4 Pics 1 Word

"Puzzle game made by LOTUM GmbH from Germany and was released on February 13 2013"
Review: The game is a good test of vocabularity because it is guessing the meaning of 4 pics in 1 word. The game is good am already level 250 and it is really hard as you progress but anyways fun game, great time killer, and I like the new multiplayer thing!
Currently Ranked 18th on Play Store - TheStrategyGamer
10
Zombie Tsunami
"The zombie running game made by Mobigame S.A.R.L. from France and was released on March 31 2012"
Review: The game is like a running game where you control a zombie, eat people to become more, dodge obstacle, die, and repeat! The game us fun you can customize your zombies, buy power ups, buy maps, and do missions!
Currently Ranked 15th on Play Store - TheStrategyGamer
The Contenders
11
Magic Rush: Heroes
This game won top google play game 2015, bluestacks' n1 in 2016. Elex did a really great job
BAdd New Item
Related Lists

Best Cricket Games on Google Play Store

Top 10 Evanescence Songs that are Likely to Play in a Hot Topic Store

Top 10 Classified Android Apps in Google Play Store

Best Learning Apps on the Google Play Store
List StatsCreated 9 Feb 2017
11 listings
2 years, 278 days old

Top Remixes
1. Mobile Legends: Bang Bang
2. Clash of Clans
3. Candy Crush Saga
TheStrategyGamer
Error Reporting
See a factual error in these listings? Report it
here
.