Top Ten Best Players of the 2019-20 NHL Season
This season has been loaded with big surprises and new feats; from James Neal scoring like a natural again, to Svechnikov's lacrosse-style goals, to Pekka Rinne scoring a goal. But of all the great players, which one do you think is the best in the 2019-2020 NHL season.
The Top Ten
Connor McDavid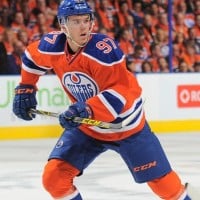 Connor McDavid (born January 13, 1997) is a Canadian professional ice hockey centre and captain for the Edmonton Oilers of the National Hockey League (NHL).
I had to rank him #1. As of me writing this, he's got 71 points in 47 games! His speed combined with his stick handling and hand-eye makes him the best player to ever skate on ice. - TheHabsFan
Connor mcdavid is cool player on the oilers - trains45
number one - Disturbedpotato
David Pastrnak
As of writing this, he's got 35 goals in 46 games, and leading the league in goals. It saddens me to add two Bruins' players to this list, but they truly are massive Cup contenders. :( - TheHabsFan
Nathan MacKinnon

If you don't include McDavid and Draisaitl, he is leading the league in points. Watching him play against the Flames last playoffs made me sick, he was so good. - TheHabsFan
Leon Draisaitl

Basically I had to add him because he's playing on the McDavid line. If he weren't playing with McDavid, he wouldn't be a top 5 league point scorer. But, obviously, still very talented. - TheHabsFan
Leon Draisaitl is a pretty cool character on the oilers - trains45
Darcy Kuemper

I love how goalies can just pop out of nowhere.
With Kuemper in net, the Coyotes quite a better chance to win the Cup. - TheHabsFan
Jordan Binnington

How could I not add him after his Stanley Cup winning rookie season last year! Maybe he'll lead them to another one. - TheHabsFan
Andrei Svechnikov

I mainly added Svech just because his lacrosse-style goal; I personally think it's overrated, but it's insanely cool. Lol - TheHabsFan
Brad Marchand

O my, I really don't like this player. But there's no doubt he's amazingly talented. Go Habs Go! Lol - TheHabsFan
Roman Josi

Current best defenceman in the league, in my opinion. Maybe the Habs will trade Chiarot for him. Rofl - TheHabsFan
Tristan Jerry

Another goalie that came out of nowhere. Maybe he didn't, but I never knew about him until this season. Penguins are staying in the Cup race very well. - TheHabsFan
The Contenders
Artemi Panarin
BAdd New Item