Best Playhouse Disney and Disney Junior Shows
These are my opinion of the best Playhouse Disney and Disney Junior shows
The Top Ten
1
Bear in the Big Blue House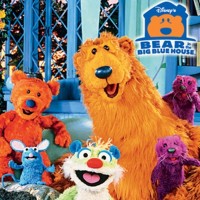 Bear in the Big Blue House was a preschool variety show which was the most famous, popular, and fondly-remembered Playhouse Disney show, produced by the Jim Henson Company. The host, the titular Bear (Noel MacNeal) used his gentle charm and mannerisms to communicate with his audience of children. Topics ...read more.
It lasted from 1997-2007
This is my all time favorite
BEST T.V. SHOW EVER! Especially for special needs people. Wish it was still on to this day as it was USEFUL!
BEST FOR SPECIAL NEEDS PEOPLE? Does nothing to support their needs.
Here is the full cast:
A talking grizzly bear
A grizzly cub
A house mouse that obviously was made by Jim Henson
Two river otters
A ring-tailed lemur that looks more like something from Sesame Street...
...THAT'S IT?!
2
Mickey Mouse Clubhouse

Mickey Mouse Clubhouse is an American computer-animated interactive children's television series which aired from May 5, 2006, to November 6, 2016. The series, Disney Television Animation's first computer animated series, is aimed at preschoolers.
REMOVE THIS SHOW FROM THE LIST, PLEASE!
Why do people hate this show? It was my life. 😭
Well, Mickey Mouse is cool BUT THE SHOW IS NOT - Mrsantaclaw33033
This lasted from 2006-present - CrispyDuck
3
Out of the Box
This lasted from 1998-2004 - CrispyDuck
4
Handy Manny
This was 2006-2013 - CrispyDuck
5
Rolie Polie Olie

Lasted from 1998-2004
6
PB&J Otter
This lasted from 1998-2001 - CrispyDuck
7 Stanley
8
The Book Of Pooh

The Book of Pooh is an American children's television series that aired on Disney Channel. It is the third television series to feature the characters from the Disney franchise.
Take this of this list I hate Winnie the Pooh so much good thing this show got cancelled 😀
The Book Of Winnie The Pooh.
9
Johnny and The Sprites
The blanket episode kind of scared me when I was little - Ihateschool
10
The Koala Brothers
This is a really good show to enjoy
The Contenders
11
Sofia the First

Sofia the First is an American computer-animated television series that features a commoner joining the royal family as a princess.
The only DISNEY JUNIOR show I like! - Lucy1402
2013-present - CrispyDuck
12
Doc McStuffins

Doc McStuffins is an American-Irish animated children's television series produced by Brown Bag Films.
2012-present - CrispyDuck
13
Jake and the Neverland Pirates
I used to love this when I was younger. But now they have Captain Jake instead,
2011-present - CrispyDuck
14
Imagination Movers

Imagination Movers is an American live-action preschool television series that premiered on September 6, 2008 on Disney Channel.
15 Animal Mechanicals
16
PJ Masks

PJ Masks is an animated children's television series produced by Entertainment One, Frog Box, and TeamTO.
I like the PJ Masks because the episodes are so interesting. I don't get why people think it is so... well, not interesting.
Pj masks for me is so funny
17
Little Einsteins

Little Einsteins is an American animated children's television series on Playhouse Disney. The educational preschool series was developed for television by Douglas Wood who created the concept and characters, and a subsequent team headed by Emmy Award-winning director Aidan Abril and JoJo's Circus co-creator ...read more.
Cool show for kids.
18
The Lion Guard

The Lion Guard is an American animated television series developed by Ford Riley based on Disney's 1994 film "The Lion King". The series was first broadcast with a television movie titled "The Lion Guard: Return of the Roar" on Disney Channel on November 22, 2015 and began airing as a TV series on January ...read more.
19 Higglytown Heroes
20
Ooh, Aah & You
Bring this Back! I loved those cute monkeys! - Katildalover93
I used to watch it on Playhouse Disney when I was little.
21
Happy Monster Band
Ah, I actually love Happy Moster Band. Direct from Monsterland! These 4 cute monsters perform concerts that can teach morals for kids. Along with Roc and Raoul, who talk in rhymes. But, get ready for a voice change! Their voices will change and become more adult like. I don't know why this happened, but this was a question that's always in my head when watching this. My favorite monster has to be L.O. He is the cutest. - Katildalover93
22
JoJo's Circus

23
The Octonauts

The Octonauts is a British children's television series, produced by Silvergate Media for the BBC channel CBeebies.
24 Jungle Junction
25
Puppy Dog Pals

PSearch List