Michigan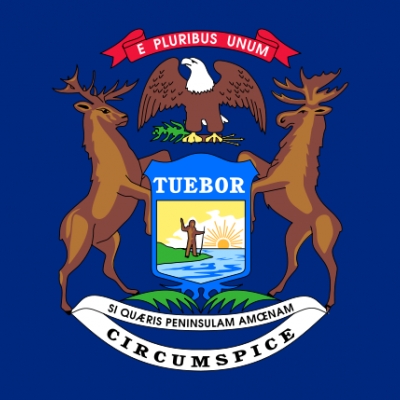 Found on wikimedia.org
Comments
Top
Popular
Newest
Michigan is where I live not only now, but for my whole life and I love it. We don't only have the Great Lakes, but we are the only state that has an upper and lower peninsula, the sleeping bear sand dunes, Mackinaw island, and the Mackinaw bridge in which the Golden Gate Bridge pales in comparison. Also unlike California, Florida, and Texas (the top three) we have all four seasons, which means flowery springs, beautiful autumns, and snowy winters, along with Summer's that aren't too hot but hot. Also Detroit has become less gruesome over the years. It's the best compared to all the other states (No offense)
You may find Michigan as a crime state but really Detroit and Flint are the two worst cities, other than that Michigan is a beautiful place. Grand Rapids is a beautiful city and has tons of fun activities for the summer. Northern lower peninsula Michigan is (My opinion) the best place to live the water is as blue as the sky and we also have the largest dunes the Sleeping Bear Dunes which are very fun to do but also very challenging Michigan is a great State full of fun activities.
Madonna is from here. So are many other famous celebs like Eminem, Selma Blair, and Charlton Heston. It is a hotbed for the black rights movement, with Malcolm X being from here as well. It has the world's largest fresh water coast line. It is famous for being the home of the US automobile industry. It is also famous for the black music scene. In addition, it is said to be the birth place of techno music. It contains two peninsulas (only state to do such), and has famous tourist attractions like Mackinac island and the Mackinac bridge. It also is home to the very prestigious University of Michigan in Ann Arbor, which is often ranked as the number one public university in the world.
I live in Michigan and I'd be the first to tell you that I would love to leave here. However, I think Michigan is one if not the prettiest state in the US. From our hundreds of lakes (if not thousands) to our leaves in the fall, every season has new wonders for you! You can always find something to do here! Honestly if you were to visit Detroit, you just have to know where to go and where not to go and know not to be there alone at night and you'd be perfectly fine. It's a beautiful city! Every city has very very bad areas or very vey nice areas, just like Detroit! No city is alike! Each little town you pass has something different and something to see! It's a beautiful state and I believe it should be ranked higher!
Many people think Michigan is a bad state because of Detroit and Flint but you actually have to experience it yourself. Michigan has many small towns and farmlands. It also has the beautiful Great Lakes, sand dunes, etc. If you go into the UP, it's like going into another state because the scenery and everything is so different and it's truly amazing. Michigan is a beautiful state. If you ever get the chance to come to Michigan, please come! It is a wonderful and fascinating state.
Come here for a good education. Near Detroit and Pontiac there is a school called IA or International Academy and it is one of the top ranked schools throughout the entire nation. Also everybody when they think of Michigan either thinks "Detroit","Crime", or "Lakes" but that really isn't Michigan at all. There are some beautiful places like Painted Rocks and Isle Royale. Also in the UP you can see aurora borealis or northern lights and it is beautiful. There is also Mackinac Island which it is prohibited to use cars so you have to bike everywhere which is really nice because there is NO pollution. Many people immediatly think "Crime" when they think of Michigan but at least we actually have respect for different races, religions, and cultures. Honestly, Michigan has been given a low reputation from the internet and I hope you don't believe all that rubbish from the internet. This place is truly beautiful and I recommend going there.
My opinion is that Michigan is a very good state, it also provide as many cars it is a place where it has a lot of weather sometimes it rain and stop and rain again in a minute and the weather will turn in 30 degree and turn again in about 65 degree, and Michigan also have a lot of beautiful houses the houses are large and good for people to leave in this is some of the reasons why Michigan is a good state
I as a Michigander, believe that this State is a wondrous place with wonderful people, Even the people of Detroit have a sense of pride. I could go on for hours about the greatness of this state. We always have access to a little bit of nature, I'm not talking about a simple park, I'm talking about HUGE areas of nature, even in our largest, most sprawling metropolitan area we have Belle Isle Park, which is larger than Central Park, New York. This is one of the many great things about this state, and I will not hesitate to tell about these things.
Yeah Michigan for the win! I agree with many of the others, there are many reasons why we should be higher on this list.
1: We are next to Canada ( just take a bridge and you're on another country)

2: We have the Great Lakes ( Therefore, a name of one of our regions)

3: We are the only state split in 2 giving us the distinct image of 2 mittens.

4: Great hunting and recreational area.

5: Home to the Tigers, Pistons, and the admirable Red Wings.

6: Many awesome state parks like Petoskey, and Silver Lake.

7: Our awesome fudge and fresh cherries

8: Our natural native trait to explore!

We may not be as famous as California, or New York, but Michigan is a place you MUST come to in your lifetime!
Michigan is a beautiful state. The lakes are very nice and Traverse city is one of (I think) the best place to live. You can do almost everything there. Lot's of small town with lot's of character. Great towns and shops. Many restaurants that serve great food. In the winter the snow is beautiful! Can't get snow in California!
Michigan is an amazing state that I am very proud of! It has Detroit and Grand Rapids for city dwellers and we have a large area of farmtowns. Many Christian churches and friendly people. Michigan truly has it all! Michigan is also a great spot to hunt and fish, a very pleasant and country area! It's filled with good, friendly, strong, people!
Michigan is a state that has some of the best music in the country. We have two top 40 of the best selling artists of all time, Madonna and Eminem. Michigan has great food and the Great Lakes. The Motor City has an amazing casino and The annual auto conventions are amazing at COBO. We have an upper peninsula which has Tequaninum Falls and is very beautiful. You can go camping almost anywhere, and when you're in the state you are never more than 6 miles from a lake and 85 miles from a Great Lake. The Detroit Red Wings hockey team has made the playoffs for the last 24 years. If all of this doesn't sound like an amazing state then I don't know what is.
I live in Michigan and my teacher said that the Great Lakes were visited a lot and other people from other countries went and visited there and they traded got to meet the American Indians and got beaver skins of the "fur trade"our teacher told us that and I believe that cause I'm a kid.
I was born and raised in Michiagan and I've never been more proud to call this state home! Nice people, delicious food, great surroundings. Absolutely beautiful and it's such a shame we are so underrated. Detriot is fantastic place to live, just don't some idiots ruin your experience out here. Yes it can be violent at times but what city doesn't have crime. I always wanted to go up north to the UP and see all the beautiful surroundings up there. It looks awesome from the pictures I seen from my moms younger years, traveling around the state and country. I've lived in Dearborn all my life and it's fantastic here! So many are so proud of our teams and the city that Detroit have become over the years, they fell on hard times but they're getting back on their feet and becoming great again just like they always were. And if you're ever in the Garden City area, go to Wong's Fu Wah, best Chinese place of ALL TIME!
I live in Michigan and have for 12 years it is beautiful for lake Michigan to miles of trees all the beaches lakes animals and the nice cities and more like all the parks, state parks, beaches, and move places to live nice people good restaurants if your looking to move Michigan is the place to be
Michigan has awesome sand dunes and ski resorts like avalanche bay. It is also known for automobiles. Some of the school districts are also very good. I love MI. But it can be a little cold in January.
Michigan is a beautiful State and is actually a great place to live, Except in Flint, but that is just a tiny tiny dot on the map, And believe it or not a lot of people live quite a wealthy lifestyle.
I love Michigan it has great people and is beautiful. I get Detroit has problems, but it can only get better and it will there are many people out there trying to restore Detroit. We can't let it go to waste it's a wonderful state
I just moved here from Canada! I love it here! Where I live is the part of Michigan has the Great Lake right against it. We are on the edge of it! Sure, I live 2 hours away from a dangerous struggling city ( not Ditroit) but I still love where I go with travelling to my bros baseball seeing all the places! Everything is beautiful and I love it!
Michigan is beautiful, and has an immense sense of pride. You may automatically think "Detroit" but there is much more. Just go to the U.P, and you'll see what I mean. You would have to live here to really see why it is the best place on earth! I couldn't imagine living anywhere else, I love Michigan with all my heart.
There's more here than just Detroit and Flint! Some cities like Cadillac (my hometown) are amazing! There's a lot to do here! We have a Great Wolf Lodge, the Great Lakes, Michigan's Adventure amusement park, and so much more. Not to mention the awesomeness that is Mackinac Island :P I've been there and it's so cool! Our state has really good food (especially Mac. Island fudge, yum). I highly suggest coming to MI!
Michigan rocks! I have lived here all my life and I love it. You can't beat our summers. All of our lakes are phenomenal! We have it all. Four seasons of fun! What's not to love?!
Michigan is amazing, It should be 4 or 3 not 11. We are surrounded by the biggest lakes in the world, awesome beaches, and detroit! Being robbed is kinda awesome, JK, but he have an amazing Howe peninsula, traverse city, hundreds of miles of shorelines, it's just beautiful.
It shouldn't be all the way down here at 18
Michigan cannot be below Ohio. This is unacceptable.
Related Lists

Best Bands/Artists from Michigan

Top 10 Pro Wrestlers Born in Michigan

Top Ten Rock and Metal Bands from Michigan

Top Ten All Time Michigan Wolverine Wide Receivers