North Carolina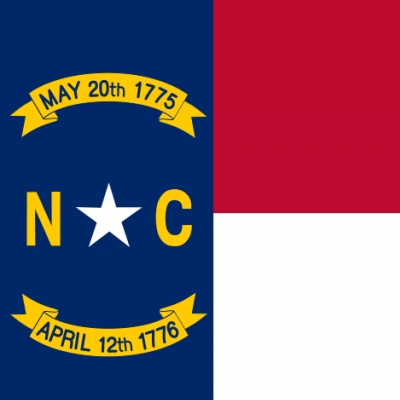 Found on wikimedia.org
Info
North Carolina is a state in the southeastern region of the United States. The state borders South Carolina and Georgia to the south, Tennessee to the west, Virginia to the north, and the Atlantic Ocean to the east.
Comments
Top
Popular
Newest
North Carolina holds something very special in my heart. The people the seasons, The mountains to the coast the big cities and the country. North Carolina is very special and different breed of people live there. So much compassion and caring people. I moved to Florida 3 months ago from the heart of North Carolina and I have regretted it so much. North Carolina is one of americas most underrated states. So much beauty and sweet people. Everything is so cheap. Building and buying homes, renting, jobs so much love for my home state miss it so much.
I live here and I LOVE it! It has everything like beaches and mountains! And the first flight was here! We have the BIGGEST sports rivals probably ever! Duke vs. Carolina!
Since I was born here no matter where I was born even if I was born in Egypt (which obviously I wasn't) you can always say the people are very...um... surprising some are kind and aggressive in the best way some are just plain aggressive and we love to live by the saying " your you be you you start being judged when when you worry about being judged" but I love it here and it your southern and I mean pure fried chicken and sweet tea fan you'll love it down here
I was born and raised in Raleigh, and I've really developed a tremendous appreciation for how great of a state NC actually is! We just seem to have the perfect amount of variation here. Whether it be some of America's nicest beaches or most breathtaking mountains, or even the blend of really beautiful cities and pretty little country towns. Also, NC is a great place for those who are into sports. Basketball is obviously huge in the Hoops State, as well as football. USA Baseball is based here in the Triangle, and we are the fastest growing state for Ice Hockey. The fishing is great by the coast, especially in the Outer Banks, and in the Winter there is plenty of skiing to be done in the mountains. We have major professional teams in 3/4 of the major sports, and some of the best minor league baseball in the country. NC is also home to some really great Universities (Duke, UNC, NC State, Wake Forest, Davidson), making it one of the best states for collegiate education. Research Triangle ...more - MHirsh21
I've lived in NYC, in Dallas Texas and now in Raleigh North Carolina. North Carolina is the perfect compromise! Good weather without being in tornado alley, and beautiful east coast state without being so cold in the winter but with warm weather and gorgeous nature.
North carolina is great, Education is great, (except teachers are treated like trash by the government), we have beaches, mountains, cities and beautiful scenery, a place where you can have fun, and also have a family
I just came back from North Carolina on Vacation. I was in Kill Devil Hills in the Outer Banks and I love it. There were lots of restaurants, activities, beaches, and fun shops. It wasn't just a beach it had everything. They had arcades, mini
Golf, beaches, piers, and so much more. We had a great time! I do complain though that the beaches had too much seaweed
I live in North Carolina and we have mountains beach and city. Everything about it is great. The schools and food are also better. You can thank us for having the perfect place to build a airplane!
Best state in my opinion! I was born and raised here! We have everything from mountains to beaches, we invented Krispe Kreme donuts, everything from Pepsi co. Airplanes! First to rebel against Britain! We even have Duke Medicine, and college, the biggest sports rival team ever between Duke and NorthCarolina! We make Christmas trees!
I love North Carolina! Might sound biased because I live her. But it's truly beautiful with city, country, beach, mountains and excitement. It has a little bit of everything for every body!
I grew up in North Carolina. I have traveled the world and there is nothing like it. From the mountains of Appalachia to the beautiful coastal waters, it's amazing how much beauty can be packed into one state! If you've never been to NC, move it to the top of your travel list! I guarantee you won't be disappointed!
Only State I've been to. I'm from England and I went there on holiday once and so I rate it highly as it was a good holiday. Nice weather, wildlife, and great beaches down in wilmington.
It is an amazing state and extremely interesting I would love to visit there one day. It won their first revolutionary war and is known for their famous crop tobacco!
North Carolina is the best state ever I have lived in North Carolina for my whole life and I love it so far everyone here is so nice and awesome.
I was born here and I wish I could go back, the communities and nature and wildlife are everything compared to california. This is in my opinion the best state
I love NC. I think it should be number one on this list! Plus it is under- rated as a state! It is way more beautiful than it is let on to be.
North Carolina has all the things one person could ask for, shopping, outdoor activities, museums, great gas prices! I wouldn't want to live any where else!
We are almost at our 10 millionths population, I think we might hit it next year! Sorry Michigan we passed u
North Carolina is the place to be. In Wilmington there is so much to do with its historical downtown, museums, aquariums, beaches and etc. I just love it!
I live in North Raleigh, NC. It's safe, happy, beautiful, upscale, not redneck, JUST AMAZING. Residents here consist of mostly families. I live in a beautiful, master-planned, huge, neighborhood called Bedford and would never want to live anywhere else.
I live here and I absolutely love it. I can't imagine living anywhere else. It's way underrated.
Without this state I would be doomed. I used to find a state that I like but, this state North Carolina is perfect.
There is so much diversity in N.C. you have the beaches, the piedmont, and the mountains.
I love it here is cheap to live great weather great people amazing food I can't get enough of North Carolina.
This state is the best! Four seasons all year round! If you are a basketball fan, you will love living and/or visiting North Carolina!
Related Lists

Top Ten Best Sports Teams in North Carolina
Best Music Artists From North Carolina

Greatest Pro Wrestlers Born in North Carolina
Best Actors From North Carolina