Top Ten Portrayals of Historical Figures in Historical Movies
Some movies are just great at portraying historical characters. These can old movies (mostly older movies) or newer ones. These items are listed in their respective spots because have multiple reasons.

I would ask you to consider these reasons when voting:
1. Historical Accuracy - Are they accurate and actually represent their person?
2. Resemblance - Does the actor actually look like the Historical Character they are playing?
3. Overall Acting - Do they play the character well?

If you are submitting an item I request you list in the format Actor-Person-Movie. Without further ado let's get into it.
The Top Ten
1
Peter O'Toole - T.E. Lawrence - Lawrence of Arabia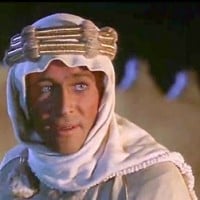 T.E. Lawrence aka The Lawrence of Arabia has to be one of the most fascinating people of all-time. I think Peter O'Toole plays him to near perfection. If you look up pictures of the two or if you know anything about Lawrence you will see an amazing resemblance for the two. And to top it all off, Peter O'Toole's performance is known as one of the best ever. - 2storm
2 Rami Malek - Freddie Mercury - Bohemian Rhapsody
3
Gary Oldman - Winston Churchill - Darkest Hour

He was good but I thought the actor who played Winston Churchill in "The Crown" series was better. He was brilliant!
Gary Oldman did a great job with Winston Churchill. He gets his accent down pretty well and he just had an all around great acting performance. - 2storm
4
Mel Gibson - William Wallace - Braveheart

While Braveheart is not an accurate movie I still think Mel Gibson perfected his role as William Wallace. One of his best performances if not his best performance ever. - 2storm
5
Robert De Niro - Al Capone - The Untouchables
Al Capone is one of the most unique figures in history and he is very hard to play, but Robert De Niro actually does great. He actually studied Al Capone before playing him and actually gained 30 Pounds before starting filming. - 2storm
6
Rod Steiger - Napoleon Bonaparte - Waterloo
One of the most underrated movies in my book. Waterloo is a masterpiece and Rod Steiger is the perfect actor to play Napoleon. - 2storm
7 Taron Egerton - Elton John - Rocketman
8
Liam Neeson - Oskar Schindler - Schindler's List
Liam Neeson plays Schindler great. One of his best film roles ever, if not his best ever. - 2storm
9
Gerard Butler - Leonidas I - 300
One of the most legendary Movie performances ever, but unfortunately 300 is not the most accurate movie, so Gerard Butler was forced down the list. But to be honest the character by itself is very accurate. Butler even says some the same lines Leonidas says based on records. - 2storm
This character was taken from a silly comic book written by some guy who was inspired by an equally childish movie. Nothing accurate about the portrayal.

Butler's overacting is fun though. - Tia-Harribel
10 Hugh Jackman - P.T. Barnum - The Greatest Showman
The Contenders
11
Tom Cruise - Ron Kovic - Born on the Fourth of July
Tom Cruise was nominated for an Oscar and won a Golden Globe for playing Ron Kovic. Ron Kovic himself was so moved by this performance that he gave his bronze star to Cruise. - Tia-Harribel
12 Tom Hanks - Walt Disney - Saving Mr. Banks
13
Joaquin Phoenix - Commodus - Gladiator
Phoenix has a perfect depiction of the Emperor and antagonist Commodus. You really see the madness in him at first, but then by the end when you start thinking about it you feel sorry for him. - 2storm
14 Viggo Mortensen - Frank "Tony Lip" Vallelonga - Green Book
15 Jamie Foxx - Ray Charles - Ray
16
Philip Seymour Hoffman - Truman Capote - Capote
Philip Seymour Hoffman won an Oscar for playing Capote. He captured Truman's mannerisms and speaking perfectly. Spot-on. - Tia-Harribel
17
Daniel Day-Lewis - Abraham Lincoln - Lincoln
One of the most accurate depictions of Abraham Lincoln to date. Daniel Day-Lewis did a great job. - 2storm
18
Forest Whitaker - Idi Amin - The Last King of Scotland

19 Don Shirley - Mahershala Ali - Green Book
20
Rachel Weisz - Hypatia - Agora
Yeah I was going to add her. - 2storm
21
Michael Caine - Gonville Bromhead - Zulu
Another very underrated movie. It is notably Michael Caine's first major role in a movie. - 2storm
22 Sissy Spacek - Loretta Lynn - Coal Miner's Daughter
23 Kate Winslet - Joanna Hoffman - Steve Jobs
24
Bruno Ganz - Adolf Hitler - Downfall
Bruno Ganz' portrayal of Adolf Hitler would go on to become internet legend, with all the memes that have spawned from it since. And it's not hard to see why, he delivered such a memorable performance. - SuperSonic17
25 Robert de Niro - Jake Lamotta - Raging Bull
BAdd New Item