Top 10 Portrayals of Javert in Les Miserables (West End / Broadway)
The Top Ten
Phillip Quast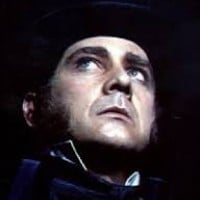 I did not saw Philip Quast in real time, but he IS Javert. Bradley Jaden and Jeremy Secomd I did saw! They where amazing good!
The DEFINATIVE Javert. He delivered the best rendition of Stars in the history of the show. The determination, the obsessiveness, the power and the seriousness really show in this legendary performance that was made popular thanks to the 10th anniversary at the Royal Albert Hall in 1995. Perfection. - BenCallinicos
Brillant, outstanding
Roger Allam

The original that isn't really talked about. A really talented actor who gets overlooked. He had a rich baritone voice and a really scary looking face that really milks the role and should always be remembered. - BenCallinicos
Earl Carpenter

This man's powerful rich baritone really makes this performance soar with such passion, aggression and power that makes his suicide scene even more gut-wrenching, that cast in general is amazing but Earl is so terrifying and so memorable that I couldn't resist putting him on this list - BenCallinicos
Hadley Fraser

Many people love Hadley in general but his Javert was very popular as well as Ramin's Valjean. These two are basically the bromance that makes this combo generate such a fan-following. - BenCallinicos
Norm Lewis

While he's not the best as Javert for me, I much prefer him as the Phantom, he has made history as the first African/American to play both of these parts which is really ground-breaking. His baritone voice can be out of control at times but still his performance is always wonderful. - BenCallinicos
Wonderful voice, great portrayal of character
Absolutely blew me away, an incredible portrayal of Javert!
Jeremy Secomb

I saw this man play Javert back in 2015 and he was wonderful. I found out later that he was the understudy for Phillip Quast back in Australia. No wonder he was so good! Learning from the legendary portrayal that many people look up to! - BenCallinicos
David Thaxton

Great gust great took the part of fantastic
His voice really took a lot of getting used to but still his Javert was very compelling. - BenCallinicos
Killian Donnally

Even though he just understudied for the part back in 2010, many people were really impressed with his take on the role. His rendition of "Stars" blew everyone away! - BenCallinicos
Bradley Jaden

Not seen the guy play Javert but I saw him play Enjolrus back in 2015 and he was excellent. I have heard that he's really good as Javert as well. Even though he's still very young. - BenCallinicos
Russell Crowe

Russell Ira Crowe is an actor, film producer and musician. Although a New Zealand citizen, he has lived most of his life in Australia and identifies himself as an Australian.
His voice in the 2012 movie production stunned me. While his voice took some getting used to, it was beautiful! His rendition of "Stars" should NOT be overlooked.
Perhaps not the best singer, but his acting skills as Javert are unrivaled. He looks like the Javert I imagined when I read the Hugo novel. - philohalloranbooks
I found his voice spell binding, the best singer in the film.
Am... Am I the only one who actually thinks he did a good job?
The Contenders
Tam Mutu

Not a favourite of mine but he did pull off an excellent performance and he is very good actor. - BenCallinicos
Michael Ball
Terrence Mann

The original Broadway Javert!
Will Swenson
Chuck Wagner
BAdd New Item