Most Powerful Eeveelutions
The Top Ten
Espeon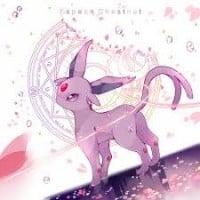 Espeon, known in Japan as Eifie, is a Pokémon species in Nintendo and Game Freak's Pokémon franchise.
Poor Espeon, why do you get so much hate.
I mean really, Raichu, and you other espeon haters, do you even play the games or watch the anime? You are bullying people because they like Espeon.

Other than that, Espeon is better than Sylveon, turns out, it is underrated and awesome.

ESPEON LOVERS REUNITE!
LOL I BEAT ESPEON WITH A SYLVEON AND ONCE MY UMBREON! SYLVEON WAS 1 LEVEL LOWER! SYLVEON SHOULD BE HIGHER THAN THIS CRAP
I love Espeon! Sylveon (in my opinion) is a horrible overatedpokemon who doesn't deserve any love!
Espeon is beautiful I loved her from the first met her I fell in love with sylveon and espeon from the start
Umbreon

Umbreon, known in Japan as Blacky, is a Pokémon species in Nintendo and Game Freak's Pokémon franchise.
Umbreon sucks. I know he mainly focuses on defense, but his attack stat was horrible. Plus, his moves were thirty times more horrible, making him the worst offensive Eeveelution of all. Also, high defenses doesn't mean he's good.
Umbreon can defeat arceus with the correct move set and with the defense
The best. It has phenomenal defense and special defense stats. - Userguy44
Umbreon's cool and it has many attacks that are useful
Sylveon

Sylveon, known in Japan as Nymphia, is a Pokémon species in Nintendo and Game Freak's Pokémon franchise.
I LOVE THIS POKEMON. It is, mathematically, the most powerful eeveelution. Espeon is pretty good, but only liked because of shipping. Umbreon is liked for being edgy, also known as a chick-magnet. Sylveon has the best stats, and even if it's 'overrated' it'll still be able to take down your umbreon and espeon. And stop shipping Pokemon! That's kinda creepy.
Is very very cute and shes eevees mother and eevee is the cutest pokemon
Shut up sylveon haters. Espeon is hella overrated. Wanna know why? It's because espeon gets a top 3 in ALMOST ANYTHING related to these eeveelution things. HOW CAN SYLVEON BE OVERRATED IF SO MANY PEOPLE HATE HER? I bet that those sylveon haters only hate her because they want to look cool. Therefore, Sylveon is almost becoming underrated AND espeon is really overrated.
That person has got a point how can she be overrated everyone hates her. I personally think their jealous and trying to look cool I think she´s the best.
Vaporeon

Vaporeon, known in Japan as Showers, is a Pokémon species in Nintendo and Game Freak's Pokémon franchise.
I swear people are doing design other than bulkiness anyways this guy is way too strong his ability is amazing definitely a way to annoy people..so I recommend it..definitely worth getting!
All eeveelutions are cute and I love them, and I don't care if u don't agree..
VAPOREON FOR THE WIN!
She is so cute and powerful, and she can even breathe underwater. Get your vaporeon today
VAPOREON FOR ever! I love this eeveelution because its blue, my favourite type and is beefy. I like jolteon nonetheless because of its lack of weaknesses but no offense, vaporeon is better
Jolteon

Jolteon, known in Japan as Thunders, is a Pokémon species in Nintendo and Game Freak's Pokémon franchise.
he's the most powerful because he is the coolest looking eevee of his siblings.
Honestly, people simply like Umbreon for it's edgy design. Umbreon and Sylveon both basically have the same stats (Both are tanks) I barely used an Espeon without Magic Bounce, and Sylveon needs Pixilate.
It should go:
Jolteon
Glaceon
Espeon (With Magic Bounce)
Sylveon (With Pixilate)
Umbreon
Espeon and Sylveon (Without Hidden Ability)
Leafeon
Flareon
Honestly I do not like Jolteon very much, but when you put it in battle, it is epic, besides it only has one weakness, ground
Umbreon sucks in battle jolteon on the other hand is amazing
Leafeon

Leafeon, known in Japan as Leafia, is a Pokémon species in Nintendo and Game Freak's Pokémon franchise.
I honestly feel like them razor-sharp leaves could be VERY useful for battle
Leafeon was so underrated. People couldn't shut up about how underrated Flareon was and didn't even glance at Leafeon. I drew an Eeveelution battle comic, studying everybody's stats, and didn't at all realize just how OP Leafeon was. A physical attacker with OP moves, two amazing abilities when used in Sunny Day, had a high Speed stat, and 3/4 of Leafeon's moves had a high critical hit ratio. That's why when I drew Leafeon using Leaf Blade against Umbreon, it always lands a critical hit. I think Leafeon was the best attacker of all Eeveelutions, plus he even had a high defense stat! That was OP
The underrating is extreme - Stalchi
It has high Defense and its lead blade is really good too
Flareon

Flareon, known in Japan as Booster, is a Pokémon species in Nintendo and Game Freak's Pokémon franchise.
Flareon is extremely powerful she could kick a sylveon's butt with iron tail
He has the highest attack stat, he should be at the top if this is the most powerful eeveelutions
Eevee and all the eeveelutions are strong, for sure, but my girl/boi flareon is like, WOW. Flareon's attack stats are at 130! Anyway, sorry flareon, but my favorite eeveelution is no one. Because my favorite pokemon is eevee.
Flareon is underestimated and can beat starter and gyarados
Glaceon

Glaceon, known in Japan as Glacia, is a Pokémon species in Nintendo and Game Freak's Pokémon franchise.
Glaceon is the light of my life. Ice types are my favorite and I just can't help but love glaceon's design, it's so... well... BEAUTIFUL! I LOVE GLACEON SO MUCH!
Glaceon is the best on my list because it has awesome moves.
I have a great deal of the day
I love her she's so cool