Top 10 Pro Wrestlers Who Drew Number 14 in the Royal Rumble Match
It is considered a urban legend, but lately it might just be. It seems like the pro wrestlers in WWE the ones that drew number 14 there is some sort of curse that happens to them the rest of that year. Each and every year, wrestling fans look forward to the Royal Rumble for several different reasons. Many refer to it as the most exciting wrestling match of the year, in any promotion on the planet. Even in years when the winner appears "obvious", everyone excitedly tunes in to see how everything plays out. However, there is a darker, more sinister reason that some people look forward to the Royal Rumble. Through the years, it has developed into a curse of the number 14. For those of you who are blissfully unaware, the #14 curse in the Rumble has to do with the numerous men who have entered the match in the 14th slot, only to suffer through personal and professional problems in the aftermath. In many cases, those problems would take place almost immediately, happening mere months after the Rumble. There are even a small handful of them who have lost their lives at an early age after entering the Rumble at #14. The level of those issues varies from person to person, but after all these years, there are only a very small number of #14 entrants who can say they've successfully avoided the curse. Here are the greatest examples or I should say of unfortunates who had drew the cursed number.
The Top Ten
1
Umaga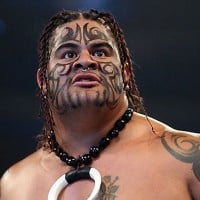 Edward Smith "Umaga" Fatu was an American Samoan professional wrestler. He was best known for his appearances with the World Wrestling Federation/World Wrestling Entertainment in the 2000s under the ring names Umaga and Jamal.
Probably the saddest story of them all, Umaga also a member of 3 Minute Warning (Jamal) looked like he was going to be one of the biggest names to grace the Ruthless Aggression era. He defeated big names like Ric Flair, HBK, HHH, Kane in 2006 he was getting a monster push. Things would slowly go to sad in 2007 as he would then face champion John Cena, and of course he would go on to be buried the entire year. Because John Cena was a lot like Triple H He almost refused to put some of these wrestlers over like Umaga. Later that month he was lowered down for the Intercontinental belt, what I mean is he won it, but the person he was beat by is just plain sad. Santino Marella pinned Umaga in his first match on raw in April. He went on a lame feud with Marella for a bit. Now we go into 2008, while Umaga was one of the final five in the match, but was he really one of the better number 14 I think not. In his last feud he faced CM Punk on Smackdown in 2009, and that was the last of Umaga he ...more - htoutlaws2012
2
DDP

Diamond Dallas Page was just a bad story in his WWE days, starting off with promise when he, was one of the first wrestlers to be ravled in the invasion angle you would think he would be treated great like RVD or Booker T no he was lost in the shuffle. So here we are in 2002 in the Royal Rumble, and DDP is number makes sense sadly as he was eliminated by Chuck, and Christian as the announcers forgot to mention him while godfather made his entrance. He then later would suffer a career threatening injury making him retire from wrestling full time. What does he do now? Yoga no seriously that's it, well he did enter the rumble in 2015, but that was it. - htoutlaws2012
3
Rikishi

Solofa Fatu, Jr. is a Samoan American professional wrestler, best known under the ring names Rikishi and Fatu with World Wrestling Entertainment, where he was a one-time Intercontinental Champion, two-time World Tag Team Champion, and one-time WWE Tag Team Champion.
Rikishi started off great in his first year in 2000, he eliminated 1/3 of the rumble by himself. Later went on to win the I.C title, turned heel giving him a monster push in which he got #30 only to be eliminated by the Rock, teamed with haku, came back in 2002 as the #1 entrant did not last that long. Now it's 2004, and well he was gone quickly by Benoit. He then team with Scotty to win the Tag Titles which did not last that long and he was released. - htoutlaws2012
4
MVP

His another one of those guys that could of been world champion, but again what happened? Well it was something fresh (I guess), although dubbed himself MVP, and no were not talking Most Valuable Player I mean Montel Vontavious Porter. Skip down to 2009 where he was #1 pick in the 2009 WWE Draft quite the high standards right. Well he carried the united states title to Raw where he would lose to Kofi Kingston, then would team with Mark Henry, but always lose when it came to the gold. Now here we 2010 new year he faces the Miz for the title, and he loses the match, then he gets a shot at the royal rumble, his number 14 gets attacked from behind. Waits for the Miz to officially enter the ring only to realize not does he eliminate the Miz he eliminates himself as well. He then went to smackdown (again), but was treated as a lower mid-card (in a way) he lasted all that year until being released in December. - htoutlaws2012
5
Stardust

When he was just Cody Rhodes he had a solid career as a mid-carder, but when he did the stardust gimmick is what was all, but over. In 2016 he drew #14 left company. Why you ask well Let's just say he was on a big losing streak in which was a much lower mid-card not in a good way. It was not until he went to TNA we would see him again. - htoutlaws2012
6
Chris Masters

Christopher Todd Mordetzky is an American professional wrestler. He is known for his work with WWE under the ring name Chris Masters. He is also known for his work in Impact Wrestling under the ring name Chris Adonis.
The masterpiece Chris Masters, was a solid contender for wrestlers never to be champion. He has the look, but unfortunately was kicked to the curve in 2007. Returning in 2009 on Superstars he pretty faces a ton of mid-card guys throughout the whole time span, skip to 2011 where he was eliminated by the Nexus. He then was never used on the main roster, and that was the end for Masters. - htoutlaws2012
7
Eddie Guerrero

Eduardo Gory "Eddie" Guerrero Llanes, was a Mexican-American professional wrestler and a member of the Guerrero wrestling family.
This one is a mix bag because yes, Eddie would go on to have a great, but very brief title run in 2004. In 2003 he mostly had title runs with the Tag, and United States titles. In 2005 tragedy stuck as by November of 2005 Eddie was pronounced dead at age 38. - htoutlaws2012
8
Marty Jannetty

Fredrick Marty Jannetty is an American professional wrestler, best known for his time in the World Wrestling Federation as part of tag team The Rockers with partner Shawn Michaels, and later as a singles competitor.
Most people know where this story would go on As Shawn Michaels would be the one to be the household name, while his tag team partner went on to do nothing. - htoutlaws2012
9
The Goodfather

You know the godfather of course, but in 2001 he was with a group stable called RTC (Right to Censor). The gimmick consist of blocking anything that attitude era fans also like to see. They were very jeered every time they came out to the ring. There theme song along can drive anybody nuts. Anyways now with a slightly different name in the goodfather. He comes in at number 14 and immediately gets eliminated by guess who The Rock. He would later go away from the stable quietly, as we would see him two other times in the 02' rumble, and the 13' rumble both in which he gets eliminated quickly. - htoutlaws2012
10
Doug Gilbert

You probably ask yourself who exactly. Even I had no idea who this guy is other then he was the failure of the more successful wrestler in Hot stuff Eddie Gilbert. Yeah more people would remember him more than the name Doug Gilbert I do not know about you, but can I hear Generic name. Oh, but wait a minute I did not tell you what he did. Get this he was suppose to enter with a different name called Nightmare Freddy, and yes because it was a copyrighted name he had to change it to his own name disappointing I know, he was released quickly after the rumble. - htoutlaws2012
The Contenders
11
Kofi Kingston

Kofi Nahaje Sarkodie-Mensah is a Ghanaian-American professional wrestler. He is signed to WWE under the ring name Kofi Kingston, in which he is a member of The New Day along with teammates Big E and Xavier Woods.
12
Shinsuke Nakamura

Shinsuke Nakamura is a Japanese professional wrestler and former mixed martial artist currently signed to WWE competing on Smackdown Live.
13
Kevin Nash

Kevin Scott Nash is an American professional wrestler and actor, currently signed to WWE under their legends program. He is best known for his time with World Wrestling Federation under the ring name Diesel, and World Championship Wrestling under his real name.
14
Ron Bass

When Ron bass entered in no 14 nothing happened but after that he got some ingureus he retired from wwe and became a salesman
BAdd New Item