Best Progressive Rock Drummers
I have the highest respect for Progressive Rock Drummers, as their songs have overly complex rhythms and odd time signatures!

That's why I decided to make a list about those drumming legends!
The Top Ten
1
Bill Bruford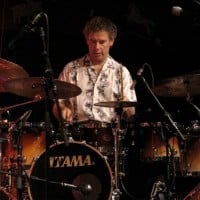 William Scott "Bill" Bruford is an English retired drummer, percussionist, composer, producer, and record label owner.
There are a lot of great drummers on this list. I voted for Bill Bruford because he managed to play really complex rhythms and polyrhythms while remaining tasteful and serving the song. He is the only man who has worked with Yes, King Crimson, and Genesis. That says a lot.
Godfather of prog percussion
Really glad to see him on this list.
2
Neil Peart

Neil Ellwood Peart, (September 12, 1952 - January 7, 2020) was a Canadian musician and writer best known as the drummer and primary lyricist of the rock band Rush. Peart received numerous awards for his musical performances, including an induction into the Modern Drummer Hall of Fame in 1983, making ...read more.
The younger drummers in this list probably looked up to Neil as a mentor, I know Mike Portnoy did.
It's a joke he's at #3 in this category
Greatest progressive rock drummer of all time period
He is the KING drummer
3
Carl Palmer

Carl Frederick Kendall Palmer is an English drummer and percussionist most famed for playing with the progressive rock bands Emerson, Lake and Palmer and Asia.
An incredible drummer who rightly belongs on this list who demonstrated keen precision and creativity while complementing both Keith Emerson and Greg Lake's music. The solo on Karn Evil 9 live version is still one of the best ever...
In my opinion, Carl is in the top 5 best in the world. Saw live performance of Fanfare for the Common Man-remembering it still takes my breath away. But ELP is sadly under appreciated in my opinion
Just hear his unique drumming in "Brain Salad Sugery" studio album and in the live "Welcome Back My Friends To The Show that Never Ends". There is nothing like it! A genius!
Incredible drummer, and a pretty awesome person too.
4 Alan White
5
Mike Portnoy

Michael Portnoy is an American drummer primarily known as the former drummer, backing vocalist, and a co-founder of the progressive metal/rock band Dream Theater. Known for his technical skill as a drummer, Portnoy has won 30 awards from the Modern Drummer magazine.
No one plays like Mike Portnoy! He will always be the best!
He is my favorite Drummer...of all time..
A real legend!
Best drummer
6
Phil Collins

Philip David Charles "Phil" Collins is an English singer-songwriter and musician, who has also worked as a record producer and actor.
It needs a lot of taste to appreciate and so to understand that he is the best drummer ever. This is obviously seen in genesis from 1970 to 1980.
The most lyrical of all drummers. I've never known a drummer that can enhance the song as Phil. For me he's the best.
Can make any odd time signature groove
The Best!
7
Nick Mason

Nicholas Berkeley "Nick" Mason is an English musician and composer, best known as the drummer of legendary rock band Pink Floyd.
As much as I love Floyd and Nick Mason, he is too high... He's not that good compared to the octopuses on this list. Still serves the music very well though
8 Graeme Edge
9
Gavin Harrison
I'm going to make a dozen accounts if that's what it takes to get this guy to the top (jk don't ban me thanks)
Has the cleanest drum notes I have ever heard. Makes excellent use of his whole drum set, especially his special small cymbals.
Has insanely good timing.
This guy seems to always know the perfect fill and has an insane amount of creativity. Porcupine Tree became a heavyweight when he came on board.
The best drummer in the world. Makes every song he plays in so much better.
10
Andy Ward
The rhythmic heartbeat of Camel!
The Contenders
11
Mike Mangini

Mike Mangini is an American drummer. Since 2010, he has been a member of progressive metal band Dream Theater, following the departure of founding drummer Mike Portnoy.
12
Danny Carey

Daniel Edwin "Danny" Carey, born May 10, 1961 in Lawrence, Kansas, is an American drummer and instrumentalist best known for his work in American Grammy Award-winning progressive rock band Tool. He has also contributed to albums by and played with such artists as Zaum, Green Jellÿ, Pigface, Skinny ...read more.
Danny is too low, the guy is a beast! He can switch between odd time signatures every other bar easily.
Are yall serious this man should be number 1 and Neil Pert number 2!
Just Wow's you behind the set!
He isn't a drummer. He's a percussionist.
13
Terry Bozzio

Terry John "Ted" Bozzio is an American drummer best known for his work with Missing Persons and Frank Zappa.
14
Brann Dailor

Brann Timothy Dailor is an American drummer/singer best known as a member of the Atlanta, Georgia metal band Mastodon, in which he is the drummer, backing vocalist, lead vocalist and primary lyricist.
15
Martin Lopez
Check out "April Ethereal" (Opeth)
Martin lopez is awesome. Very underrated
16
Matt Garstka
Can't touch him
17
Tomas Haake

Tomas Haake is a Swedish drummer and main songwriter of the experimental metal band Meshuggah. He is known for his polyrhythms and technical ability. In 2012, he was named the 5th best Modern Metal drummer by MetalSucks.net. He was named the number one drummer in the "Metal" category, in the July 2008 ...read more.
18
Michael Giles
In the court of the crimson king has some of the most amazing drum parts in prog rock ever made by Michael Giles
19
Rob Bourdon

Robert Gregory Bourdon is an American musician, best known as the drummer and one of the founding members of the American rock band Linkin Park.
Who added this? Linkin Park aren't prog.
Excellent drummer but linkin park aren't progressive rock
20 Christian Vander
21
Craig Blundell
Brilliant. Moving! Shows he loves the art and engages with the audience.
22 Phil Ehart
23 Jon Theodore
24 Barriemore Barlow
25 Lenny White
PSearch List