Best Projected NFL Fantasy Kickers of 2017
I know kickers are best last round choices, and these guys are clearly at the top of there position.
The Top Ten
1
Justin Tucker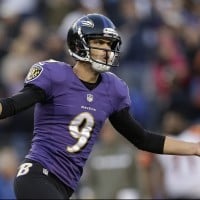 Justin Paul Tucker is an American football placekicker for the Baltimore Ravens of the National Football League.
Tucker is the must have kicker of the NFL, the guy can aim for 60 yard FG's, he even practiced for 70 during pro bowl Ravens got a special kicker in Justin Tucker. - htoutlaws2012
2
Carlos Santos
He may mess up a few times, but there have been many times the Chiefs do not care what points are on the board. Santos becomes a great benefit for those who started him as there kicker. - htoutlaws2012
3
Adam Vinatieri

The clutch kicker of all time can still go, Vinatieri is a for sure hall of famer. Heck take a chance to get him because of all kickers his the most recognized of the bunch. - htoutlaws2012
4
Matt Bryant

Steven Matt Bryant is an American football placekicker for the Atlanta Falcons of the National Football League.
He becomes a great kicker for which how much TD's did Atlanta pull last year that ended up a successful kick. Point being Bryant is somebody you may need if you have nobody from Atlanta. - htoutlaws2012
5
Matt Prater

Probably the biggest blessing the Lions could have is finding perhaps their long term kicker in Prater. While he may miss some odd like kicks with no wind effect (joke implied) Prater did make an even better kick than Tucker in practice in the pro bowl which is ungodly don't you think? - htoutlaws2012
6
Dan Bailey

One of the few kickers with excellent accuracy Bailey is one of those must have kickers based on how good they can keep the kick stretch up the middle. - htoutlaws2012
7
Steven Hauschka
Buffalo might have found their long term kicker why? Hauschka was actually pretty good for Seattle for a ton of years, and he suddenly is going to Buffalo is very interesting. - htoutlaws2012
8
Sebastian Janikowski

Sebastian Janikowski is a football placekicker for the Seattle Seahawks of the National Football League. He played college football for Florida State University, and was a two-time consensus All-America. He was drafted by the Oakland Raiders 17th overall in the 2000 NFL draft, the only time in the modern ...read more.
We all made fun of the Raiders for taking a kicker 1st round, but you know what his been here since 2000. His been around for 17 years, and like Vinatieri a future hall of famer when he does decide to say I can't move up no longer. - htoutlaws2012
9
Mason Crosby

Usually solid, but I'll never forget his missed FG in Green Bay that made it the first in so long the Lions won in Lambeau thanks to Crosby. Rarely does the guy miss on memorable games like that one for me it was the undertaker's streak when Lions won in Lambeau shocking. - htoutlaws2012
10
Ryan Succop

Ryan Barrow Succop is an American football placekicker for the Tennessee Titans of the National Football League.
Stretching this one honestly, but not quite confident of a pick by most with a last name like Succop. - htoutlaws2012
The Contenders
11
Stephen Gostkowski

BAdd New Item