Top 10 Most Prophetic T.V. Shows
The Top Ten
I Love Lucy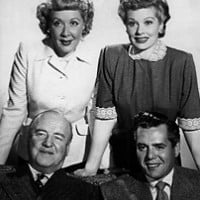 I Love Lucy is an American television sitcom that originally ran on CBS from October 15, 1951, to May 6, 1957, with a total of 180 half-hour episodes spanning 6 seasons.
Mad TV

The Twilight Zone

The Twilight Zone is an American anthology television series created and presented by Rod Serling, which ran for five seasons on CBS from 1959 to 1964. Each episode presents a stand-alone story in which characters find themselves dealing with often disturbing or unusual events, an experience described ...read more.
All in the Family

All in the Family is an American sitcom television series that was originally broadcast on the CBS television network for nine seasons.
Turn-On

The Real World

Hey Arnold!

Hey Arnold! is an American animated television series created by Craig Bartlett that aired on Nickelodeon from October 7, 1996 to June 8, 2004. The show centers on a fourth grader named Arnold, who lives with his grandparents in an inner-city boarding house.
My So-Called Life

Buffy the Vampire Slayer

Buffy the Vampire Slayer is an American television series created by Joss Whedon under his production tag, Mutant Enemy Productions with later co-executive producers being Jane Espenson, David Fury, David Greenwalt, Doug Petrie, Marti Noxon, and David Solomon. The series premiered on March 10, 1997, ...read more.
Who Wants to Be a Millionaire?

Who Wants to Be a Millionaire? is an international television game show franchise of British origin, created by David Briggs, Mike Whitehill and Steven Knight.
The Contenders
Star Trek

Star Trek is an American science-fiction television series created by Gene Roddenberry that follows the adventures of the starship USS Enterprise.
Freaks and Geeks

Freaks and Geeks is an American teen comedy-drama television series, created by Paul Feig, with Judd Apatow as executive producer, that aired on NBC during the 1999–2000 television season.
BAdd New Item