Top Ten Prospects in the 2021 NBA Draft
The 2021 NBA Draft is a stacked draft. It contains multiple players that could be superstars in the league. This class is going to be really good and I can't wait for it. These are the top ten players from this class.
The Top Ten
Cade Cunningham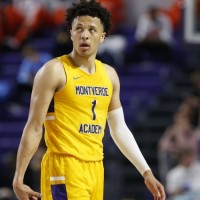 Cade Cunningham is coming. I'm very high on this guy. He is literally a perfect player. He is a tall point guard that can control the pace of the game and can shoot which is amazing. He plays great defense and his recent decision to stay at Oklahoma State is a sign of both loyalty and humbleness. Cade Cunningham is going to be elite. This could be a little bit of a reach, but I think he could be the best point guard since Magic Johnson. I guess consistency from three could improve and he obviously needs to stay away from injuries.
Comparison - Ben Simmons with a jumper/Penny Hardaway
Jalen Green

Jalen Green could be the next big two-guard. Green is explosive and exciting. He can make difficult shots and has a deadly stepback. He is amazing on the break and he has good vision. I think he will very good. He has a lot of Kobe in his game. I think the G-League will be good for him. He just needs to fulfill his potential.
Comparison - Kobe lite.
Evan Mobley

Evan Mobley is a elite big man. I think he is centered to be a center in today's game, but he could play power forward. A great athlete and he can shoot. Injuries may be a concern, so he needs to stay healthy. Otherwise I think he'll be fine.
Comparison - Anthony Davis/Chris Bosh
Jalen Johnson

Jalen Johnson is interesting. He is elite all-around. He is a good scorer and has great playmaking. He has elite athleticism. He just needs to become more polished.
Comparison - Paul Pierce/Jayson Tatum
B.J. Boston
Boston is gonna be a great player. Has a great pull-up game. He can also playmake and play defense. Reminds me a lot of Brandon Ingram.
Comparison - Brandon Ingram/Jeremy Lamb
Terrence Clarke
Terrence Clarke is a high intensity two guard. He is very athletic and has really good handles. He needs to just develop his shot.
Comparison - Dwyane Wade
Jonathan Kuminga
Kuminga is a weird player. He overpowers people with his athleticism and strength. He has some shooting ability though. Needs to improve his ball handling though and of course consistency.
Comparison - Jaylen Brown
Usman Garuba
Garuba is a very high energy player. Those type of players are becoming more and more valuable. He also shows three point signs and some ball handling.
Comparison - Draymond Green/Kenneth Faried
Jalen Suggs
Jalen Suggs could play great as 3rd option or as a 6th man. An elite shotmaker and playmaker. Needs to get stronger.
Comparison - Chauncey Billups
Caleb Love
A very good scorer. Has great handles and could be a good 3rd option or 6th man. Has the Jamal Crawford problem though.
Comparison - Jamal Crawford
BAdd New Item