Top 10 Punjabi Singers of the 21st Century
The Top Ten
Babbu Maan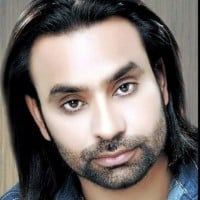 Babbu Maan is a Punjabi singer, songwriter, music director, actor, video director and producer.
Babbu maan is 8th stranger in this world. He is a legend and he is all around ability celebrity in this era.. We salute his thinking
Babbu maan is a trendsetter in punjab...
Chita Chadra zypsy kalli
He is a greatest in singing in world
Babbu maan is great. He is only punjabi singer who write or sing his own lyrics and give his own music etc
Diljit Dosanjh
Diljit Singh Dosanjh, is an Punjabi singer and film actor.
He is a great singer, a great actor, and has a great personality. He has beautiful voice. He sung a great songs with deep meanings songs like nanki the veer, main fan bhagat Singh the and other. We are lucky to have a singer like diljit in punjabi singer industry. I loved you I love you and I will always love you diljit. You are the best and one is like you. Because there is only one you out there. God bless you keep it up. Love you
He is great in singing.
He is my favourite singer .His voice so melodious and acting is endless.
Gurdas Maan
Gurdas Maan is an Punjabi singer, songwriter, choreographer, and actor. He is considered one of the most notable figures in the world of Punjabi music.
One of the sign of punjabi language

Proud of you
The lord of singers
Gurdas Maan is incomparable! Though I am a bigger fan of Babbu Maan than Gurdas Maan, still believes, the top position suits Gurdas Maan sir better than Babbu Maan paji.
Honey Singh

Hirdesh Singh, known by this professional name, Yo Yo Honey Singh or Honey Singh, is an Indian music producer, Indi-pop singer and film actor.
Yo yo honey
We love your voice
Best rapper ever in the whole universe
I love you yo yo honey singh awesome you are a great rapper just love and wish to meet you one day
Best punjabi singer and loved by every buddy..
Record holder of 2 lakh people in his concert.
Gippy Grewal

Rupinder Singh Grewal, commonly known as Gippy Grewal, is a Punjabi actor, singer-songwriter and film director.
Gippy grewal is the best best best singer in the world
One of the best
Gippy grewal is the best best personality of punjabi industry and now gippy is a heart of industry
He is Best Actor of the Uiverse
Gippy grewal is best singer.I like his voice very much.He is also THE best actor of the world.May he live long!
Amrinder Gill
I love his voice very much. He is the of all. He is the fast and last singer that I like
I like his voice so much. His songs touch the heart. So amazing Voice.
Amrinder gill best singer in world
He is the top singer of the world
Sharry Mann
Sharry Mann (Surinder Singh Mann) is a Punjabi Singer.
He has most beutiful voice that touch our heart
One of the best voices 've ever heard.
Sings realistic, reality based songs
Imran Khan
Imran khan is the best singer, ever he should win
He is awesome and only one Punjabi rapper in the whole world no doubt God bless you..
Best singer in the world.. Better than honey singh
No one has been better than Imran Khan. He only has 2 albums. The albums are Unforgettable, which stands for its name. Then Satisfya, which satisfies every one that he is the best singer. No one will go above Imran Khan. Just imagine his next album that he is working on. That album is going to be the best album. No singer showed this much success with two albums, as much as Imran Khan.
Panjabi MC
He's a global icon and most popular punjabi artist worldwide. and still is the bestselling worldwide
Best By Far
Ehh kehra singer aa?
Everyone has heard Panjabi MC's music. He's the most iconic Punjabi artist of this century. "Mundiyan to Bachke Raween"
Harbhajan Maan
Beautiful voice and best music
His voice is like melody. He is the only singer in today's time who promote our punjabi culture, so may God bless him.
Harbhajan is world best singer..I think
He is the best
The Contenders
Atif Aslam

Muhammad Atif Aslam is a Pakistani singer and film actor. His movie debut was the 2011 social drama Bol.
I love your voice atif your songs are so damn good to listen I really love it
But he's not a punjabi singer! nevermind I still love him!
Amazing voice. Melodious and never can be beaten
He owns best voice which wins hearts of audience and brings them in the world of imaginary love.
Satinder Sartaaj
His legend his song lyrics singing style compo everything is brilliant. I love his voice pure Punjabi Singh his top on this list
Living legend of punjab great singer and poet
Satinderpal satrap is a great singer. He has a beautiful voice. People love to hear his sweet voice. Gog bless him
Great soul great thoughts great mind great music great voice devoid of filth and pure like nectar
Garry Sandhu
Garry Sandhu is an award-winning Punjabi singer currently active in the Bhangra scene.
I don't think garry sandhu is the best I just think he's th best out of these selections
garry sindhu is a great singer
his ego and excuses song is very very nice
You just rock everyone's mind out
Jassi Gill
You are the reason why I started listening to punjabi songs again! You came and changed the whole game! Love bapu zimidar, laden, range, teri je na hoyi, tamanna meri, saah, khet, ghagre di lawun, kede pind di, naina nu, pyar mera, mere layi, and all the others!
Jassi gill you are best!
Classy artist with beautiful voice. He is not only good on screen, but he is an equaly good artist on stage and in real life. Very honest and humble. Beautiful voice. Deep lyrics, fun attitude, and honest heart! Love you Jassi!
My favorite singer
Jassi gill is handsome among all singers
Kamal Heer
Kamaljeet Singh Heer aka Kamal Heer is a Punjabi musician.
Best singer ever.
He Is the True Legend
My favorite
Sidhu Moosewala

Sidhu always top
Sidhu mode wala is 2 and most popular singer after babu maan in punjabi singers
1st Best singer in india
He is the legend a new era of punjabi music, he has very unique both lyrics and compositions
Bilal Saeed
He is the most best singer in the world his song 12 sall really touch the heart
He is the best punjabi singer.
Best singer in the world...
You are a best singer and we love your song
Guru Randhawa

Love you r the best singer in the world listing your all songs every day
Best punjabi singer in the world
Very much much better And Best singer
Guru randhawa is awesome. I don't know why but listing his song I feel happy.
Jazzy B
Jaswinder Singh Bains, more popularly known as Jazzy B, is a Punjabi language bhangra singer-songwriter.
The undisputed king of Punjabi music his fame counts for itself. Anywhere you go everyone knows about Jazzy B. Can that be said about any other singer
Great greater greatest singer of 21st century
He is the trendsetter the game changer in punjabi music industry! He make punjabi music popular at international level
Sukshinder Shinda
Best on melody
Good
Best
Down to earth 🌍 personality
Bohemia
I was expecting him at 1st spot... I think so different den others
I think bohemia is on top
Is best punjabi rapper ever
No. 1 rapper in the world
I love you bohemia
Ammy Virk
Nice voice very nice king of punjab.
His voice is superb... Just need good lyrics and he is the ammy...
He is the best singer in punjab, he is superb. He should be number 1 singer
He is very talented singer.
Sippy Gill
No words for sippy I think he is2nd babbu maan in punjabi Industry... mind blowing, outstanding
"Sippy Gill" is best singer in the world
Great voice and great personality
God bless you Bhai ji...
Miss Pooja
I like your song
I like your song very much
Brilliant singer
She is much talented
Kulbir Jhinjer
One of the singers you could listen anytime to. Most Soulful voice in the industry.
Heart touching singer of punjabi industry " classroom,maa,pind,rakhwa kota,and all others
Best jatt punjabi singer.. Rocked the Punjabi singing only in one album.. He will be the topmost Punjabi singer in future carry on bro..
You are the best singer of Punjab
PSearch List