Top 10 Punjabi Singers of All Time
We have seen a huge evolution in today's Punjabi music industry, where we can see that the major part of the industry is filled with some young big shots as well as some imposters. Well, what is your favorite all time Punjabi singer?

The Top Ten

1 Babbu Maan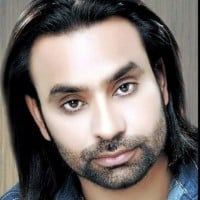 Ustaad Babbu Maan... is a totally different personality altogether. He doesn't sing to earn money, it's his inborn talent. He's a great social worker, and has contributed a lot for rural development, even he doesn't take fees when singing at a wedding and sometimes he donate huge amount if the family is economically weak. He can't be compared to other modern popular singers, because he's a LEGEND forever. The top celebs of today are big fan of ustadji. And lastly, There was none like Babbu Maan, is like Babbu Maan, or ever will be like Babbu Maan.
Babbu maan have god gifted talent in his passion & his efforts. He knows our strength and always back with bang. His albums like Pyas, Mera Gham, Talash & Film Hashar, Ekam was super-duper hit and always lives in every punjabis heart.. He is top in live performers and also gives our 200% on the stage. He loves Punjabi Language and always promised for kept it. His friendship with bhagwant Maan is very valuable and respected, he stands with him every time. I always pray to god for his success to touch top heights of Bollywood, Hollywood. Now he is nominated for world awards in 4 categories Best Male Singer, Best Live Performer, Best Album & Best Entertainer.
Babbu maan is best. He writes his own lyrics. He is the only singer who takes stand for the truth. He has the guts to speak truth.
Babbu Maan = knowledge of whole things. He sung songs on all small to big things. He never feel hero, he live like normal humans. In India many individuals are influenced by Babbu maan writing.
2
Amrinder Gill
Seriously, Amrinder Gill is The best singer he is not like other singers who releases their songs often. He releases his songs after everything is done perfectly and looks at content very carefully. So basically the song doesn't even need any promotion. So he doesn't even need any promotion for the song. And it becomes hit
I think that Amrinder Gill is the best punjabi singer ever. Also when someone starts listen to his songs, than can't stop until they have listened to his whole album.
His voice is matchless.
His voice is so soothing to the ears; I can fall asleep while listening to his songs.
Also his songs have depth and all his songs are timeless.
His voice is matchless.
It is so sweet that I can go to sleep listening to him.
His voice is really melodious.
He is the king of romance in the Punjabi music industry.
3
Honey Singh

Hirdesh Singh, known by this professional name, Yo Yo Honey Singh or Honey Singh, is an Indian music producer, Indi-pop singer and film actor.
My favorite singer. No one can beat him. Yeah yo yo honey singh is the real rap star He should be the king of all the singers. Honey singh should be at top! Honey singh is an awesome rapper his style is amazing and I like his dressing sense also. My favorite rap is of yaar bathere. He sings so fast and is best when you watch his song and relate with others please! Vote him, he is awesome
Honey singh is an awesome rapper his style is amazing and I like his dressing sense also. My favourate rap is of yaar bathere. He sings so fast and is best when you watch his song and relate with others please! Vote him, he is awesome
My favourite singer. No one can beat him. He should be the king of all the singers.
Honey singh is best rapper but he down his career with take part in movies..
4
Gippy Grewal

Rupinder Singh Grewal, commonly known as Gippy Grewal, is a Punjabi actor, singer-songwriter and film director.
Awesome singer. He has good looking personality.I love him. I am fan of gippy. He is a handsome guy. I like him. His voice is so beautiful like him. I want to meet gippy grewal in my life, he is my rockstar and my dream hero. I love you and I like you really. Saini
Gippy Grewal is the best singer and actor.He has to be should be number 1.all his songs are amazing all his movies are all time blockbuster.
He is the best singer. I have his all movies (hd), or all songs in (hd). my computer or laptop is only 1 GB free from each drive. All drives filled with gippy bro songs.
Hey gippy you are cool. You should be at first I like your dashing style.
5
Diljit Dosanjh
Best Punjabi singer ever to be born! He struggled to climb the success ladder, and now, he's at the top. All of his songs are very popular and are super hits. I listen to every single Diljit song out there, I also watch all of his movies, and he is superb at acting! Even my white friends sing Jatt Fire Karda! LOVE YOU DILJIT!
I think he should be at top superb singer with fantastic voice stupendafantabulous look he is my all time favourite. He deserves no. 1 position amongst all the singers. Keep it up dude I love his each and every song
No doubt, Diljit dosanjh is not only best Punjabi singer, he is best Punjabi actor too. He is most talented guy who have so many good qualities. Good luck Diljit my bro...
Awesome Singer. He has good looking personality. I love him. I am big fan of Diljit. He is a handsome guy. I like him. His voice is so beautiful like Koyal.I want to meet Diljit Dosanjh in my life,he is my rockstar and my dream hero. I love you and I like you really. Shabnam. I am 11 years old.
6
Sidhu Moose Wala

I love sidhu moose wala,
Am Hamad Iqbal Bhalli from Pakistan, now in Germany.
Sometimes I do hord work and then some people distrib my life then I listen moose wala song he give me power for good life good work. I proud of him Moose.
In social media my nick name ( Moose Di Adalat)
Sidhu Moose Wala is king of punjabi industry.

He literally changed the trend of Music.

His every song got Millions of Views & reach worldwide music trending charts.

Sidhu Moosewala got many awards, Achievements, In 2019 he performed in Wembley Stadium U.K, And got 4 Awards in 1 Day.
He is unique, outstanding, great personality, best among all other singers. His impessive lyrics always make his fan become more crazy about him and his songs. Last but not least he is such a nice person who always respect his mom and dad and make them feel proud. He is #1.
Sidhu moose wala should be on no.1. His music is on different level. Also, he take his Punjabi culture to the Hollywood.
7
Kuldip Manak
Best ever, no one will even be close to him as regard punjabi music and singing part from some classical singers. Shame on singers and people who even believe that there is anyone even close. This is not about popularity, its about punjabi singing at its best, not dancing. He was god gifted unique no one singer will deny this. Best duet singer ever Amar Singh Chamkila. The rest are just shadows of the two. Best singer today Master Saleem. I Believe lots of good singers (Hans Raj hans, Sardool) have stop singing or recording because of not making money.
The king of punjabi folk.
Nobody can take his place ever.
His voice is the essence punjabi language.
His permanent place of punjabi singers is on number 1.Every punjabi person like him too much.
No comparison with any other singer... He is legend and no need to prove anything here
8
Gurdas Mann
Gurdas maan is very famous in whole world. I am telling truth if anyone will be ask to old man like a between 40 to 80 "who is gurdas maan they can give answer quickly because he is god and if you will ask same question about gippy grewal, ranjit bawa, diljit, ammy, jassi and so on. then you know very well what they gonna say. he is 60 year old but he is still young like dance on stage, his personality, his style like so many things his making young. but this is sad news new generation don't like gurdas maan"why" we need to listen gurdas maan songs because his all songs giving message to us.
Gurdas Mann is one singer who's songs reminds everyone of pure Punjabi culture and when he sings these songs they touch everyone's heart. Best Punjabi singer ever born.
He is the wall of punjabi music... Nothing can be written to describe this personality.. We all know who he is.. And what he capable of doing...
I seriously think whats happened to the choice of people...Leaving apart the pre independence era of people like Shiv Kjmar Batalvi ji or may be Surinder kaur ji Gurdas mann is and is the person who brought together the folk singing to what it's today. Hope I see him always on number one...
9
Sharry Mann
I like his melodious voice and his high vocal and style of singing like 90's singers and lyrics referring to common people... But I dislike his name sharry...
I like his songs and his voice too.
I love your song slate
His voice is amazing
10
Jazzy B
The best punjabi singer of all time... He is just awesome!
One of a nice singer I hve ever heard a music of and his latest music "This Party Gettin' Hot with Honey Singh was also nice. Kaimzz aa tu 22.
Most powerful and stunning voice... Great singer... Deserves second place
He is best... real punjabi hip hop singer...folk singer... trend seter one and only JAZZY B
The Contenders
11
Garry Sandhu
Best Punjabi singer of modern music era. Best thing is that he writes his own lyrics and has a beautiful voice.
Great singer, voice, and all his songs are mostly hits. What else can you ask for
Best Punjabi singer only after Babbu Maan...
I like your song and you are the best. Keep Rocking.
12
Chamkila
Chamkila 22 is the greatest. He has the highest grossing sales in history of Punjabi music. The popularity he has is cult status
Out sold the likes of manak, surinder Shinda and gurdass Mann in his prime. Music was controversial put you go anywhere in Punjab you will hear his songs playing
Chamkila's songs are still in everyone's car after 40 years of his death.
NUMBER 1 singer easily
The king of punjabi folk Music. He was original and best simply rest are all are copies
13
Surjit Bindrakhia
His voice can be easily recognized amongst thousands. He clearly distinguishes himself from others
He was a good singer
His songs touch the heard.
Best of all time. Hands down
14
Ammy Virk
I am American and I'd rather listen to Ammy than any other musician in the world!
I love his voice... And no words to praise for him just he is not for comparing with others he is osmmm...
He is just to awesome with his many songs
But not everyone is good.
I started listening to him after his release of zindabad yaariyan. He deserves higher rating.
15
Jassi Gill
Jassi gill is my favourite singer. I love his songs, videos, movies. I wish that he is stand the first position of all Punjab industry. He is very good looking, very smart etc. He is always shows his fans respect. Dildariyaan is my favourite movie. He is looking so smart in this movie and the acting is too good. His first song is mein ohh hi Jo there college ch parda si I love this song. At last I tell only one thing that jassi gill is always my favourite.
His voice suits every type of song. Sad, romantic, bhangra, energetic, etc. He is one of the best talents we have. Teri je na hoyi is beautiful! One of the most deepest and truest songs of all time. On the other hand, he has songs like Laden and Range which lighten up the atmosphere and can make anyone get up and dance. He is very handsome and cute. His smile is one of the most beautiful things in this world! Also, amazing fashion sense and style! :) Love you Jassi! No one can EVER replace!
-Love,
A true and die-hard fan!
Jassi is really good at what he does! What I love about him is that he is very honest as an artist. He always shows his fans respect. The way he bows on the stage before starting his performance really touches our hearts! I wish you always stay the way you are. May no nothing or no one ever steal your smile! You are one of the best singers and you will go a long way! I love the types of songs you sing and your videos and your movies and your performances and EVERYTHING ELSE! Love Love Love you! You are unique and you are a very special artist! Never change!
Powerful yet sweet voice! Awesome during live shows, best acting in videos, and great personality. Very handsome and cute! LOVE YOU JASSI!
16
Kaur B
No. 1 female Singer Kaur B
She is pretty
17
Imran Khan
My favorite singer. No one can beat him. Yeah imran khan is the real rap star He should be the king of all the singers. imran khan should be at top! imran khan is an awesome rapper his style is amazing and I like his dressing sense also. My favorite rap is of yaar bathere. He sings so fast and is best when you watch his song and relate with others please! Vote him, he is awesome
This should boy MQK
Imran Khan is the king of Punjabi Music.
His videos r best that we can watch with family but other Punjabi singers songs and videos are always bad that we can not watch with families
Someone had to question Honey Singh that do he knows Imran Khan? He will say no he will be lying because he copies Imran Khan. Imran Khan is the King of all Punjabi Singers rapper and all. He take time for his new single but came with best in the world everybody is proud that he is a Muslim
Honey Singh is jealous of IK
Peace In The Middle East!
Imran khan is an awesome rapper his style is amazing and I like his dressing sense also. My favourate rap is of yaar bathere. He sings so fast and is best when you watch his song and relate with others please! Vote him, he is awesome
Best singer as well as best human being...
No matters that where is from! ;?
But his talent is out of this world...
#phenomenol
18 Sukshinder Shinda
19
A Kay
A-Kay is very young & talented. He always bring young & Struggling talents in his every song.
He has Fabulous voice & he always tries something new apart from the crowd.
All his songs are super.
His latest released song is Rambo.
Great song ever heard from him... But if yo yo and a kay songs for the same song, then that song might take lead from all the superb songs
Number 1 come with yo yo
20
Alam Lohar
- The Greatest if your honest and know music! dominated Punjabi world singing for 50 years
The Greatest of all!
Should be on no#. 1
21
Gurdas Maan
His singing is awesome and his every word has a truthful meaning.
22
Bohemia
He is the one who gave birth to desi hip hop. He is a living legend. Absolutely no comparison with others.
He is the best man who write his own raps and he is the guy who don't buy views and likes...#Respect
He is already on 1st place on rapper... Performed more than 80 raps... & has sung 1 song named Janne jaana
Great Rapper and now he Has made his Debut as a singer in his Song 'Rooh'

Superb! Voice Amazing
23
Guru Randhawa
He is the best singer in world , he is the most cutest and beautiful singer in the worl , his voice is very awesome, he has sung many hit songs like high rated gabru , lahore and many more ... He is the best singer in the world ...his songs are super awesome ... Almost every fan girl has crush in him ..
Guru is the best Punjabi singer in the world.
He deserve to be placed at the top.
I love your song Lahore, Payola etc..
You are great. I think that you deserves in top 10. Please do concert in ghaziabad
.
His my favourite singer
24
Yamla Jatt
How could anyone even forget the name of Yamla Jatt when it comes to Punjabi singers?
All sons list yamla jatt
He is always the best.
Yes he was the best
25
Babbal Rai
Love his style and personality! His songs are superb and his singing quality is awesome. He is a great example of a true artist. I admire and respect his friendship with Jassi and Prabh. He is definitely a star and artist no one can ever replace. Love you Babbal Rai! Keep up the hard work. Your fans will always support you! :) Always remember that you have touched your fans' hearts and that they will never leave you! All the best!
He is very handsome and has a very good choice when comes to song...also his songs are awesome
He is one of the best singer and his songs is too good. He is frndz of frndz.
HE is a good singer
PSearch List