Best Pure Black Metal Bands
No Symphonic, Melodic, Progressive/Technical bands, just Pure Black Metal.
The Top Ten
1
Immortal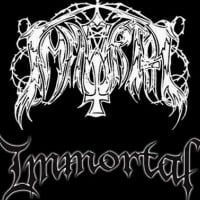 Immortal is a black metal band from Bergen, Norway, founded in 1990 by frontman and guitarist Abbath Doom Occulta and former guitarist Demonaz Doom Occulta.
Immortal is Black Metal
2
Bathory

Bathory was a Swedish Black/Viking Metal band formed in 1983 by Quorthon and Jonas Åkerlund. Bathory's first 4 albums layed the blueprint for Scandinavian Black Metal. Quorthon is often credited with creating the "shrieking" vocal style of Black Metal. Their 5th album, Hammerheart (1990) displayed ...read more.
Most influential Black Metal band
Bathory pretty much made the whole genre and technically created the vocal style used in black metal. His albums were very influential. - ViitalShadow
3
Darkthrone

Darkthrone is a Norwegian black metal band. It formed in 1986 as a death metal band under the name Black Death. In 1991, the band embraced a black metal style influenced by Bathory and Celtic Frost and became one of the leading bands in the Norwegian black metal scene. Their first three black metal ...read more.
Raw, unadulturated black metal. Not my favorite BM band, but of you want pure evil in your ears, turn some Transilvanian Hunger on! - shoulderboythemetalhead
4
Mayhem

Mayhem is a Norwegian black metal band formed in 1984 in Oslo, regarded as one of the pioneers of the Norwegian black metal scene. The band is also known for the infamous events surrounding them including the 1991 suicide of vocalist Dead (in which former guitarist Euronymous took pictures of Dead's ...read more.
Deathcrush EP+ DMDS= Eargasm. - shoulderboythemetalhead
5
Satyricon

Satyricon is a Norwegian black metal band formed in Oslo, Norway in 1991 by vocalist Satyr and drummer Frost. The band's first three albums typify the Norwegian black metal style. Since their fourth album in 1999, the band has moved towards a more traditional heavy metal style.
6
Gorgoroth

Gorgoroth is a Norwegian black metal band based in Bergen. Formed in 1992 by Infernus, the band is named after the dead plateau of evil and darkness in the land of Mordor (a fictional location in J.R.R. Tolkien's The Lord of the Rings).
7
Burzum

Burzum is an influential black metal solo project of Norwegian musician and writer Varg Vikernes. Burzum came to prominence at the beginning of the Norwegian Black Metal scene in the early 1990s. Vikernes was imprisoned for 21 years for the murder of Mayhem guitarist Euronymous, and charges of church ...read more.
8
Behemoth

Behemoth is a Polish blackened death metal band from Gdańsk, formed in 1991. They are considered to have played an important role in establishing the Polish extreme metal underground.
9
Wolves in the Throne Room

Wolves in the Throne Room is an American atmospheric black metal band formed in 2003 in Olympia, Washington by brothers Aaron and Nathan Weaver. They have released five full-length albums, two live albums, and one EP to date. Their debut album, Diadem of 12 Stars, was recorded on a budget of just $1100. ...read more.
10
God Dethroned

The Contenders
11
Hellhammer

Hellhammer was a Swiss extreme metal band from Nurensdorf, active during 1981–1984. They are regarded as a key influence on black metal, and one of the founders of death metal.
12
Emperor

Emperor was a Norwegian black metal band formed in 1991, regarded as highly influential by critics and emerging black metal bands.
13
1349

1349 is a Norwegian black metal band from Oslo, Norway, formed in 1997. The band's name comes from the year the Black Death reached Norway.
14
Marduk

Marduk is a black metal band from Norrköping, Sweden. The band formed in 1990 and released their first album in 1992. Their name is derived from the Babylonian god Marduk, patron deity of Babylon.
15
Slechtvalk

16
Carach Angren

Carach Angren is a symphonic black metal band from the Netherlands, formed by two members of the now-defunct bands Inger Indolia and Vaultage.
17
Dark Funeral

Dark Funeral is a Swedish black metal band from Stockholm Sweden, founded by guitarists Blackmoon and Lord Ahriman in 1993. They emerged during the second wave of black metal.
18
Satanic Warmaster

Satanic Warmaster is a black metal band from Lappeenranta in southern Finland. Musician "Werwolf" began recording under this name in 1998. Satanic Warmaster has sold tens of thousands of albums worldwide without the support of any major distribution companies or record labels.
19
Dimmu Borgir

Dimmu Borgir is a Norwegian symphonic black metal band from Oslo, Norway, formed in 1993. The name is derived from Dimmuborgir, a volcanic formation in Iceland, the name of which means "dark cities" or "dark castles/fortresses" in Icelandic, Faroese and Old Norse.
20
Old Man's Child

Old Man's Child is a Norwegian black metal band from the city of Oslo. The band is the brainchild of Galder who is the only permanent member of the band now.
21
Enslaved

Enslaved is a Norwegian extreme metal band formed in Haugesund in June 1991. They are currently based in Bergen, Norway.
22 Antestor
23 Crimson Moonlight
24
Dissection

Dissection was a Swedish extreme metal band. They formed in 1989 by Jon Nödtveidt and later disbanded in 2006, followed by Nödtveidt's suicide. Their sound is usually described as "melodic blackened death metal".
25
Frost Like Ashes

PSearch List