Dan Marino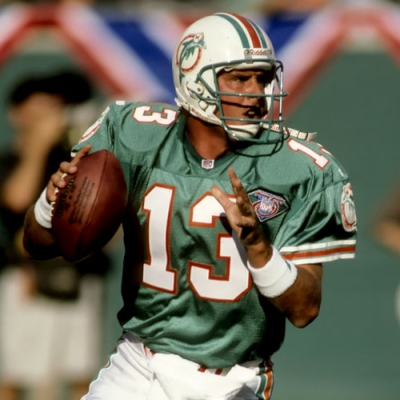 Uploaded by Cowboys-Dallas
Info
Daniel Constantine Marino Jr. is a former American football player who was a quarterback for the Miami Dolphins of the National Football League.
Comments
Top
Popular
Newest
This list is proof positive that you should be required to take some kind of test regarding some kind of knowledge about NFL players of all eras, not to mention actually knowing something about what they accomplished individually.

This list probably needs to be renamed "Best QB'S on teams that have won Super Bowls." For reasons defying all logic, many people do not have a clear understanding that winning Super Bowls is a team accomplishment, and for silly reasons they link great QB's with number of SB wins.

Any list of great players from any position, in any sport, should be overwhelmingly based on individual statistical accomplishments. I'm not saying that Super Bowls/championships should not be considered at all, but it's not the first thing.

I think Marino was the best overall talent and showcased that talent in 1984, a year where he had the best talent around him during his career. Unfortunately, Miami was never able to get him enough help during his time ...more - jfausti
Its close manning is the most cerebral QB I have ever seen, elway the best all round, and marino the best passer by far. Marino did the most with the least of any QB ever. He took a one dimensional team to the superbowl and lost to one of those juggernaut 49er teams. Not his fault he never had much talent around him. Football is the ultimate team sport. My wife would've been successful with the talent Montana and brady had around them.
The Class of '85 is amazing. Jim Kelly, John Elway and Dan Marino. BTW if Steve Young wouldn't have taken 2 years off before College he would be in the class of '85 as well. Marino is terribly underrated. Too much emphasis on Championships. But since the QB doesn't get to choose his teammates I think its rediculous. Lastly, somebody has to tell the Steeler fans to stop voting for Bradshaw. If you look at the stats you will see he needs to move down. But I suppose if you judge a QB by championships he should be #1. I suppose he invented the steel curtain? - XO
If the darn Steelers took him in the 83 draft when they had a shot at him, Marino would be #1 on this list. First, he would have sat behind Terry Bradshaw is rookie year and learned how to be a champ. Second, he would have had a defense to help support him in his quest to win a Super Bowl. Last, Pittsburgh, with Dan Marino would have would have won at least 3 Super Bowls in thhe 80s and 90s, maybe more. This would put the greatest pure passer in the history of the NFL, to the top of any list. It's a shame he spent his whole career with those losers in Miami!
He is the best that is all I have to say. I mean he had the most single season passing yards before the 2011 post-season. He could lead a team better than anyone and he was better in the 90's than the 80's. I mean what kind of QB gets much better with age? Joe Montana definitely did not age very good. Look at his post San Francisco career with the Chiefs. Dan Marino is the best QB ever.
He has poised accuracy and has the leadership to win and make his teammates better.
If Dan Marino played today, he would have better numbers than Manning, Brady, etc. He played during a more run-oriented league yet still holds the record for passing yards in a season. He never had a Marvin Harrison, Reggie Wayne, Jerry Rice, or anyone close to throw to. The top 4 should be: 1. Marino, 2. Unitas, 3. Otto Graham, 4. Montana.
Throughout his career, Dan Marino had no defense, no running game, and marginal wide receivers (Clayton, Duper etc). He still held numerous passing records and made his team competitive throughout his time in the NFL. All the other quarterbacks on this list won by playing on All-Star teams. This list is a joke.
Best arm and competitor I've ever seen. No running game, No Defense, Mediocre receivers for his whole career. He didn't live in an age of free agency until the end of his career. So he was stuck with what he had. If he just had a defense, or running game, he'd have multiple super bowls and probably be considered the best ever.
I think Peyton is the best, but in reality Dan is second. Unlike ESPN who only goes buy how many times your team one the Superbowl, I go by actually watching the players. Brady could not throw half the passes Manning or Marino can. Marino is probably the greatest passer, but I go with Peyton for all around
dan the man! the best ever, never won a super bowl but it also takes a team to do that not just one person. you put marino on the 49er's in the 80's and he would have super bowls to. and it took favre a lot more games to do what marino did. number 6 on this list don't think so number 1, think about it.
Marino was the most competitive spirit on the field! What many mistook as disgust with his teammates was simple competitive spirit. Given better defensive teams or a quality RB to balance the attack & keep opposing defenses honest he would surely had multiple Super Bowls championships. This guy simply got it done more times than not with far less talent around him. Goodness, the Dolphins are STILL looking for his replacement!
Would have had multiple super bowls if they had ever given him a top 10 defense or running back. Elway ended up with two at the back end of his career only because of the Davis. What could Marino accomplished with a Emmitt Smith, Walter Payton, or Marcus Allen.
Marino number three on my list Montana Brady how can you put two quarterbacks over Marino. Peyton and Favre won superbowls on good teams. Marino put up numbers on bad teams and changed football. Favre captain joke and Manning best regular season quarterback ever - dwells1285
He is the greatest quarterback ever hands down. If you take super bowls out of this Dan the Man would be #1 by far. He threw for 5,000 yards in his SECOND year. 2 players of Marino never achieved this in there whole career. He didn't have any great receivers (he had good ones) and all 4 players in front of Dan had at least one hall of fame receiver or tight end. If he had one ring, Marino would be in the talk for greatest QB ever. Thank you.
Considering he had NO ONE to help him, it's truly spectacular how amazing he was. Retired first in most major passing categories, and played in the ground-based era, but still has numbers in the top five of pretty much every list.
This guy is simply one of the best of all time and in his prime he was a beast for the dolphins with Jarvis landry and dan they would be the best although they played in 2 different times
Marino was better than Elway and really holds the record for most come from behind wins. If he had better teams he would have won a lot of Super Bowls. I put him at number 4 or 5 all time.
The Dolphins got the steal of the 1983 draft when Marino surprisingly fell to them at No. 27. By the time he retired following the 1999 season the prolific Marino had put had put his name atop nearly every passing record.
He might not have won a Super Bowl, but a Super Bowl win is a team victory. A true stand alone great quarterback is a record holder and no other has held the records that Dan Marino has held!
Most Completions, Career: 4,967
Most Yards Passing, Career: 61,361
Speaks for itself.
My vote for #1 Montana only had 40,000 yards passing. Huh!!!
Dan marino is amazing. He is excellent and has great accuracy. When he throws that ball it goes in the touchdown baby! Dan Marino Is a legend. Go Dolphins!
Look at his stats, statistically he is the best QB to ever play the game, the only reason he isn't higher is because he never won a superbowl. He has 61,361 career passing yards, where as Joe Montana threw for 40,551 yards in his career, the kicker here is that Dan Marino played for 16 years, and Joe Montana played for 14, only two years less than Marino.
Simply the best quarterback ever, best arm, did anyone see pitt beat Georgia at the end of the game? Danny took control and even said that he got this
The most amazing passer the game has ever seen. I think he's a little too low on this list. Sad he never got his ring. Makes you wonder, what if Dan "the man" Marino got his ring?