Joe Montana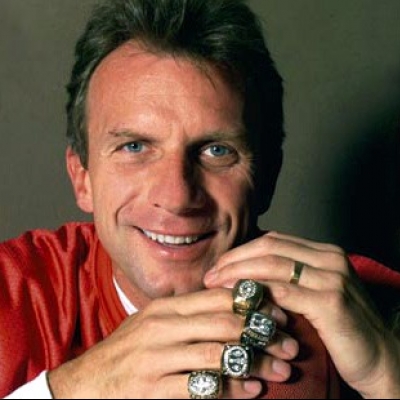 Uploaded by htoutlaws2012
Info
Joseph Clifford "Joe" Montana, Jr., nicknamed Joe Cool and The Comeback Kid, is a retired American football quarterback.
Comments
Top
Popular
Newest
This list is pathetic. Favre, Manning, and Brady higher than Elway and Marino? Johnny U got snubbed by all these people plus Troy Aikman of all people. Where are the Steve Youngs, Sammy Baughs, Otto Grahams, Roger Staubachs, Warren Moons, Y. A. Tittles, and the likes? Whoever has voted must know very little about football before the 2000s. PATHETIC!
Anyway, if you give me one quarterback to win me a game, give me Montana. Great leadership. Great player. He'll win you a game without risking turnovers like Favre does. And like Favre did in his last game. And his last game as Packer. Both of which were playoff games he was trying to win (and failed, might I add).
Montana is the best, hands down. Plus, he's one of only two quarterbacks with 4 Super Bowl rings. - ryguys9
Unlike Tom, he won four rings in four tries. People are going to cry and whine about this next statement, but unfortunately it is true that his team did not get mixed up in the biggest cheating scandal in the NFL either. Ignoring all of that, he is the most clutch QB of all time. You can't really argue that. All respect to Bill Walsh, but Brady has played with Belichick his whole life. But this isn't just a list comparing Montana and Brady. People just automatically go to the ring argument every time. Montana may not be as smart as Manning, tough as Favre, the slipperiness of Elway, or have the arm of Marino, but he was number one in the most important category, which was the clutch. That's what you want out of your quarterback more than anything else.

Pats fans complaining about Stickum should try catching with a pair of modern receivers' gloves before they start in on Rice, too...
People say it was the system that won. He, Rice and Craig were the system. They were the prototype of a winning system. They won, they worked hard and they played FOR the team to win. Yes there are plenty of players with better individual talents, better arm strength better this or that but Joe had the magic. No matter what the score you always had a chance to win with him. Brady is the closest guy around. One last thing is he didn't lose games. The team might get beat but not because he lost the game. Favre has no place near these guys. He lost too many games himself. Interception and fumbles nice records to have if you play defense but not as a QB.
I have been a Montana fan since the beginning. His love for the game was shown through his play on the field. He definitely deserves the title of #1 quarterback of all time. I have always believed he made other players around him step up their game because of the way he played. I do feel that Peyton Manning should be #2 behind Montana as I feel
Peyton loves the game and shows it through his play. Both have overcome serious injuries to come back more determined to play the game they love the way they did before their injuries. These two superstars are fantastic athletes are definitely positive role models for everyone.
He was without a doubt the best Quarter Back of all time. He was the only Quarter back I followed through College football. I watch as many of his games as possible just to see the amazing touch he has on the football. He really made me understand that the best arm or speed a foot did not matter as much as putting the ball where it needed to be. They should have given his son a chance, who knows what might have happened with Joe in his corner.
Simply the best, people talk how he had rice to throw to, what about the first two Super Bowls, the first one, he didn't even have a running back close to a thousand yards, in an era of strong running game to win championships, oh yea Freddie Solomon, and Dwight Clark and old veteran Charlie young tight end, yea Ricky Patton, who? Ricky Patton their best rusher..
Joe is by far the best! People are way to hung up on stats. Even though Joe had fantastic stats, his true talent was simply his ability to win! He was the ultimate competitor. When you absolutely had to win a game, There was none greater than Joe. That's not measured in numbers or strength or speed. He was a clutch decision maker. Then he would just float a ball in a receivers hands like butter and win!
SUPER JOE TO THE RESCUE TO SAVE THE WEAK AND FEEBLE MINDED FROM PUTTING HIM AHEAD OF AIKMAN AND BRADY... sorry couldn't resist, look i have no problem, putting brady in the top ten of all-time, but when it just seems kind of silly comparing him with guys like joe
Montana showed how great he was even before the 49ers got the good defense and supporting offense. Steve Young was good also, but Steve would never have gotten the ranking he got except that he started when the 49ers were at their peak. If he had started with the 49ers when they weren't as good, he would not have lasted. Joe lasted thru even the hard early years with the 49ers.
Montana turned a losing franchise into the team of the 80s. He lead them to four super bowl championships. He was named MVP to 3 of those victories. He directed 31 fourth quarter comebacks including the game winning drive at super bowl xxiii. to this day he is still considered the man.
The best qbs ever aren't about numbers. The best could win the important games. Manning and Brady are great but have been beaten in the superbowl category. He won when it mattered. He won two superbowls and superbowl mvp awards without rice. 127.8% qb rating with "0" interceptions in four.
Hands down the best. Longevity and consistent championship performances. Not in agreement on Brady as number two. Great performances early, not so much of late. I'd go with Marino even though he didn't get the championships. Different set of rules then and some of these new guys couldn't handle the hits like he did.
Far better than anyone, ever.
I should end at that but people argue that Tom is better... look at the two QB's teams. Tom had better pass blocking and Receivers. Joe worked with what he had and made incredible plays while under pressure and while getting hit.
Amazing. #1 period - BlueLakeBaller
Big games matter more than anything. Brady couldn't win against a good Super Bowl contender. Manning is a choke artist in big games. he throttled the best during the biggest stage. 127.8% passer rating in all 4 Super Bowls combined. Rice didn't arrive until he already had 2 rings. There is a reason they say "Montana Magic".
A leader, a winner, the greatest quarterback ever hands down. With the game on the line, everybody believed. His team mates, the fans even the opposing team knew Joe was going to do something great and win the game. A completely different team from his first Superbowl to his last Superbowl. Amazing!
The best performance, stats in Super Bowls.
He is the best leading his team in playoffs and Super Bowls.
Considering his physic he is most amazing. Recently the Quarterbaks NFL standard are taller.
Gotta go with Joe on this one. Favre has stats but he's played forever(and he risks too much in big games). Marino has stats but never could win the big one. As a QB you have to win the super bowl... Montana did it better than anyone else plain and simple. - ahaleysr
Joe Montana rocks, has the best Super Bowl win-to-loss record, etc. etc. etc. And it's not just the four Super Bowl victories, his nickname, "The Comeback Kid" definitely tells what he has done. But Tom Brady? I am pretty sure Peyton Manning beats Brady hands down.
When one comes out of Notre Dame and is picked as low as Montana after he single handled won the Cotton Bowl, with the flu, one wonders why? Walsh was a brilliant football mind, and judge of talent. Montana was nothing short of great, though he did not have a great arm, HE WAS A WINNER.
Joe Montana is the greatest quarterback to ever set foot on a field. He knew his way around the pocket and was always able to find an open receiver for big yards. Their is no one to compare to Montana because of the amount of yards, touchdowns, and avoided sacks that he had. His total mindset to football was greater than any other player to play the great game of football. Go Cowboys. - Duckman
#1 all time
One play from taking the Cheifs to the Super Bowl in his last season. This was in the tail end of his great career. Kansas City didn't add much of anything else to turn that subpar team to a contender.
Montana is the most outstanding QB of the 20th century His ability to lead a team was never matched and could always make the pass even in the 4th quarters... He was so cool under pressure and was known for this No matter what the numbers end up being... He will always be a LEGEND...4 Superbowl rings and 4 superbowl MVP rings
If you all remember in the beginning Joe didn't have not much of an offensive line for a few years and took a lot of hard hits but still managed to win the games. Supercool under pressure Awesome clutch player.
Joe was incredibly durable, elusive and had the best touch ever. People forget that he won two super bowls throwing to guys like Freddie Solomon and Mike Wilson. Most impressively was how clutch Joe was. Nobody has ever been more cool under fire.
I don't know if most of these are even close to being rite. but I do know this one is. joe Montana is the best hands down quarterback to ever play in the NFL. there will never be another like relaxed cool joe Montana. simply the best to ever play the game