John Elway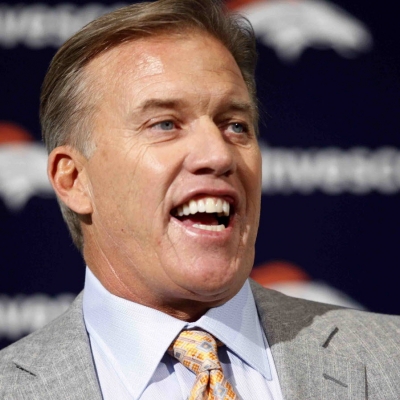 Uploaded by Cowboys-Dallas
Info
John Albert Elway Jr. is a former American football quarterback and current executive vice president of football operations and general manager of the Denver Broncos of the National Football League.
Comments
Top
Popular
Newest
Correction. John Elway started 5 superbowls and won two of them. Yes that made him the most experienced superbowl QB player of all time. Maybe that's why he won the last two? His Bronco's showed that 14 point underdogs can and will win. Between 1996-1998 the Bronco's were the dominate team (Note to Pats: Giants learned from Elway how to win).
Wondering how many of you are from Colorado? Not much to do out there, and one of you clearly never went to grammar school. Free tip, to the fan who began his post "started in 4 Super Bowls" and then typed "If Stanford would of stopped cal on that final kickoff" - The proper way is "would've" short for "would have" but truly, "had stopped" is the best way. by the way, greetings from Boston. Home of good grammar.
My fav qb ever! No one means more to a team that Elway. For many years he was a one man army. Big, Strong arm, a leader. The comback kid. With Elway Broncos always had a chance no matter the circumsatnces. He settle a benchmark for Qb of the new millenium. He could run to. A winner. - vic
Powerful, accurate arm and an amazing ability to scramble and turn a loss into a gain. There was no one who could orchestrate a comeback like Elway. Two Superbowl wins adds to his case as the greatest ever. Montana is a close second.
The best and most exciting football player I ever saw. He did at least once every game, something I didn't think was humanly possible. Anybody thinking I'm exaggerating, look at some video footage on YouTube or 'best of". Robert D.
I learned to love football when Elway played for the Broncos he could do a come back 2 minute drill with out comparison. He made it be a thrill to watch them play
The reason we saw so many heroics from John was because he was always running for his life. Not enough pass protection and no running threat to take the pressure off (first 10 seasons) With those two things there and a compatible coach,5, 6, or 7 superbowl wins--who knows?
The Best I've seen. He led three teams to the superbowl who where average at best. And when he finally had a really good team, he won two. Only QB to start in 5 Super Bowls, now that's a winner
Elways cannon arm and football sawy produced 51,475 yards and a remarkable 47 forth quarter comebacks. he capped his 16-year carrier by leading the broncos to back to back super bowl victories.
Did everything. Great arm, leadership and ability to make plays with his feet. 5 SB appearances. Three were with a marginal WR corps and a smallish D. In my opinion, the best ever.
Great passers do not equal great quarterbacks, Dan Marino is a perfect example. What makes Great quarterbacks is championships and Super Bowl appearances. John Elway in my opinion is the second greatest quarterback ever he just wins
#1 people don't like him because he was in an era of quarter backs so he did not stand out by far the most under rated player of all time and if a kid says no tom brady is the best of all time then he doesn't know football
Of the guys above none were stronger, faster, tougher, or smarter than Elway. But football is a team sport, if it was up to one guy Elway would have faced Barry Sanders every year they played in the super bowl.
He had the greatest arm.terrific.better than brady and montana. Won two super bowls out of five appearances.9 time pro bowler 2 time league mvp. Only one quarterback can possibly go over him. Joe montana.
John Elway was the Broncos for years! He did it all! No one was a master like he was especially in the 2 minute drill! Amazing! Elway going deep, down field diagonally on the run! Wow! No one was better! What heart too! Remember him going head to head 3rd down inside the 20 in the Super Bowl! Yes, he got the first down and barreled down his defender! Miss him!
It's John Elway! Joe, Tom, Peyton, all of them have never played with as horrible teams as him and made it to the super bowl. John is the comeback kid, the gunslinger, Tom is a baby!
Could any of the qb's above have taken the first 4 no name Denver teams to the Super Bowl? Could Elway have taken their teams, Yes! Elway=Winner - 144mango
The Comeback Kid was strong, fast, tough, driven, and more won back to back Superboels and then retired. Peyton or Brady may pass him one day. - apachereporter
Johnn Elway is the only player to start in 5 Super Bowls and the first 3 teams had no right being there. It was solely on the shoulders of John. The defenses were no name and lacked any pro bowlers to speak of. He had an average receiving corp and until Gary Zimmerman joined the team, no offensive line. No one else would have led that team to those first 3 SB's and if not for getting hurt in the AFC Championship game in Buffalo, he probably would have started in 6 Super Bowls.
Why is he not number 1? And why is Brady so high? Wow, people don't know football.
Horseteeth and all- I loved the way he approached the game and truly made you feel the Broncos had a chance to win any game - damersh
What?!? Elway should so be higher than Favre, Marino and Brady! The Drive itself puts him over the top!
I have watched football my entire life and John Elway is by far the greatest quarterback to every play. He was the whole package. If you give him the same teams Montana or Brady had he would ha e won five or six Super Bowls. Unlike Brady who can not win a championship win out a controversy he would have done it with ease.
Could almost single-handedly win a football game with very average players around him. Unmatched rocket arm.
Elway in my opinion is like aaron rodgers, which is why I hate him and his smug stuck up fave and no one will ever dare criticize him - bisonSD
Related Lists
Best John Mayer Songs

Best Elton John Songs
Best John Lennon Songs
Best Songs by John Frusciante
Best John Legend Songs