Top 10 Race Horses That Have Won the Triple Crown
The Top Ten
1
Secretariat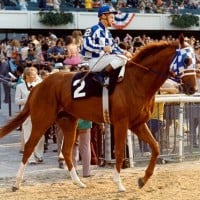 Secretariat was an American Thoroughbred racehorse who, in 1973, became the first Triple Crown winner in 25 years.
I watch the movie four times a week, he is hands down the greatest horse to run.
Amazing horse! I personally think, best horse of all time! (Not that all the other horses aren't amazing! ) But Secretariat inspired me and many others!
The best, period
Secretariat was my choice of race horses before I knew anything about horses. In the 1970's I was a young kid, but I knew right from the first time I saw this Great horse that I was on to something, and I was right. I get a smile on my face every time I hear about Secretariat.
2
American Pharoah

American Pharoah is an American Thoroughbred racehorse who won the American Triple Crown and the Breeders' Cup Classic in 2015. In winning all four races, he became the first horse to win the "Grand Slam" of American horse racing.
Your horse looks fast
I watched this guy win the Triple Crown in 2015, and trust me when I say, FAST!
6th best time in Belmont, and 1st horse to win Grand Slam. Also, never even went as fast as he could, except for The Kentucky Derby. What a great horse, and is the BEST horse born since 2000. (better than Arrogate). But Secretariat, Citation, and Seattle Slew were better than him, but Pharoah is top 15 of all time now.
Horse that ended the thirty seven year drought
3
Seattle Slew

Seattle Slew was an American Thoroughbred race horse who won the Triple Crown in 1977—the tenth of twelve horses to accomplish the feat.
A horse at my barn (Little Bitty Slew) is either the daughter or granddaughter of him
Great horse! Mine was the granddaughter of him and she was a great racehorse. He had it in his blood.
Walter Farley said he'd found his real life Black Stallion in Seattle Slew.
A great horse, he's my favorite because he raced among the best in his Era plus he is secretariat cuzing.
4
War Admiral

War Admiral was an American thoroughbred racehorse, best known as the fourth winner of the American Triple Crown and Horse of the Year in 1937, and rival of Seabiscuit in the 'Match Race of the Century' in 1938. During his career toward the end of the Great Depression, War Admiral won 21 of his 26 starts ...read more.
Love him to death. - Gatsby
5
Whirlaway
The most overlooked horse of all-tine
Lez go whirlaway (clap, clap. clapclapclap)
6 Assault
7
Citation

Citation (April 11, 1945 – August 8, 1970) was an American Triple Crown-winning Thoroughbred racehorse stallion who won 16 consecutive races in major stakes race competition. He was the first horse in history to win one million dollars. He was foaled at Calumet Farms in Lexington, Kentucky. Citation ...read more.
The greatest ever after Squanderer
Greatest at leading the pack.
How can he not be number 2. I don't know if secretariat could have ran as many races as a 3 year old and one between Preakness and still won the Belmont
Your so rude putting so many amazing horses under 5th place 😡
8
Sir Barton

9
Affirmed

Almost as good as Phar Lap and Alydar, but not quite.
10 Omaha
The Contenders
11
CountFleet
American Pharoah should be in at number 10
12
Northern Dancer

Northern Dancer was a Canadian-bred Thoroughbred racehorse who won the 1964 Kentucky Derby and Preakness Stakes and became one of the most successful sires of the 20th century.
Northern dancer is my choice because till today all those horses which run in a derby are anyway connected to him. His bloodline simply proves itself on the racetrack and since last 6 years every winning horse in Indian derby has Northern Dancer as an ancestor!
13
Justify
Justify is undefeated and in a league by himself. He belongs over American Pharoah and below Seattle Slew. Give this horse the credit he has earned.
14 Pharoah
15
Gallant Fox

Gallant Fox was the winner of the Triple Crown in the U.S. in 1930. He had a bright blaze on his head. He was born and bred in Paris, Kentucky at Clairborne Farms and was a son of Sir Galahad III. Among his progeny were 1935 Triple Crown winner Omaha and Granville, the 1936 Horse of the Year. He also ...read more.
BAdd New Item