Top 10 Railway Stations In Tamil Nadu
The Top Ten
Salem Junction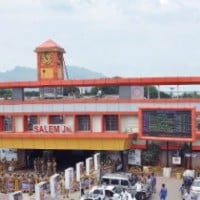 Salem is very important Junction because Train going to Southern Tamilnadu (Madurai, Trichy) & Train going to Kerala, Magalore need to pass via Salem. Believe me Salem Junction is far better than Hyderabad Junction, very neat & Clean.
Nice places/ Decent Peoples/ Convenient Charges for Travel/ Good Climate
East or west Salem junction is the best.
It is a best station on Tamilnadu and a one of the best division of southern railway
Madurai Junction

biggest and most crowded railway station in South India , It's a main junction to connect Rameshawram-Dhanushkodi in East and Theni-Bodi on West . The Gateway of South TN
One of the largest railway station in south India. More numbers in terms of passenger traffic and has been awarded consecutively as the cleanest railway station in India. It is one of the oldest station and almost connects most of the cities in India.
Madurai city is one of the most popular destination in south india
& this railways station cleanest Award taking by 2018. Day by day more passenger increase here. So Ministery of railway more schemes
Provide this station. This is good revenu station in Indian Railway.
Madurai division is the second biggest railway division in
(southern raiway).
One of the best stations in India, Parking is too large, clean platforms
Chennai Central

Every train must stop at least for 20 min in this station... No other station in our state have such credit
One of the biggest railway station in south india
India best rail way station
First ISO certified station
Coimbatore Junction

It is a good railway station it has 6 platforms neatly and the railway station beautifully
Busiest railway station and high revenue collecting.. In TN next to central... Very very clean station every seen.. Has connectivity thru out India... Fully electrified lane from Chennai central and can reach central less than,7-8 hrs! No traffic congestion as all and double electric...
Coimbatore is the 3 largest stations next to Chennai Central
Highest revenue earning station in Tamil Nadu after Chennai Central
Chennai Egmore

My favorite station
Every should departure from the capital of tamilnadu,which name is chennai egmore
Tiruchirappalli Junction

Best junction, the neat and clean environment outside the junction, which you could not see in other stations. I love trichy
It's one biggest railway station in india
35 above passenger trains were orginated
No of platform is above 8
Yes it is the neatest
Super fantastic.
Erode Junction

Most cleanest junction I have ever seen
Its nice looking and most clean and then big junction I have ever seen...
Cleanest & important railway station
Very beautiful junction its very big
Villupuram Junction
It has to be the headquarters of southern railway but unfortunately it doesn't
Villupuram junction is back bone of southern railway
I like this busiest junction
I like you Villupuram junction it is very neat and clean
Jolarpettai Junction
It's a joining point of Bengaluru and Coimbatore and south Tamil Nadu and Kerala from chennai
Easy to connect from south to north &all direction major city s in India
I am near to jollarpettai and I am proud to jollarpettai junction to this top 10 list
Busiest railway station in tamil nadu
Tirunelveli Junction
Tirunelveli is an awesome palce, This sation having more passenger service,It will come third place
Biggest station and has the 3rd longest train. I love my tirunelveli.
Tirunelveli is very big not in 12th place
It is a quite important junction in south tamil nadu...
The Contenders
Katpadi Junction

'The only junction in tamilnadu with more than 228 trains stops in it'
Connectivity to all major cities in India...
It is very smart junction for middle class
One of the Cleanest railway in southern railway
Arakkonam Junction
More connectivity and more commuters station
This is the best
Oldest railway station in india
It is my favorite station
Kovilpatti Railway Station
Cleanest Station... High revenue yielding but neglected by southern railways
It may not be a junction but one of the busy stations of Southern Railway. High revenue. Well connected with every part of the city with a string of never sleep shops and restaurants in the vicinity...it's simply great!
It May not be a junction but one of the busy stations of Southern Railway with a high revenue. Well connected with every part of the city with a never sleep string of restaurants and shops in the vicinity...Should be in the Top Ten!
One of the fastest growing cities of Tamil Nadu and highly industrialized too. People's hard work and die hard enthusiasm add to the prosperity of the city in spite of any political patronage...! Should be in top ten...!
Mayiladuthurai
Very good condition the station and become a district head quarters and then A1 grade soon
Mayiladuthurai junction will come within top 10 place very soon.
Clean and perfect railway junction in nagai district, Want more development.
Super and response
Karur Junction
THIS STATION IS VERY CLEAN AND QUIT
Superb and neat station. It will be in top 10 category
Karur is simply super junction, I like it very much,
Very small but super
Kumbakonam Junction
Very very clean railway station,and more population used this railway station please change the station to junction
This is one of the best Railway Station I have come across. It's the clean and neatest Railway Station ever in south india
It is the a1 graded station to get good cross over
Clean station
Virudhunagar
Cleanest railway in tamilnadu... Longest platform... Announcement is perfect...
Passenger safety is perfect... Cleanest station. Food and water service also best...
One of the cleanest and 4 way junction. It located in great geographic location which covers the 4 different routes Madurai, Tirunelveli, tenkasi and sivagangai.
Cleanest station
Dindigul Junction
South Tamil nadu very important railway junction
Dindigul is main junction
Good maintenance
Clean and Good
Thanjavur Junction
Thanjavur needs day time super fast trains to Chennai and trivendram
Needs renovation of its front elevation
It is a neat and peaceful railway station
Beautiful station
This station is look like very neatly
Nagercoil Junction
Fine station.
Best station
Cleanest station and a good place to travel
It's eco station
Thoothukudi Junction
It's not junction. But still it is good
This station very cleaning
It is very oldest railway station in Tamil Nadu
My native
Chengalpattu Junction
Massive junction of chennai's south zone entrance and a first class junction Cleanest No: 1 in Tamilnadu
First class cleanest,top of the busiest and Surrounded by good nature railway station
The First Class Railway Station
Cleanest railway station
Kanyakumari Junction
Beautiful place
Excellent station
Superb station
very good
Walajah Road
Please consider railway department this station need to development "Old is Gold"
One of the 4th old station in india...
Walajah Road junction Railway Station is south india's first station. Located station in ammor (Walajah). The passengers long time request more train stoppage and station devolp. But railway department not considering series. So, please take kind necessary action.
Karaikudi
Really clean no garbage are found in both inside and outside of the junction.
Clean and com
Karaikudi plat form 7
Railway station super
PSearch List