50-Cent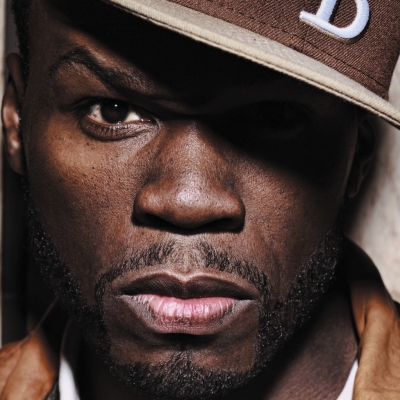 Found on ulximg.com
Info
Curtis James Jackson III, better known by his stage name 50 Cent, is an American rapper, actor, entrepreneur, investor, record, film, and television producer.
Comments
Top
Popular
Newest
To me he should be 2nd behind Eminem. Or maybe first. He's made a lost of songs. His lyrics are smart. He's preformed Madison Square Garden. His songs get a lot of views. He's made songs with Snoop Dogg, Eminem, Etc. He is a Hip Hop legend. He has great style. His G-Unit was much more famous then YMCMB or D12. He's got a great 'Gangster' like voice. He's got a great name too. It was very creative. Not like some rappers that ain't creative. Like a lot of rappers that just use there own name. He is very Strong. Dr. Dre should not be in front of him. He made only 7 songs. Sure they have a lot of views but 50 cent made 31 songs on his Vevo so far. And they all add up way more views then Dr. Dre. Neither Lil, Wayne. Lil, Wayne is good.. Lil, Wayne has almost lost his voice. All of his songs since 2010 are edited. Listen to one of his songs. Then listen to one of Lil, Wayne's songs. Then look up Lil, Wayne live or interview. He does not sound the same. 50 Cent is a rap legend. He don't edit ...more
The fact that fifty sold over 50 million records from his g-unit label, had many classics, and flowed like crazy over every beat makes him top 10.
I hope he ja rule lil wayne
50 cent has made one of the best albums in hip-hop history as every song was amazing and had four songs in the hits at the same time, although I hate the hits. 50 cent is keeping hip hop alive due to his hardcore lyrics, some may call them oldschool, check out his new song 'ok you're right' its mint and should be a number one hit tbh - 05cpe099
The best and the last real gangster hip hop rapper of our generation, A successful businessman that hip hop has ever seen before. He built his wealth within a short space of time compared to Jay-Z and Diidy who were there long before him. Now he is standing head and shoulders with them. No other rapper has brough so much attention to Hip Hop than 50 cent. He inspired business mentality among rappers. 50 cent is so true in the fact he actually right the life that he lived. Some rappers are juts studio gangsters. I just hope a lot of people from the hood or even across the world could be inspired by his life path. Lil Wayne raps appeal to 13 year olds, he is the king of bubblegum over substance. Diddy is not a rapper and world knows that. Jay-Z has always been consistant with his music and he is not a wow rapper.
50 cent is easily the best his lyrics are the best, hate when people say there shit and he does not rap about his life, correction he does not rap about YOUR life he raps about his experiences in his life and how it changed him as a person. Eminen does not rap about his life and if he does he should be locked up "i shoved a gerbil in my arse do it too... " and how many people do you know who help African people 'SK' even if you don't like him you have to respect him for that. Not to mention she survived 9 bullets, most people die of 1.
50 cent is a legend. His life, his story and what he's been through since his childhood until he created the empire G-unit make him an unpaired rapper. The message contained in "get rich or die trying" was unbelievably strong, I believe it is the best gangsta rap album of all time, (if not the best rap album). The commercial performance can confirm this. Now, he brings back to the streets with his foundation and his multiple projects with the world food program. 50 cent is "The King of The Streets. "
Dude this guys is seriously hot I don't get why lil wayne is higher than biggie? 50 cent is the bomb I mean tupac eminem biggie and then 50 cent who is lil wayne? Laugh out loud lil wayne is like a lil pretend boy he has been rapping and on T.V. since he was 14 so when did he actually do the things he said he has done I mean you ain't part of a gang when your 14 such a fake - lintel2
50 cent is the best enough said! G-Unit, 15 million records on get rich or die tryin, his lyrics are unreal, he raps about what he does and what he has experienced in his life, and been shot 9 times and still breathing! He is UNREAL and let's not forget he is a #1 business man.
People don't respect him now because they just see him as a stereotypical gangsta rapper, but really he re-invented gangsta rap, and was the first to make it commercially successful while remaining hardcore. Best selling hip-hop debut of all time (definitely in top 3 hip hop albums ever), he fell of a lil bit since 2007 but he's still got more material left in him if he puts his energy into music. His flow won it for him.
I've always listened to 50 from when I was A kid. He was my first exposure to rap music really, Get Rich or Die tryin was one of the first albums I ever purchased and I still listen to it. I couldn't get enough of this guy I used to listen to him day in day out. I don't think his new stuff is as good as his old stuff but it's still good though, but I guess he don't need to work so much nowadays. He's made He's Filthy rich. But I reckon he deserves to be a bit higher up in this list then number 8, He should be at least in the top 4.
lil wayne shouldn't be on that list. 50 cent is one of the best of all time. the only reason why his last album didn't do so well is because of his label heads. thats why he left. the reason why wayne's so hot is because he hops on everyone's records. you can't name an artist he hasn't done a song with. thats why 50 called him a hoe.
50 is ranked below Lil Wayne? That's ridiculous. 50 is one of the best lyricist out there. He should at least be number 2 behind biggie
50 Cent is a GOD! He's not one of those rappers who have one hit song that's good, 90% of his songs are AWESOME due to its great lyrics, his voice, the awesome punchy backbeat, and the music itself. I can listen to a number of his songs over and over again such as: in the club, if I can't, talk about me, outta control, disco inferno and just a lil bit
50 is simply a very talented artist. Every album that he has made has had at least one single on it that is just incomparable. Of course, some albums have been more successful than others. If 50 cent can find his groove again and appeal to not only his current fans, but all fans of rap, than he will most certainly rule the charts heavily and his album will not leave your iPod.
This has to be a joke. Who ever commented that he is the father of gangsta rap should not be allowed to listen to hip hop anymore. 50 had 1 (one, uno, singular) great album. I'll admit Get Rich or Die Tryin is one of the greatest albums I've ever listened to. But everything before and after was decent at best. Would Get Rich or Die Tryin be so great without the help of Em and Dre though? Probably not. Without Dre, I believe Em still would have eventually found he same level of success, maybe just take him longer because he has raw talent. 50 on the other hand, I don't think Mr. Cent would have been anything without Dre and Em. and being a great business man has nothing to do with being a great rapper, congrats you're the face of vitamin water. - AiJ
16 million records sold on get rich or die trying world wide (6 US) that album alone makes him the 6th best selling rapper of all time could've been top 5 but everyone stopped liking his music and him and he eventually flopped but covered it up by pretending to be a business man.
Power of the dollar is the best rap album ever created. 50 cent is the best rapper on this list he should be way above wayne, after all this is a list of rappers not pop artists.
All rappers claim they are gangsters, but 50 is the only true one. When you look at him he looks like one, which none of the other rappers have. That with a little magic makes a true rapper.
50 cent is one of the best rappers of all time because of his hustler and gangster mind set he knows how to make money and how to make a great track is truly one of the top ten.
Who else can make hits like"in the club', "21 Question", "P.I.M. P", "Candy Shop", "Just A Lil Bit", "Hate It Or Love It"... Better than 50 cent. Hands down, he's the man next to Eminem
50 cent great, it's a joke that Lil Wayne ahead of him, the rest I can understand, but Lil Wayne? Really should not even make this list,
He is the best because he is an amazing business man, he invented the mix tape format, and sold vitamin water to coca-cola for 1 billion dollars.
He should defiantly be above Lil Wayne. Lil Wayne is Just Fake. The top 3 should be, Tupac, Eminem, 50 cent.
Searching in wikipedia, Google, yahoo, billboard music and world music, You will find that Eminem and 50 cent most popular rapper
I thank 50- cent shound be up there with eminem and lil wayne not on numeber 8 thats just not cool - april16