The Game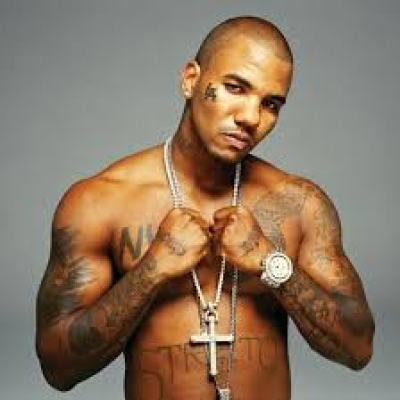 Uploaded by Mumbizz01
Info
Jayceon Terrell Taylor, better known by his stage name The Game, is an American rapper and actor. He was born on November 29, 1979 in Los Angeles, California. Game spent most of his childhood in foster care (up until high school) even though he knew all of his brothers and sisters. Since 2002, Game ...
read more
.
Comments
Top
Popular
Newest
This whole list is messed up, firstly all the classic rappers should be near or even above top ten...
... Now when it comes to The Game man this blood hound spits fire-he really has got the west coast resurrected.

He is as real as it gets, he was brought up in a Crip neighbor hood, but ended as a Cedar block piru, and not many can take 5 shots and still express about snitches that have tried to finish him... Him and Billboard legends as it stands.
The Game has crazy lyrics, its like a story of Compton. No one talks about there home better than him. Hate it Or Love it, my favorite rap song of all time, amazing lyrics and beat. BY FAR THE MOST UNDERRATED RAPPER ON THIS LIST.
I like Eminem, Kanye West, Nas and others but when I heard THE GAME I was like this is it, there is nobody like this, his lyrics is straight and honest. He's like the west coast Nas
By far a great rapper if anything he should be in top 5. In my mind number one. He is a lot better than 50cent so I don't know how that guy made it towards the top. The game is a legend listen to his lyrics and it paints a picture in your mind. He makes you visualise
Simply the best, there is no one who can prove me wrong, no controversy yet still doing his thing. Quality and style and always in the top of the charts when he drops those lyrics
Now. Who couldn't like The Game. His raps always have a story. Besides "I Remember" but listening to him makes me think anything is possible. Shot in the heart. Nearly died. Came back to show amazing talent. Hate it or Love it was a dope single. Like Kanye you can't find one bad album.
He has proved himself even when 50 Cent and G-Unit started hating on him, he emerged victorious and proved who's real and that's the Compton rapper; Game is real to the core. Dope!
The game is dope just listen to his songs I recommend the game ft 50cent hate it or love it. Also The game Higher.
The Game is a top 5 rapper. He's such a beast. Better than Wayne, 50, jay z. His voice is just so awesome to listen to. Listen to to the red album, or the documentary.
The REALEST rapper nowadays. You can't compare Lil Wayne to The Game. The game would murder Lil Wayne any day.
One of the best west coast rappers ever! Game is still one the realest rappers in the world. He knows what life is about and he puts that in his songs. So if you are a lil wayne fan. Bitch please! Game best rapper in the world!

The Game grew up tough and poor, but look where he is now. A great rapper and very rich. Game's songs is just like M&M's, they rap about their lives and doings, and that is amazing.. His hit song "one blood" silenced a lot of haters.
Game is in my opinion in the top 5. His raps have emotion. His voice goes perfectly with his music. His flow could be a little better.
Greatest rapper of all time. Its just that simple there is no one better than him. He was good with 50 and great with dre and would destroy Lil Wayne any day.
Game is the only gangster rapper out there listen to the city by him and kendrick lamar, its one of the best songs out there
The First song I heard was how we do IT BLEW ME AWAY his mint lad go the game
The games an honest man he's a soldier 2 people should look into him more and realise how hard his life was and how he pulled threw his bad moments
There's Just no beating Game, he speaks from the heart and speaks about the hood and what people go through.
Hardest rapper in the game right now should be number one in this list the games lyrics are to real and he goes hard in every song
The best rapper alive is THE GAME because he brought back the West Coast and N.W. A so give it up to The Game.
Game is one of the best rappers in the world. His experince with Dr. Dre and G-unit made him up above all other rappers. I'm really surprised that Drake and Wayne and other rappers are above Game. Its all about the game here! Hate it or Love it and How we do are the best songs that I cound ever imagine. His LAX and Red album are crazy sick. His variety of songs make him king of hiphop specially his sad songs " my life, never be friends"
Dude, get Tupac, biggie, and jay z outta the top ten and put this dude at least 8
Really great name dropper, nice beat and flow, doesn't talk about stupid like money and hoes like the mainstream rappers do nowadays. Truly raps about some real stuff.
I don't know how that lil wayne got into the top twenty along with 50 cent, kanye etc. The game deserves a place in the top fifteen and look he is at twenty eight in this list. I don't know what are people listening these days...
The Game is dope listen to his songs I recommend The Game Higher
Related Lists
Best Video Game Consoles

Top Ten Video Game Characters

Best Game of Thrones Series Characters

Top 10 Video Game Companies Of All Time