Ice Cube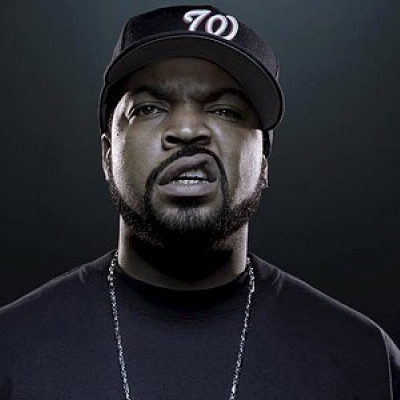 Uploaded by venomouskillingmachine
Info
O'Shea Jackson, born June 15, 1969, known by his stage name Ice Cube, is an American rapper, record producer, actor, and filmmaker. He began his career as a member of the hip-hop group C.I.A. and later joined the seminal gangster rap group N.W.A. After leaving N.W.A in December 1989, he built ...
read more
.
Comments
Top
Popular
Newest
Ice Cube has proved that he is the definition of the term raw in hip hop. Starting off with a bang in the legendary rap group N.W.A. , Cube made a name of himself with his fast and no holds barred approach to rappin', in which he basically throws everything he's got towards the listener, leavin' it to them to either be offended or enjoy his music. From Givin' Up The Nappy Dug Out to Say Hi To The Bad Guy, Ice Cube remains one of the most enjoyable albeit controversial rappers in the game. - MickyG94
Ice Cube was NWA's front man. His voice was commanding, and he made you listen, whether you wanted to or not. After the unfortunate break-up of NWA, Ice Cube lived up to his name by putting out the ice cold albums AmeriKKa's Most Wanted and Death Certificate. Were there any hard feelings between Ice Cube and his former band/groupmates? No Vaseline is your answer. - GangstaReppinDaCPT
Ice cube has the best lyrics ever enough said he wrote most of the lyrics on eazy e alum "Eazy Duz It" and wrote most of the lyrics in most of the nwa songs. he has one of the most classic songs ever like "today was a good day" "check yo self" "hello" "yo can do it" "why we thugs" "smoke some weed" "gangster rap made me do it". ice cube is the most genius rapper in history I don't know why his rated 19 on this page when Lil Wayne is number 3 this website is pretty stupid.
Ice Cube should be where Lil Wayne is. Lil Wayne Just repeats the same words over and over and has a squeaky voice. Also Lil wayne talks about killin people with aks and gats (witch he never did) Ice cube raps about reel stuff that actually sounds good and not repetitive. So lil wayne is just popular with young that don't know anything Listen to some real west coast. Not some fake ass
I love how tech n9ne fans find tech to be so amazing. Hes a above average rappers sure but not even top 100 he's alright but please.
Ice Cube ghostwrote for eazy-e all eazy-e did was badly rhyme lyrics that he didt write. Dre got those ghostwriters to cube crushes him.
Ludacris, lil wayne, eazy-e, dr. dre, john cena, tech n9ne, kanye, Will Smith, T. I, 50 Cent, and chammilionaire arent even top 100 much less top 30. - ChrisHenry
Ice Cube is the one of the, if not, the best rapper of all time. He's got monster flow, great delivery, one of the best rhymes, and simply great rap. The most important thing is that he and NWA impacted gangster rap so much. Listen to "F*** the Police", "Straight Outta Compton", and the WC rap songs. He's definitely the best in the business. To me, Ice Cube, Tupac, and Nas are the best of all time.
when Ice Cube was NWA he was simply awesome.
His albums and songs now are great to listen to.

Great rapper should be ahead of Lil Wayne, Will Smith, Drake, Kayne West (these guys arent rap/hip-hop theyre mostly are and be or crap
ICE CUBE is a true prophet of the people. He told it how it really was being a black American. Brutal stories with humour and genuine. Game changer in the day and he can really flow! I'm surprised how far down the list he is but hey his stories are true grit no fluff yapping about drinks champagne and how many cars, who cares about that. People want to here the real deal from the streets.
Ice Cube literally started gangster rap? Remember Boyz N the Hood? It was the first gangster rap song and gangster rap would not have come to light without Cube and N.W.A. would not have existed either he has made too much of a contribution to rap to be put at number seventeen Cube is the king of all rap and every other needs to bow down! - C-dar
He is in my opinion should be top 5 at least. He inspired so many people to get into the rap game. The biggest one that comes to mind is Eminem. Eminem even says that one of his biggest inspirations was Ice Cube. He has worked with some of the biggest names in the Rap industry and has his own Record Label and has had and still does have some of the best songs a 25 year old album going number one doesn't lie.
Ice cube is a hip hop legend! He wrote his lyrics creatively, and his rapping speed ranges from slow to fast! He has some calm and enjoyable songs, such as "It Was A Good Day", and also intense and serious songs, such as "Gangsta Rap Made Me Do It" and "Check Yo Self". He is also a great artist, and his successful career as a rapper and an actor inspires me a lot.
Ice Cube is amazing. Period. One of the legends of Hip-Hop and also a legend of the West Coast Hip-Hop Scene. People nowadays to respect the Golden Age of Hip-Hop and not just be listening to the stuff that plays on the radio.
So many hip songs... Ice cube may have very much invented rap as well as he was the lead dog at NWA. After he left they were a fraction of what they were in straight outta Compton. I think Tupac is good, but for some reason I'm just not into his songs. #1 Eminem #2 ice cube and #3 dre I'll put Tupac at #4 even though most his songs don't bump to me
One of the best lyricists ever. One of the meanest flows ever. Does not get any credit anymore because he makes movies, but in reality he deserves even more credit because of his success in so many different fronts. His lyrics are less redundant than Eminem's, and much of Tupac's are too chill. Best of all time right here.
If you wanna listen to real rap, you have to listen to ICE CUBE. HIS LYRICS are AMAZING, Smart and his hooks are awesome as well as his voice. Listen to his disses to Dre and Eazy in Vaseline and you did know that he is the best rapper in N.W. A he deserves to be in the top 6.
Ice cube is a dude hear that has everything! how can he be less higher than lil wayne? if there is one rapper who deserves top 10 the most that's not already in top ten, its ice cube! gangsta rap founder! the 2nd best westcoast raper! NWa's best rapper!
I don't understand how Ice Cube is this far down and is JUST in front of John Cena, when John shouldn't even be on the list, Ice cube is a mastermind when it comes to Hip Hop - roblist
Ice Cube put westcoast on the map.There was Cube before Tupac and Snoop.His lyric was universal he made N.W.A.He made Eazy-E.Simply the best. - wideup
Ice Cube is underrated... He was the best rapper back in the NWA days and wrote the majority of the songs. The way he raps, the way he deliver the truth is unique, and what a hell of a tough guy he is. He should be above dre and surely above snoop at least somewhere between 5-8
None of the rappers ahead of him would have careers without cube. He was all the talent in NWA as far as writing was concerned and NWA would prove to be the most influential rap group arguably ever. Cube needs to be higher on this list
Best rapper of all time. His catalog and lyrical skills blow every other rapper out of the water. Ice Cube was a real story teller and that's something lost in rap today
Pioneer of gangsta rap, delivered the most powerful verse in history in the first verse of straight outta compton and even after nwa he still succeeded with one of the best disses (no vaseline) today was a good day you know how we do it etc.
Greatest rapper that's under the top 10 right now, Kanye is nothing compared to him. Leaving the most popular rap group and still being successful and relevant is a lot. One of the best lyricists of all time and also one of the best MCS, if you're a rap fan you can obviously see that Dre is ranked higher cause he produced Eminem, Pac, 50 etc. and also cause of his business. Deserves to be in the top 10
Ice cube is the best rapper because lyrically he is the best nobody can compete with him he 10x better than Eminem, all Eminem does is diss his mom, ice cube disses anybody he wants ghe is not scared of anybody in the rap game, his lyrics give 10 slaps to young money, Eminem and the rest of the rappers.
What why the hell is ice cube so low? He should be like 4 or 5 having him below Lil Wayne is just disgraceful. Lil Wayne raps about retarded. Ice cube is easily the third best lyricist right behind biggie in my opinion
Related Lists
Best 10 Ice Cube Songs
Greatest Ice Cube Albums

Top 10 Best Songs Between N.W.A, Dr. Dre, Ice Cube and Eazy E
Best Ice Cube Movies