T.I.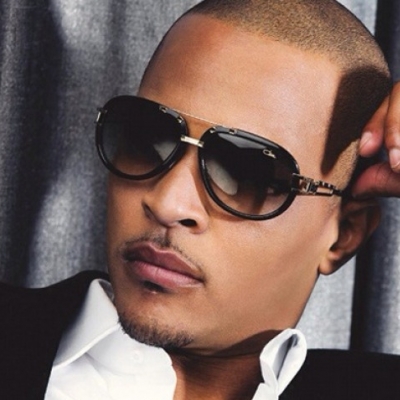 Found on pinimg.com
Info
Clifford Joseph Harris, Jr., better known by his stage names T.I. and Tip, is an American hip hop recording artist and actor from Atlanta, Georgia.
Comments
Top
Popular
Newest
He is 1 of the best because of his story telling smooth voice rap style and can change up his style and still can continue to make great music like he did on No Mercy. Also instead of making you wait for new music while he is in jail, he just releases you albums that you can keep in you're car for a year and still bump until he gets out because of how good his music is. He should be a top 5 and above Lil' Wayne. I mean it The King.
T.I. is a beast. In my opinion, he is a perfect example of the evolution of rap. King of the south, yes; but even if he wasn't coming out of the south, he still would have shined and made it big in the music industry. As far as his generation of rappers, there aren't a lot of people even close to TI in terms of natural flow and being able to make great songs.T.I. should be ranked higher. Nearly all of his albums you can listen through completely without skipping a track.
Why isn't TI further up? He deserves to be in the top 5 if not even higher. He has one of the most interesting persona, not too many others can call themselves the King and get others to believe him. Also, his flow is insane. He killed both Lil Wayne and Jay-Z on Swagger Like Us. As if that wasn't enough, he is also becoming a more introspective rapper. So I guess... Vote for TI!
Sure I think T. I deserve top 3, T. I I think is better than most of the rappers out there, he can rap fast, slow and any how, listening according to the beat, he time the beats all the time and don't go off the beat. like some other rappers do.. He never short words.. Massive swag he got.
T.I. is the greatest rapper ever. He is the new "Tupac" because he has some meanings in his lyrics. He doesn't rap for money, he raps to make a difference in the world. This is why hip hop isn't dead.T.I. has touched many peoples hearts with his music and lyrics. King of the South forever!
Swagger like us? Everyone that's ranked above tip went half as hard in that song and any song he's featured in find somebody that has a harder verse besides em like he said if you think you better than me than out rap me and nobodies stepped up to date lyrically above the greats of biggie pac and jay z flow better than Wayne and intellect above kanye
Grand Hustle Homey! T.I.P. has proven time and time again that he is King Of the South and can perfectly transfer from a soft rapping style seen in Whatever You Like to gritty street lyrics such as Raw or Done It Now.T. I is hands down one of the greatest rappers alive and should be at least in the top ten
Honestly no one has the lyrical flow like T.I. Not even eminem... Why would he be 12th.. People need to rethink a bit
T.I. is the king of the South, he is the King for a reason. All these new upcoming rappers talk about girls, weed, and so forth. T.I. raps about what happen in real life, true stories. All of dem' rappers nowadays are fighting over girls, T.I. been there and done did it.! Enough said'. King of the South still reigns and will always be.
best rapper in 2005/2006. paper trail was a great album he has insane flow killed kanye wayne and jay z on swagga like us. murdered wayne on we takin over. he's pretty underrated and deserved to be in top ten
King of the south every rapper who's anybody knows him and says he is the the king of the south so if other rappers says he's the best he's the best
What can I say about this particular rapper except he's the king of the South, just when people or rather haters questioned his self-proclaimed name "King", T. I proved all critics wrong and showed them that he's real.
T. I you're the best for ever men! Whether you fall down whether you rise up you're the best one for ever and ever! For the one who made list T. I deserve at least top 4. Thank u!
Tip Harris is a Bad boy rapper and also a rapper that's been a while in the Game.T. I is an amazing rapper that's also a little on the fast lane.. His single whatever you like and Live your life ft Rihanna is exactly why he is ont he #9 spot.
Probably the most under rated rapper here. He's got swag, his flow is sick and his lyrics are amazing. Arguably the best rapper alive at this time. Long live the king of the south

And P.S. this list is a joke!
T.I. is a true hustler. Best well-spoken rapper n educated by far. Well dress and lyrically ill. Listen to his words because they are truly inspiring. I could vote for T.I. for president for the USA easily. As well king of the south hands down.
T. I has made many songs before and was great and I think he still is a remembered name to us, or to me at least, and he was a great rapper making songs with many other people, including our great Rhianna.
By far my favourite rapper, very under-rated! It may be hard for some to understand what he says because of his strong southern accent but that's what makes his flow one of a kind. It's THE KING!
He's the best rapper of all time hands down. No one currently is on his level except maybe andre 3000 or Eminem. Other than that T.I. is not only the king of the south. But the king of rap.
He is the best rapper best voice he dose not make the best hits or songs he admits that in the song castle wall but his songs that are hits are the best and always remembered in my mind top 3 or 5 at least he is better than Lil Wayne and he raps abput his life cause it actually happens as well rather than some who wamt their life too be like that
T. I is the king, cause he brings it every time, and he put it all on the table, he knows what his audience likes... There are many rappers out there but non of them is like T.I..
Tip is in the top ten, maybe even in the top five.
I'm already mad this website had the nerve to put Eminem over Tupac AND Biggie.. Now they got T.I. at 14? What if not behind the Top 3 he needs at least Top 7
Has consistently released the best tracks. His flow has changed a bit but not entirely. He's one of the few bright spots that remains in today's garbage rap world.
Greatest rapper of all time.T.I. gets lots of street credit because he keeps it real in his sick lyrics. He can murder anyone in a rap battle. King of the south!