Top Ten Most Rebellious Music Genres
The Top Ten
1
Punk Rock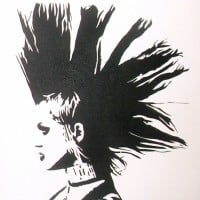 Punk rock is a subgenre of rock music. It usually has rebellious lyrics and down stroked power chords played on guitars. Bad Religion, Sex Pistols, and Green Day (actually pop-punk, which is still punk in a way) are a few punk rock bands. The subgenre influenced thrash metal because of it's down stroked ...read more.
I love it too
2
Heavy Metal

Heavy Metal music is a sub-genre of rock music that originated in the late 1960s-70s, featuring more distorted and heavier instrumental work and darker lyrical themes. Heavy Metal broke into mainstream success with bands such as Black Sabbath, Iron Maiden and Metallica. ...read more.
3
Rock & Roll

Rock music is a music genre that was created in the 1940s. The genre got popular during the 60s, 70s and 80s. Rock bands generally consists of a guitar player, a drummer, bass player and singer. There are a lot of rock subgenres.
4
Progressive Rock

Progressive rock is a broad genre of rock music that developed in the United Kingdom and United States throughout the mid to late 1960s.
5 Hip Hop
6 Avant-garde
7 Industrial Rock
8 Classical
9
Jazz

Jazz is a music genre that originated in the African-American communities of New Orleans, United States, in the late 19th and early 20th centuries, and developed from roots in blues and ragtime. Jazz is seen by many as "America's classical music".
10
Blues

Blues is a music genre and musical form originated by African Americans in the Deep South of the United States around the end of the 19th century.
The Contenders
11 Alternative Punk
12
Grunge

Grunge (sometimes referred to as the Seattle sound) is a subgenre of alternative rock and a subculture that emerged during the mid-1980s.
13 Black Metal
14 Death Metal
15 Gangsta Rap
16
Thrash Metal

Thrash Metal is a Heavy Metal subgenre developed during the early 1980s and an early precursor of Extreme Metal. Thrash Metal features a faster and more aggressive guitar work than Traditional Metal with shredding and double-bass drums and can range from melodic singing to loud shouts. ...read more.
17 Industrial Metal
18 Shock Rock
19
Gothic Rock

20 Lounge
BAdd New Item