Most Reliable Dog Breeds
The Top Ten
German Shepherd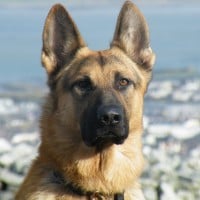 The German Shepherd is a breed of medium to large-sized working dog that originated in Germany. The breed's officially recognized name is German Shepherd Dog in the English language. The breed is known as the Alsatian in Britain and Ireland.
A well-trained german shepherd is a very reliable dog. First, they are guard breeds and nobody wants to get caught by a shepherd barking like crazy. Say a well trained well socialized german shepherd and an 8 year old boy could be best friends playing games and running and having lots of fun but then the german shepherd can also protect the boy.
Reliable, handsome, intelligent, devoted, loving, great with children.
beautiful
You can always count on a German Shepherd.
Great Dane

The Great Dane is a large German breed of domestic dog known for its giant size. The German name of the breed is Deutsche Dogge, or German Mastiff.
Golden Retriever

The Golden Retriever is a large-sized breed of dog bred as gun dogs to retrieve shot waterfowl such as ducks and upland game birds during hunting and shooting parties, and were named 'retriever' because of their ability to retrieve shot game undamaged.
Japanese Spitz

The Japanese Spitz is a small to medium breed of dog of the Spitz type. The Japanese Spitz is a companion dog and pet.
Basset Hound

The Basset Hound is a short-legged breed of dog of the hound family, as well as one of six recognized Basset breeds in France.
Labrador Retriever

The Labrador Retriever, also Labrador, is a sporting dog bred for aquatic game. The Labrador is one of the most popular breeds of dog in the United Kingdom and the United States.
Bulldog
Collie
Springer Spaniel

Poodle

The poodle is a group of formal dog breeds, the Standard Poodle, Miniature Poodle and Toy Poodle. The Fédération Cynologique Internationale recognizes four sizes of one breed: standard, medium, miniature, and toy.
The Contenders
Russian Black Terrier

Rottweiler

The Rottweiler is a breed of domestic dog, regarded as medium-to-large or large.The dogs were known in German as Rottweiler Metzgerhund, meaning Rottweil butchers' dogs, because one of their uses was to herd livestock and pull carts laden with butchered meat to market.
Doberman Pinscher

The Doberman Pinscher, or Dobermann, or Doberman, is a medium-large breed of domestic dog originally developed around 1890 by Karl Friedrich Louis Dobermann, a tax collector from Germany.
Cavoodle
Havanese

The Havanese, a breed of Bichon type, is the national dog of Cuba, developed from the now extinct Blanquito de la Habana.
Shiba Inu

Cute and reliable. - JGirlMusic
BAdd New Item