Top 10 Reviewers on YouTube
The Top Ten
theneedledrop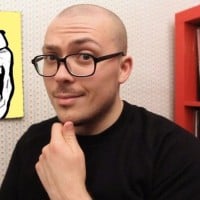 A very busy and dedicated music reviewer who listens and reviews hundreds of albums every year and is heavily descriptive and clear about what makes certain music appeal to him, which in turn, for the most part, can justify another person's opinion on an album in a subjective manner. He sometimes doesn't have the same opinion as a majority of other listeners, but I like how he takes occasional backlash with a grain of salt. Just because you like a certain album or not, doesn't mean that the melon has to change his opinion or vice versa. - Mcgillacuddy
My man Melon easily number 1 - DarkBoi-X
One More Light - Bad review: Chester Bennington commits suicide

Come over when you're sober - Bad review: Lil Peep overdoses

17/? - Bad review: Jahseh assassinated

Swimming - Bad review: Mac Miller overdoses

Who's next? - Not_A_Weeaboo
Bald loser put The Click on his worst albums of 2017 list, awful critic

Hope this helps 👍🏼 - Puga
Chris Stuckmann

Christopher "Chris" Stuckmann is an American film critic, author, and YouTube personality. As of June 2018, he has over 1.2 million subscribers and 341 million views on YouTube.
A calm and easygoing film reviewer who is heavily passionate about moviegoing and filmmaking, pointing out the pros and cons of the hundreds of films that he personally pays to see and review every year. His reviews are mostly very consistent and I tend to agree with a majority of his reviews. - Mcgillacuddy
Angry Joe

A brutally honest and straightforward video game reviewer who clearly understands the value and ethics of gaming journalism, combatting against other mainstream gaming journalism corporations such as IGN and Gamespot. His personality is heavily convincing as he is extremely passionate about the true value of a video game in all of its aspects, whether they be good or bad, and he respectively shows no mercy towards games that don't deserve it. - Mcgillacuddy
Angry Video Game Nerd

James Duncan Rolfe is an American actor, comedian, filmmaker, film and video game critic, and internet personality, best known for starring in the web television series The Angry Video Game Nerd, a joint production of Rolfe's Cinemassacre Productions, GameTrailers, and ScrewAttack.
As far as I'm concerned James Rolfe is a gem when it comes to Youtubers. He's been putting out good solid content for well over 10 years now, he's always trying new ideas to keep his reviews fresh, and he's shown to be very passionate about the things he talks about. Nowadays it takes longer for him to release a new review (which is understandable, as he is a family man as well), but hey, that only gets you more excited for when he does eventually release one. - SuperSonic17
The fact that he has been making quality videos for over 10 years and only has 2-3 million subscribers is cruel. - Not_A_Weeaboo
Gigguk
An entertaining British-Asian anime reviewer who regularly gives the latest scoops on seasonal anime and shares his overall first-impressions, all whilst adding comedic and satirical charm in the process. - Mcgillacuddy
Digibro
Nostalgia Critic

Nostalgia Critic is an American web series created, written, edited, directed and performed by Doug Walker.
You can't talk about YouTube reviewers without mentioning Nostalgia Critic. His reviews are so entertaining to watch. - Atham
Cinemasins

CinemaSins is a movie-related YouTube channel created by Jeremy Scott and Chris Atkinson. The channel produces the Everything Wrong With...
Screen Rant

ralphthemoviemaker

The Contenders
YourMovieSucksDOTorg

I Hate Everything

Shawn Cee
Andre Black Nerd

Jim Sterling

Glass Reflection
Dimitreze
He does film comparisons of movies based on real stories, to the actual real life scenes. - clusium
LinusTechTips
theFLICKpick

PhantomStrider

Josh Strider (born February 3, 1989), known as his YouTube channel name PhantomStrider, is a Canadian Youtuber known for his top 10 and 6 coutdowns, Vlogs and movies.
The Cosmonaut Variety Hour
Marques Brownlee

Dave Lee
Unbox Therapy

JerryRigEverything
PSearch List