Top 10 Best 'Robot Wars' Championship Winning Robots
For this list I decided to do a ranking of robots that at some point have won a series of Robot Wars. The robots will be ranked based on how well they won each series and the impact they left upon winning the series.

Note: This list will contain spoilers as to which robot won each series. If you haven't seen any of the series of Robot Wars I'd strongly suggest watching those series before reading this list.

The Top Ten

1 Chaos 2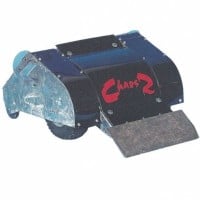 Possibly the most famous of all Robot Wars winners, Chaos 2 was a machine way ahead of it's time. It was so ahead that it took two whole series before any other robots could even match it. It managed to win series 3 very convincingly, then managed to successfully defend it's title in series 4. Series 5 was when it finally started to become outclassed, and even then it still managed to make the top 8.
Many of the flipper robots of today owe a lot to Chaos 2. - SuperSonic17
2
Panic Attack

Panic Attack in series 2 was the little robot that could. Entered as a school charity entry, no-one quite expected this robot to do as well as it did. It fought well in all it's fights, took out the competition favourites (Mortis and Cassius), and made it all the way to the end. This supreme underdog victory coupled with having a brilliant yet modest driver, it's easy to see why Panic Attack became such a firm crowd favourite. - SuperSonic17
3
Razer

Ah yes, Razer. Another machine that was ahead of it's time, but in three consecutive series always seemed to break down in it's heats. It took until series 5 where they seemed to iron out all the kinks, improve the robot's reliability, then it more or less became untouchable. Razer managed to win series 5, and in series 6 made it all the way to the Grand Final, before losing to Tornado.
We all knew Razer was capable of winning a series, it just took a bit longer than expected. Still, better late than never, eh? - SuperSonic17
It looks like a kaidou.
4
Carbide

Carbide quickly made a name for itself as the robot everyone was afraid of fighting. It came second in series 8, but returned much improved in series 9, with quite possibly the most dominant champions run since Chaos 2's series 3 domination. It nearly managed to win series 10, but fell at the final hurdle.
Still, three consecutive series they reached the final fight. The consistently good track record speaks for itself. - SuperSonic17
5
Eruption

Eruption is one of the most successful robots at live events, but winning Robot Wars was the ultimate goal of Michael Oates. Getting knocked out of it's heat in series 10 things seemed hopeless. But after winning the 10 robot rumble to claim the last spot in the Grand Final, it made good use of that second chance, and went on to win it all. Even beating rivals Carbide in the final.
Eruption never gave up, even when faced with seemingly impossible odds. - SuperSonic17
The robot looks cool its self but why number5 it should be no.2 that's my opinion any way. it's a beast it probably lost a couple of times but its probably won a lot.
6
Apollo

This robot already had champion's pedigree descending from a previous FRA champion Kronic the Wedgehog. In it's series debut though it had a struggle winning the heat (it nearly went out in round 1), but lookied impressive by beating Storm 2 and flipping three of the house robots. Then in the final it was the only robot to beat the highly favoured TR2, then took good advantage in it's fight against a battle-fatigued Carbide, winning the championship.
Whilst it is debatable whether or not Apollo was the best robot of that series I think it was still a deserving winner. - SuperSonic17
7
Tornado

After the embarrassing defeat in series 5 it was the lowest seed in the competition. But when it returned with interchangeable weapons it blasted through it's fights, taking out seeds much higher than it, before meeting Razer in the final. Despite falling to it twice in the past the team adapted their machine especially to take it on (which is still up in the air whether or not it was a stroke of genius or an unfair advantage), and managed to do what no-one else expected it to do, winning series 6. - SuperSonic17
8
Typhoon 2

The heavyweight entrant from the Edinburgh Air Cadets, this machine made quite a splash in series 7 for being a destructive 360 degree killing zone, everyone was scared of it. The thing is though it nearly went out in round 1 when it's weapon failed to work, it had luck against Atomic, and in the Grand Final found itself on the right side of producer favouritism. It is common knowledge nowadays that the series 7 Grand Final was rigged against Storm 2 (the rightful winner of the series), and even though Typhoon 2 was a good robot the final didn't exactly make it look like much of a winner. - SuperSonic17
9
Roadblock

The champions of the very first series. Roadblock was a simple enough design, but it worked in it's favour here. A big bulky wedge that can push or tip most other robots and a saw to cause mainly superficial damage was all that was needed to win back then. I do think it was lucky to win it's heat though, because if Barry hadn't gone out in the gauntlet I'm confident Roadblock wouldn't have beaten them. Still Roadblock was a worthy series 1 champion, and could've potentially won series 2 as well (not 3 though). - SuperSonic17
10
Panzer MK4

Who said this list was limited to UK Robot Wars? When the USA did Robot Wars Extreme Warriors the most successful team without a doubt was the Panzer team. MK2 won the first series, and the second series they entered Panzer MK4. With more powerful drive trains and a tough front plow, this robot was able to ram, slam and up-end all their opponents. Beating Tricerabot in the final it successfully managed to defend it's title.
Had it entered in the UK series though I don't think it would have done quite as well, what with the lack of a srimech and the UK's high quantity of flippers. - SuperSonic17
The Contenders
11
Panzer MK2

12
Black Hole

13
Slicer

14
PulverizeR

Fun fact: This very team would later compete in this current series of Battlebots with Petunia. - SuperSonic17
15 Terra Hurtz
16
Tombstone

17
Storm 2

18
Tyranabot

BAdd New Item