Aerosmith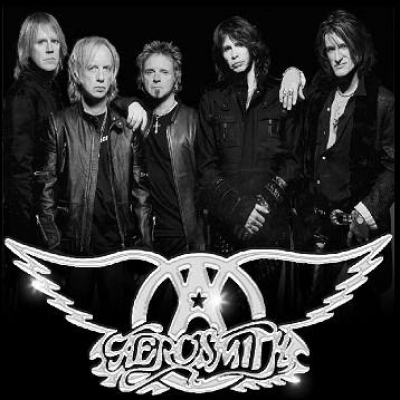 Uploaded by westofohio
Info
Aerosmith is an American rock band, sometimes referred to as "the Bad Boys from Boston" and "America's Greatest Rock and Roll Band".
Comments
Top
Popular
Newest
How is Aerosmith below stupid Linkin Park, Nirvana, and all them bands that are just inspirations off of Aerosmith?! Aerosmith has already shown they are One of the best bands ever- visiting Japan in their worst times in 2011 after their earthquake and rocking for them- selling 168 million albums in 40 years- countless hits- they even covered the Beatles, the Doors and other bands- making the original songs look like nothing. Admit it- Steven Tyler is the best rock band singer, or possibly just singer in general- Joe Perry is the best guitarist to walk the Earth- and so is Brad Whitford. Tom Hamilton is the best bassist and wrote their hit &quotSweet Emotion&quot, and Joey Kramer creates the thunder unlike ANY other drummer- he can drum so fast the strobe lights can't even catch him!

Aerosmith crowded so many arenas over the years- there was once so many people the arena was LOADED and the streets surrounding it were so crowded of people who wanted to hear them! Their shows are ...more - STLovesTrash
Aerosmith inspired Metallica and Guns n Roses. They probably inspired most of the screamo bands, or other bands that inspired screamo bands. So if any of you listen to Heavy Metal or Screamo, this is the band that started the screaming and hard rock in the early 70's. -
I totally agree. Aerosmith deserves so much more credit. I LOVE these guys. Aerosmith forever!
Aerosmith is the best damn band to ever walk this earth they have just as many hits as Queen and Joe Perry is arguably the top five best guitarist to ever walk this earth and don't even get me started on Steven Tyler probably the second-best front man in rock history next to Freddie Mercury and don't forget the Aerosmith has over 165 million albums sales. Aerosmith should be number one
Is this a joke Aerosmith below Simple Plan, My Chemical Romance, system of a down, Really? Aerosmith paved the way for so many bands in the 70's and are still pouring out hits today. What kind of list is this THIRTY NINE TOP TEN AT THE LEAST. We are talking about the greatest American Rock band ever... HANDS DOWN! Steven is the definition of frontman and Joe Perry's riffs are timeless.
whoever did this is dum panic at the disco yea like there better than aerosmith this is for sure that this is some dum guys opinion who dont no anything bout rock aerosmith top 3 easy this guy is just stupid im sure everyone would agree
Aerosmith should be in the top 5 at the very least!
they have sold over 150 million albums which only about 5 of the above bands have done.
they were kicking ass before half the above bands were born! its embarrassing that this is the taste in music now.
GUNS N ROSES AND AEROSMITH ALL THE WAY!
Awesome sound, and as sophisticated as Stephen Tyler is in his years, he still belts out a hell of a sound with his vocal cords. as for the rest of the band, they too are damn spry musically as well as physically as though their performances suggest, since the very first time I heard them well over 35 years ago.
Who made this list; yes while opinion may vary between one or possibly two positions how in the free world that this amazing rock band/rock gods are not in the top ten? I think without any disparaging remarks against any of the other bands this list needs to be reevaluated.
Easily one of the most popular band and influential band in the late 70's AND 80's. Hows is it possible that Aerosmith is at 39? Hows is it possible that is being beat out by My chemical romance and Linkin Park? These new bands are wannabes that have yet to produce a single song on the scale of Dream on or even don't wanna miss a thing. Did I forget Walk this way?
No no no no. Aerosmith is one of the greatest bands of all time. Should be in top 10 easily. Even though I love Linkin Park they should be lower than this and most of the others on this list. Keep on Cryin because all I'm gonna do is Close My Eyes.
I don't see how this band is below most of the ones above. Aerosmith is Aerosmith, none of those bands can even be compared to them! Seriously people, VOTE AEROSMITH! People need to know the awesomeness of this crazy as, original and amazing rock band.
IT'S A JOKE? TOKIO HOTEL ARE IN SIXTH AND AEROSMITH THIRTY NINTH.
PLEASE VOTE FOR GOOD ROCKS BANDS LIKE AEROSMITH, THE ROLLING STONES, GUNS AND ROSES!
AEROSMITH ARE THE BEST BAND EVER!
If Aerosmith isn't in your top 10, you don't know rock n' roll! They define the hard rock attitude with everything from their thick guitar sound, to their smooth drum beats, and raw vocals! Aerosmith IS rock n' roll! They're Gods!
Aerosmith was an amazing band with uncomprehendingly stellar songs, they range from emotionally touching songs to rock your body back and forth to the groove, Steve Tyler was a very diverse singer who is even doing country now! Most importantly their chemistry is unbreakable.
Not many bands can boast the staying power of Aerosmith. I recently tried to list my favorite song from each band 70's-90's; Aerosmith was good enough to have 3 that made my list: dream on, what it takes, and living on the edge

ROCK ON! Steven Tyler!
Aerosmith. I started listening to them yesterday and I'm already in love with them. Mind you, I've heard to all the songs of the bands in the top 10 but I seriously think Aerosmith deserves a place in the spotlights.
Green Day is a great band but I believe Aerosmith should be ahead of them and The Who and rush and a lot of the others. They have so many hits. Steven Tyler's voice is amazing and Joe Perry is great. Also they are one of the best selling bands ever how does that not give them a top ten spot?
How is aerosmith not in the top 10.. How are they not even in the top 20 or 25? This is americas gratest rock band I'm not saying they should be number 1 cause there are plenty of great bands but number 39 are ya kidding? Steven tyler has the best vocals ever and joe perry is insanly good. Some of the greatest songs ever and everyone love aerosmith in some way whether its every song or just a few.. No one hates this band so #39 is just disrespect
What makes Aerosmith the best is the musical collaboration of Joe Perry and Steven Tyler, the toxic twins are absolutely amazing, Joe Perry does the guitar part while Steven Tyler makes lyrics! Their total geniuses!
#23? Aero need to be right at the top of this list, the raw talent of every member is just insane. The toxic twins and co deserve so much more credit than this, they've lasted literally a lifetime, and they're still going strong!
Aerosmith is so much better than any one or anything. They are just so incredible words cannot describe. Steven, Joe, Joey, Brad, and Tom just make up the absolute best band to ever be in existence.
Aerosmith is without a doubt one of the greatest rock groups in rock and roll history. They're also one of my top bands as well. They should be much higher up on the list! I love you, Aerosmith!
There's absolutely no possible way that linkin park guns and roses and nirvana is better than Aerosmith 's toxic twins. There is no hope if this poll is true.
Aerosmith should be in the top ten! I love them and all there songs. We used to listen to "i don't want to miss a thing" when my dad was in Iraq. Come on guys! Put aerosmith in the top ten!
Aerosmith is my all time personal favorite.. Not saying that it should be #1, but at least in the top 10.. They were the very 1st rock band to do a smash hit remake mixing it with hip-hop (Walk This Way ft. Run DMC).. Other hits like Dream On, Sweet Emotion, Jaded, I Don't Wanna Miss A Thing (Armagedon), Crazy, Love In The Elavator, & Dude Looks Like A Lady (Mrs. Doubtfire) are a few more of their hits.. The lack of knowledge in todays youth is pretty sad.. Long live Aerosmith...
Related Lists
Best Aerosmith Songs
Best Aerosmith Albums
Best Songs Between Aerosmith and Bon Jovi
Best Aerosmith Album Covers