Dire Straits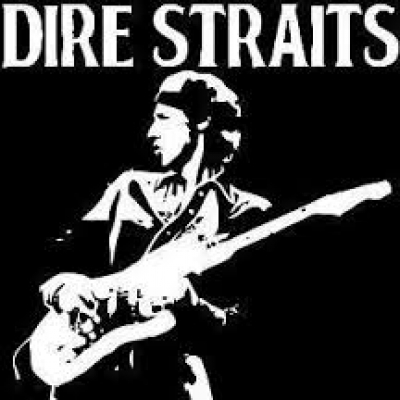 Uploaded by Mumbizz01
Info
Dire Straits were a British rock band formed in 1977 by Mark Knopfler, his younger brother David Knopfler, John Illsley, and Pick Withers.
Comments
Top
Popular
Newest
Dire Straits is my favourite band. Mark Knopfler is incredible, nobody plays the guitar like he does. The majority says that Jimi Hendrix is the best guitarist ever: well, he was the most influential, but he couldn't play like Mark at all. Mark can make you cry and can make you have goosebumps just touching the strings, Hendrix doesn't that. Mark wrote unique solos and wonderful songs: Sultans of Swing(Live At The Hammersmith), Tunnel of love, Telegraph Road, Romeo And Juliet, Expresso Love, Walk of Life are just perfect songs, with good melodies, superb solos, an excellent drumming and great bass lines. Mark, Pick, John and Alan make me feel better every time I listen to a Dire Straits' song. Now I am a guitarist, thanks to this incredible band. Thank you Mark, you changed my Life. Making Movies is a perfect album. And the band that made it is just 156th on this list... What a shame.
My favorite rock band, with the best rock guitarist of all time. Mark Knopfler is not only an awesome guitarist, he is also a great song writer. His songs are poems: rock and poems in the same time. In my opinion, Sultan of swing solo of Alchemy (at Hammersmith Odeon, 1983) is the best live solo of the rock history, and Terry Williams (drums) - in that occasion - was unbelievable too.
Incontrovertible number 1 to any rating, any list made on any topic for not only rock and roll but all music...

being a listener of this music should make one proud to be a rocker...

unique talent, inimitable style and gallantry as a band... miraculous literary and musical compositions... indifferently demure in spite of their class... briefly all these words of praise are inadequate even for only a modest comment on dire straits and their music when you see first 77 over them in this list. Dire Straits simply belongs to the top of another list of music gods which shall justly include very few of this list.
that's very very surprising guys, how could Dire straits in 140? They are a legend rock & roll band. They must be in Top 5
Man, this is a good group. I would have loved to have seen them live, have seen Knopfler solo. You don't realize how many great songs they've made til you think about it. Also, one of the best bands for deep album cuts. Knopfler's voice and singing style is perfect for this band. You can see Dylan's influence in their lyrics. But this was a good tight band, too, if you watch their live videos. I would put them in the top 20 for sure.
Seriously underrated. Best band ever, clearly top 1. Not only are their music pieces and arrangements delightful, Mark Knopfler is one of the greatest artist and the band has had musics that will live for eternity: Sultans of Swing, Telegraph Road... For those who do not believe on the magnificence of Dire Straits, listen to their Album Alchemy Live, you will thank me later.
How can Dire Straits be number 59? For God's sake! This band is a miracle. Songs like Brothers In Arms, Romeo and Juliet, Tunnel Of Love... I'm not kidding, they should be in the top 10. Seriously, they are AMAZING. Just because kids nowadays don't know them doesn't mean they should be number 59.
I really don"t know why they always end up down here when they are easily a top 20 band, but it happens on survey after survey. Great guitar playing? Check. Great songwriting and lyrics? Check. Unique sound and stellar vocals? Check. Tight band, really cohesive as a group? Check. Fun, interesting songs? Check. They even do great covers! Did most people know Romeo and Juliet is actually a Killers song that Dire Straits covered? Great in concert? Double check. This band HAS IT ALL.
No guitar player can play like Mark Knopfler. Compare Sultans of Swing solo to any other and you'll feel guilty about Dire Straits being #133. They deserve at least TOP 1!
Brothers in Arms is one of the top 5 albums ever produced. Not only are the songs well written and brilliantly performed, but the production value of this album has rarely ever been matched. Put it on, crank it up and get lost in the layers.
Dire Straits are simply fantastic and they should be way up this list. Mark Knopfler's lyrics and guitar playing is second to none. I only wish that they were still around. Thanks Mark for giving us one of the best bands ever!
An astonishingly good band with great songwriter and master of guitar, Mark Knopfler. That Dire Straits are this low down just shows that those voting on here must be too young to know better.
Sultans of swing, brothers in arms, money for nothing, communique, love over gold, expresso love, tunnel of love, far away, news, telegraph road, calling Elvis, with all these classics, how did they not get in the top ten?
Really? At 79? You guys don't know music. Listen to Money for Nothing's intro and Sultans of Swing's bridge and outro solo then come back and tell me that Mark Knopfler and Dire Straits suck.
how can you people forget Dire Straits in this list..? they should be in the top ten.. let alone be forgotten..! :O - parthsalvi.1
No, no, no. To be honest, if Dire Straits is now 76, rock is dead. We all should hear something else.
This list is pathetic. First is a few good classic rock bands which is fine. But then comes nearly 25 grunge, alternative, rap, and pop bands before bands like the Eagles and CCR, who in my opinion sound 50x better and are statistically proven to be more successful. 50 crappy bands later there is Dire Straights. That is flat out wrong. The guitar work is simply amazing. I would tie them and the Eagles for 1 on my personal list, but all bias aside, they deserve at least a top 20 spot.
The guitar in Dire Straits moves me, even though I have heard the songs hundreds of times. You can not say that for a lot of bands today.
Great song writing, guitar legend, unique voice, that's it, one of the best ever!
Sad to see them so low... Seems that people who are voting have gone insane... How can one ignore sultans of swing
Their music is unique among the unique. I admired this band when I was a school grader in 1978 and until now.
That Dire Straits is being beat by Linkin Park and Avenged Sevenfold by a long shot clearly states that this list is crap.
I think that dire straits should be much higher, they should at least be in the top ten. They are one of the best bands ever.
Who can make a song like a sultans of swing or money for nothing how about
Romeo and juliet
I can't believe it! 60?! Oh they should be in the top ten