Eagles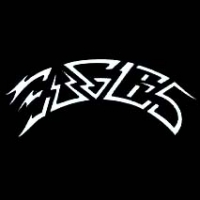 Found on rankopedia.com
Info
The Eagles are an American rock band formed in Los Angeles in 1971 by Glenn Frey, Don Henley, Bernie Leadon, and Randy Meisner.
Comments
Top
Popular
Newest
Your joking right? The eagles at 63? For hotel California, life in the fast lane, desperado, take it easy, Take it to the limit, wasted time, victim of love, the last resort? All these songs are literally played on the radio all the time even if people don't realize. Hotel California is a top 5 rock song ever made. The album is awesome too. Don Henley is a musical genius. And what really bothers me is that their ranked behind people like Coldplay, radio head, linkin park, and paramore? That's a joke to me, paramore has no business being on this list and these modern bands are alternative, not rock. They can't touch the eagles, much less any of the rock groups of the 60's to the early 90's.
What the hell kinda crack are these other people on? The Eagles have sold close to 120 million albums, have what can be argued as the greatest rock song ever, have longevity, many different styles and sounds, great guitarists, great lyrics.
They are definitely a top 5 band.
Beatles
Floyd
Stones
Eagles
Zeppelin
Seriously 40th?!?!? The Eagles are one of the best bands ever. Hotel California, Take It Easy, Desperado, Already Gone, Lyin Eyes Witchy Woman and other awesome songs. It should be in the top 10! They are way better than today's so called "Rock Music". - eastest566
Eagles are the best. Their compilation album Eagles:Their Greatest Hits has been the top selling album of all time till Michael Jackson's Thriller came out. But to my knowledge, every song by them is a very good and there is no need of album of that sort either. In some aspects, they are even greater than Led Zeppelin. Their songs easily makes one feel good instantly.
Eagles are a great way to start of a day. Listening to their music helped me wake up every morning for years. Hotel California made me want to pack my bags and move right in' Life's In The Fast Lane always got me to work on time. And Lying Eyes made me realize my 2nd wife was being unfaithful. Musically speaking though, Joe Walsh has always been my favorite guitarist. Wish I'd have known him 45 years ago!
The Eagles is one the best and should be rated among the top ten. Aside from being great musicians almost all the members of the band are good singers. Their songs are for all generations to come. I suggest you to watch their concerts in video or live and you will restudy your opinion and start voting for The Eagles.
Eagles have one of the most unique sounds of all time. The whole-band harmonies, symbolic lyrics, the distinctive guitar playing of Walsh and Felder, and the fact that they have (arguably) the most famous rock song of all time should easily put them in the top ten. Eagles were the cowboys with guitars who steered the rock sound of the 70s
Its a shame to find a band of such great magnitude so low in this list, below the likes of stupidity such as bullet for my valentine, coldplay, 30 seconds to mars and crap of other sorts. The Eagles are among the few bands who have had so magnanimous an impact on rock and roll and they are forever an eternal symbol of it.
41, are you serious! Don Henley and Glen Frey's song writing is nothing short of ingenuous. Not to mention the bands overall musical harmony is something that cannot be matched by any other band. Then releasing one of the greatest rock songs of all time in Hotel California. This is easily a top ten band of all time!
The body of their incredible music should put Eagles in the Top 10, no question. A combination of lyrics, melody and harmony that is unbeatable. Even during their 14 year hiatus, they were constantly on the radio. A Rock Group for All Times.
I can't think of anything negative to say about these guys. They have tons of popular hits, have great sounding music, words alone cannot explain how great they are. You should also check out the Eagles individually such as Don Henley and Glenn Fray who both established awesome separate albums.
This is what happens when teenage girls vote for a rock band pole. They probably only listen to Ed Sheeran and My Chemical Romance. How is Linkin Park, Three Days Grace, Muse, Skillet & Evanescence above The Eagles, Lynyrd Skynyrd, Iron Maiden, Judas Priest, & Creedence Clearwater Revival?! - HardRockSam
Amazing band. Great harmonies, real music and every member can sing and play an instrument. Top ten easily! Hotel California, Take It Easy, Life In The Fast Lane, Desperado, Already Gone, Lyin' Eyes, Peaceful Easy Feelin', Get Over It and maybe my favorite A Good Day In Hell just to name a few.
Deserves to be in the top 10 ever heard of a little song called "hotel California" or take it easy or take it to the limit what about life in the fast lane or one of these nights or New York minute humph what about witchy woman ever heard of any of those if the answer is no you need to rethink your life
The Eagles deserve to be top ten. It's a joke that they are this low on the list. They changed music in so many ways. Songs like Best of My love and Desperado changed the way people look at country music. Without the Eagles we wouldn't have what we call today "Pop Country".
Whoever makes this rating was born in the 1980's at best... How the EAGLES don't get top ten considering each member was so extremely unique and there still singing together, just shows how ignorant they are. Blink 182? Really! What nitwits.
Seems most people voting doesn't understand real music. The Eagles are a timeless band that will be heard and remembered forever. Don Henley, Glenn Frey, Joe Walsh, and Timothy be. Schmit are some of the most talented musicians to ever take the stage... And another thing, why the hell is 3 Doors Down not on the list? By far, the best band to come along in the past 20 years! They will one day be timeless as well.
The Eagles arguably would have belonged in the top ten, except for their internal feuds which really killed how great they could have been. Technically brilliant, even by 2015 standards. But their lack of professionalism has angered even their most loyal fans.
This is a joke, how come the Eagles are down in the 56th place. They should be in the top 10, not to say top 5. They are one of the best rock bands ever.
The BEST driving music EVER! The Eagles are the "go to" for listening and escaping into the music - it should be up at the top of the list!
Wait, why aren't the Eagles top-ten? Hotel California, Lyin' Eyes, Take it Easy, Witchy Woman, Take it to the Limit, Pretty Maids All in a Row, and a seemingly endless list of masterpieces should have easily placed the Eagles there.
This is sad. They were about as popular as Pink Floyd when they both produced music. They have rock songs considered to be top 10. No way they are 32. Their mucus is a lot better to listen to to angry screaming in my opinion, but apparently others disagree.
Thirty years from now will people be listening to more than half the bands on this list. Seriously, the Eagles belong in a top 15 list and the Beatles should rank number 1 followed by Pink Floyd, The Stones and Led Zeppelin in no particular order.
What I love the eagles why are they this low the eagles are one of americas greatest bands of all time. Hotel California was ranked as number 49 on rolling stones "500 greatest songs of all time".
So the band with the all time record for most rock albums sold is 32nd? Seems a bit odd. It just feels wrong that the most successful classic rock band is being beat out on here by grunge, alternative, and screamo.