Evanescence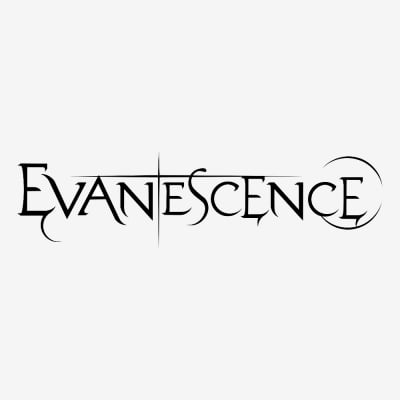 Found on freebiesupply.com
Info
Evanescence is an American rock band founded in Little Rock, Arkansas in 1995 by singer/pianist Amy Lee and guitarist Ben Moody.
Comments
Top
Popular
Newest
Evanescence is an amazing band. Their music is versatile and suits me in all states of mind. They always create something new and each album has something unique and impressive about itself. Evanescence is definitely one of the most exciting bands nowadays and I truly believe that their music will live on. The songs are not easy to listen to and not for everyone to understand, though. But the ones who are real fans of Evanescence truly appreciate this extraordinary band. For me, personally, the amazing vocalist Amy Lee is probably one of the most inspiring and talented persons I know. I wish the band all the best and hope to see them live again someday soon.
Wait, wait, wait. Linkin Park are higher up than Evanescence? Linkin Park is TRASH!

Evanescence is the best band ever, just this website and list sucks. The old Linkin Park is good, but now I hate her. Linkin Park is definitely not worthy of this band. The latest album is very nice, Amy Lee's solo album Aftermath is also good. Think fans, Linkin Park was made the formerly popular music the first two album, but now it is not.

Evanescence is the best band ever, Just Linkin Park is trash.
Here are many bands that really deserve the top position, but for me Evanescence, always will be the best. Amy Lee is a great singer, and I admire her personality. She seems so happy, even her lyrics and music manifest something depressing she have been through. So I love this band, and all its members. Evanescence is all I can really feel!
Evanescence is one of the best bands of all time. They aren't one of those annoying bands that like to sing about having sex - her lyrics mean something. The bands sings about the challenging experience they've had to go through. Not just that, Amy Lee's voice is amazing. Bring Me To Life, My Immortal and Lost In Paradise are awesome!
What? That's impossible. Evanescence on position 31?! I think that Evanescence is the best band of all time. Their songs have fantastic vocals and lyrics too. Also Amy Lee has a perfect and very female voice. Please vote them. They deserve to be at the top!
Linkin Park is above Evanescence. Ridiculous. Move them up please. When I first listened to this band ("Bring Me To Life"), I knew that it was my destiny. Everything about them appeals to me. Amy Lee's voice and piano playing, the guitars which can either be sad or aggressive in emotion, the haunting mood of their songs, and their edgy, yet interesting form of lyrical writing. Best band I've ever listened to in my opinion, though I can understand if you don't like them. - DCfnaf
This isn't fair... Metallica and Linkin Park, well they are the kings but Evanescence is 1000 times more special.. More unique... No one on the earth can not to love my immortal or bring me to life, but honestly I listened to Numb by Linkin Park, and I was like " Why isn't it awesome as it has to be? "
This one is the best band in the world hence at no 33! Are you people mad or something? If you don' believe me listen to songs like bring me to life, Everybody's fool, My last breath, Lithium and all their songs... They are my favorite band since when I started listening rock songs... And that's been since 06 I guess... And I love them ever since... I never get bored listening to their songs and its always just as good as I've heard them the 1st time... And what to say abt Amy Lee... Best of the bests... Show me another good lady singer as good as she is still performing...
Though the female vocals definitely got me hooked, just the entirety of the band has me completely addicted. From the guitar riffs of "Weight of the World" to the piano chords of Lost in Paradise, this band is definitely a keeper. From Fallen to Self-Titled, I'm a fan all the way!
I hate it how everyone thinks of Evanescence as their most famous song, "Bring Me to Life." For all of you who are listing song titles and that one is first... well, it's a good song, but doesn't convey as much as others...
I can't believe these guys aren't in the top 10. Amy Lee has an amazing voice and the band itself is great. I loved their album Fallen and I just don't get how all the bands above ( apart from Green Day and Linkin Park) can be better than them - no offense. - JasC
I pick Evanescence because it brings something new to the table, besides Amy Lee's voice that it's one of the best voices I ever heard; and for me it's the best female fronted band now!. Besides why 30 Seconds to Mars it's on 15th place?!? Evanescence deserves it more!
EVANESCENCE is the 34th! Are you kidding me?! Haven't you ever listened to my immortal or bring me to life?! These songs really influenced a whole generation including me. They are just too great to be the 34th. They should be in the top 5.
Evanescence is far more talented than a lot of bands on this list; what are they doing at number 32? Seriously, people, go listen to their new album and THEN tell me they don't belong somewhere in the top ten!
Evanescence is strong, fresh and unique. They know what they want to do and they love what they want to do. Amy Lee's lyrics are astonishing and her voice makes everything ideal :-)
This is the best rock band and you can't put them up against bands that ain't even rock but more metal. Listen to a song like Lithium and My Immortal and then you'll realize what huge difference there is between them and the other bands on here
Amy Lee was my childhood. As a child she already opened my ears to the world and be prepared for it. I remember when I would get home from school, one of her songs would play on the radio. It's full of emotion and pain that it hits you hard on the chest. She's my all-time favorite singer. - MillieTrina_Prower
Yeah Evanescence is the best team. They must be the number 1. All them songs are perfect are great. Amy is perfect she makes me feel good. She makes survive agin. She shows how much the life is great and wonderfuul. She gives an other meaning to hopes. She learns me how to be strong and how to fly. So I love evanescence so so much.
Evanescence is AMAZING! They should be in the top 10! Amy Lee has an amazing and haunting voice. Evanescence's songs are so deep and dark and BEAUTIFUL! I love Evanescence and they definitely should be higher up on this list.
Evanescence is the best rock band of all time manages it all is that most genial and Amy Lee is a great singer she has an amazing voice I love Evanescence More than any! Their songs are too well written and Beautiful!
29? 0.0 how can you put Evanescence on 29th place? Just try and see the meaning behind every song's lyrics and you'll see in which place this awesome band should be. With Amy's vocals they are one of the best rock bands ever.
Evanescence, as their music keep people feel alive. There are also a lot of great bands that made the music history, but we need to live in our present. And our present is EVANESCENCE.
Reasons to love Evanescence:
1) Amy Lee. Her voice is incredible.
2) The popular singles (Ex: Bring Me To Life, My Immortal, Call Me When You're Sober, What You Want, etc.).
3) The not so popular singles (Ex: Going Under, My Heart if Broken, Lost in Paradise, etc.).
4) The songs that weren't released as singles.
Oh I seem to have ended up mentioning every song. No mistake!
The truth is, Evanescence isn't the greatest rock band.. But Evanescence is the greatest rock band with a female singer. SO ROCK ON AMY LEE! - Your_Evanescence
Ok this question is so funny.. Best group ever? Evanescence of course:)
And the reason? Of course all of them are awesome musicians.. But Amy Lee.. She is really something :D amazing voice, great pianist.. And man.. She has something that most of singers don't have.. And this is SOUL!
Thanks evanescence for giving me strength
Related Lists
Top Ten Best Evanescence Songs
Best Songs From Evanescence's Fallen
Best Songs From Evanescence's The Open Door
Best Evanescence Albums