Guns N Roses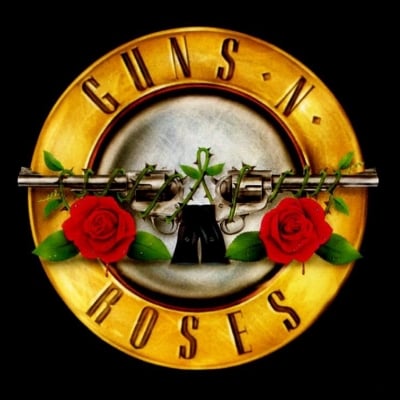 Uploaded by Fabio-Fabulous-of-swag-town
Info
Guns N' Roses is an American hard rock band from Los Angeles formed in 1985. The classic lineup, as signed to Geffen Records in 1986, consisted of vocalist Axl Rose, lead guitarist Slash, rhythm guitarist Izzy Stradlin, bassist Duff McKagan, and drummer Steven Adler. Apart from hard rock they are also ...
read more
.
Comments
Top
Popular
Newest
For once, this list is pretty accurate...for the most part. Guns n' Roses were probably the first rock artist I really got into growing up. I know the obvious rebuttal...it's "best of" and not "first" or even "favorite." But I guess I'm going outside the box here. Slash is one of the best guitarist of all time...his melodies were among the best I've heard and, even that said, he could even be a little underrated...especially if you try to compare him to the conventional list of all time greats.

If I were to go conventional, I can't see how I could pass on the Beatles. They were so artistically diverse and productive during their relatively short time together that it's amazing to contemplate. The fact that they produced such great music albums from start to finish is a testament to their greatness...especially when you consider how much they were at odds with each other during their later period.

Led Zeppelin was artistically much different than the Beatles, and it's ...more - jfausti
Guns N'Roses are the greatest Rock N'Roll band of all time for 10 reasons-

1. They are made up of the Greatest Vocalist of all time, two of the greatest guitarists of all time, the best bass player in the world and the most awesome drummer ever. And when these five men played together, the earth stopped moving and everyone stared in awe.
2. Their songs are awesome.
3. Every song they sing/play is genius.
4. They changed the Rock N' Roll industry forever.
5. You can listen to their songs over and over again without wanting to stop.
6. Anyone who listens to them instantly becomes a fan.
7. Their music is addicting to listen to.
8. They can change people's lives with their music (they changed mine).
9. THEY'RE JUST AMAZING.
10. Axl Rose is fit.
Ever since I've first heard paradise city my life has changed in a way I can't explain. Everything fits in a perfect way to form the most badass band planet you could never recreate. The way Axl's voice slithers from the microphone makes the best damn frontman on the planet, Slash can create magic with a Les Paul, Duff has the most unique and rock n' roll bass tone and voice, Izzy's heart and soul made the band unique and his song writing is quite honestly amazing and Stevie tops the band off with songs like Rocket Queen and Mama Kin that blow your mind. If someone asked me what my dream band would be it would be these five guys that changed my life forever and I can never thank them enough for that. Thanks guys.
I like most of the bands here in the top 10, but in my opinion, Guns N Roses gotta be on the #1 spot. This band is a definition of a true rock band - they climbed up from the bottom of the small clubs and gigs they started in, reach their stardom playing hundreds of sold-out arena during their world tour, fallen apart from inside due to ego, but rose up from their ashes to rock the world again! The band has a strange but strong chemistry among them. Each of them has his own unique character and attitude, and when bind together, forms the wildest rock band ever. They possess the energy and true showmanship - a quality lots of rock bands today are lacking of (seriously, go watch their live performances especially during their 80s and 90s on Youtube and tell me they don't have a great showmanship). And their songs are just brilliant! They make some of the greatest rock hits of all time and a lot of their other songs are underrated. And don't even get me started on Slash. Seriously, just ...more
I have been listening to Guns N Roses ever since I was a little girl. 8th place is NOT good enough! They deserve better. All these new bands really don't mean a thing. I'd prefer to stay with the older bands! Half the teens today have no idea who any of these people are. About the only song they know that's from the 80's appears to be "on't Stop Believing" by Journey. Don't get me wrong, Journey's great, but I wish other teens could expand in the way of music. (Pretty sure none of them actually know any other Journey songs... ) Guns N Roses is an original band, let's keep it that way, yeah?
I would rather prefer Guns N Roses to be number 1 because I know they are probably the best band of the 80's and the greatest guitarist ever in the history of rock n roll is my opinion because Slash really knows how to shred on that guitar and Axl Rose is in my opinion the greatest singer of all time because he knows how to rock out on every one of their songs so that's why I would definitely put them at the top of my list for the greatest band to ever land on this earth and the original band members stand out and they really know how to rock out ROCK ON GUNS N ROSES - michaelwalton
No one quite has the range that Guns N' Roses had. Sure, they're most known for being the original bad boys of rock with riots and no shows peppering their tours. But they have the largest range out of any of the "greats". From Welcome to the Jungle and Rocket Queen, to Patience and November Rain. They can play anywhere from acoustic to hand banging hard rock. Add to that Axl Roses being one of, if not, the most entertaining lead (next to maybe Fredie Mercury) and the incredibly seamless yet absolutely mental hard-rock/blues guitar riffs from Slash and you have the best rock band of all time.

If you want to define "great" as "most influential", then by all means give the title to the Beatles, Pink Floyd or Zeppelin. But in terms of music that is both emotional charged, complex, and at times, range-inducing, then no one can touch Guns.
this band is too original. slash playing the guitar like nobody else. axl rose singing as a king, that is enough for enjoy this band. appetite for destruction gave us a new door with sweet child o mine, and welcome to the jungle and they show us heaven with use your ilusion 1 and 2. up to now, the band is over but many people still enjoy guns and roses
All I Have to say is WOW.. Slash, Axl, Duff. Steven, Izzy... You made Rock and Roll... G N' R music is so amazing that I wish I was born early and could see a live performance. Songs like Estranged, don't cry and November rain, makes go into heaven... While Welcome to the jungle, nightrain and sweet child of mine makes you turn the volume so high and blow up the speakers...
Guns N' Roses you are always and forever my favorite band
I love metallica and led zeppelin and so on...
But guns is just the best band that ever was and ever will be.
I mean... Slash! - best guitarist ever, Axl! - great great singer, Izzy, Duff...
This band was awesome!
And their songs say everything: sweet child I'm mine, november rain, welcome to the jungle, don't cry, paradise city...
And appetite for destruction is the best album ever!
Guns n roses are the best band in history just after the rolling stones, and the stones aren't even on this list when bands like linkin park and green day are, them bands are crap, the didn't go through the drink and drugs and hard work that real rockers like guns n roses did, living off biscuits and bleedin gravy, why is linkin park even on this list, there hip hop because of the stupid DJ machine and technical guitar playing, guns n roses don't do that, they played real music
Just the best 'cause they had appetite for destruction!
Just the best 'cause they were the best on stage!
Just the best 'cause these 5 guys made the best stuff!
Just the best 'cause they welcomed you to the paradise city!
Remember these five guys 'cause world won't face such this awesome band!
Guns and roses should be at least in the top 3! They would have to be one of the bands that changed my life. Go Guns N' Roses!
Rock is insane, it's ment to be big, everything is over the top. Guns N' Roses were that. I think with amazing songs, attitude and character, Gn'R are the best band of all time because they were an explosive package. Axl and Slash alone defined a generation with incredible lyrics and stunning guitar solo's. They looked the part, they certainly lived up to the typical rock package, Slash even died at one point. Almost all the rumors you heard were true and they were immense live. Sure The Beatles, Stones, Zep were probably musically ahead of Guns but for a complete all round view, when you've got crazy people, gifted musicians, radical lifestyles and media constantly watching you. You can't be any bigger than Guns were. Of course I'm talking about the Guns from 87' to 94'.
Why are bands like 30 Seconds to Mars, Tokio Hotel and Linkin Park in a best position than GNR? Do they have the best guitarist ever? no... Do they have one of the best head singers in history? no... did they completely dominate a generation of Rock? not even close... and have they ever created/composed 36 songs in 30 days and launched two albums that stayed in the best selling on their time at the same time? no... they are the best Rock band ever if not the best band ever!
I have always fought with myself over which band is better led zeppelin or guns n roses? Led zeppelin seems like the obvious answer but there's something about guns n roses that no other band in the world does. Slash is an amazing guitar player, axl rose is not the best singer but I love his style and it fits perfectly in the guns n roses sound, izzy is an amazing songwriter, steven adler, matt storum, and duff perfectly fill in the missing pieces. - fidelcanojr
IF YOU don't THINK GUNS IS THEY BEST YOU ARE SIMPLY CRAZY GUNS N ROSES IS THEY BEST AXL'S VOICE IS UNIQUE AND SLASH IS A GOD WHEN HE PLAYS GUITAR IZZY IS ONE OF THE BEST MUSIC WRITERS OF ALL TIME WITHOUT HIM don't CRY WOULDN'T BE HEAR WITH US! AND STEVEN ALWAYS SMILING AND PLAYING BADASS ON HIS DRUMS DUFF SINGS AND PLAYS BASS GUITAR!

GUNS IN THEY BEST BECAUSE THEY GOT OUT THEIR OWN STILL THEY didn't GO WITH THEY WHOLE GLAM METAL THING THEY WEREN'T AFRAID TO TAKE RISKS THEY DID what THEY WANTED! THEY STOOD FOR WHAT THEY BELIEVED IN AND that's HEAVY METAL!
This band is a rock legend they made music that you can understand and it understands you, their songs have this meaning that everyone will find different along their own path of life. This band of corse had its ups and downs, and yes not all of their songs will be to your liking but I am 100 % sure that you will be hooked on them after you listen closely and after you collaborate, you will get attached fast enough. And come on they clearly win some points for having the best guitarist of all time, SLUSH! I mean did you not hear him play, not to mention his absolute cool hair and hat!
The classic line up is the greatest collection of artists ever gathered in a band. Axl is a great vocalist with possibly most unique voice in the industry. Slash's sense of melody is like fine aged wine. Izzy was a great song writer. Duff is the best bass player ever and throw in Adler on drums and you make the greatest band ever created. People may say Led Zeppelin is number 1 and Beatles at no 2, Guns N' Roses is just as good as any of theses heavy hitters.
I started to know GNR so late, but when I do I'm the big fan of rock! I can't believe that there's such an incredible rock band exist. I'm walking in the November Rain, with the Sweet Child O' Mine, found the Paradise City in this World... So I would like to say Welcome To The Jungle with me! Don't Cry because the old GNR we admire is gone, don't blame anyone... But take this memory as your best dream in this place.
This is coming from a huge Guns N' Roses fan, so don't just call me a hater, but the comments saying they are the best isn't true, slash is not the best guitarist, they weren't that influential, axl was good, but wasn't the greatest singer. The Beatles were more influential, Led Zeppelin probably had the best guitarist on the top ten, queen had the best vocalist on the list, Pink Floyd had the best songwriter. But they are better than nirvana.
Appetite for Destruction was excellent because everyone in GN'R got along well. Song writing seemed natural to them and some of their hits were rather spontaneous. Sweet Child O' Mine was born while Slash was joking around during practice, Paradise City had its roots in the back of a rental van and Welcome to the Jungle was written in less than 3 hours.

I still hope for that fateful day when Axl, Slash, Izzy, Duff and Steven decide to reunite. Unlikely, but not impossible. - ShootinPutin
To be honest and fair Led Zep and the Beatles look perfectly correct at 1 and 2 but no other band in the history of music stirs my blood like Guns n' Roses except maybe Metallica. When people ask me to name my top 5 favorite songs I have to bundle about 6 different guns songs into 1 just so I can include other bands in my top 5! Oh and Slash is a god and it's a joke that Linkin Park and 30 seconds to mars are top 10 and higher than Guns N' Roses
Appetite for destruction is the album that really destroyed hair metal. The band came out of nowhere with its primitive rock ' n roll and killer guitar that still smokes thirty years later. It's every bit as exciting as anything released after it and that includes Nevermind. The dual guitar of Slash and Izzy blows away anything Nirvana. All you read on these lists is Nevermind or Nirvana is the greatest this or that like there had never been a great rock ' n roll record or band before or after Nevermind. - frankmartin
It's very simple. Guns N Roses is the best band in all time. The original set of the band combine each other perfect. Axl Rose is an all round singer and his moves on stage are absoulut world class! Slash is king, Duff Is so cool, izzy is the best songwriter and Stevens drumming in appetite for destruction is just perfect. Guns N Roses can do powerful ballads as November rain, Estranged and Civil war. But they can also do bad ass rock n roll. It's very simple actually. Guns N Roses have no bad songs, the end.