Top Ten Rock Musicians Who Changed their Last Name
As the name implies, this list is about famous rock musicians who changed their last name but kept their first name as part of their stage name. As always, feel free to add more examples; if you do, please tell me what their original last name was and (if possible) some information on where they got the idea to change it.

The Top Ten

1 Steven Tyler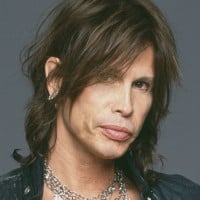 Steven Tyler is an American singer-songwriter, multi-instrumentalist, and former television music competition judge, best known as the lead singer of the Boston-based rock band Aerosmith, in which he also plays the harmonica, and occasional piano and percussion.
Steven Tyler's real name is actually Steven Tallarico; most people don't know this.
I didn't know that.
2
David Bowie

David Robert Jones, known professionally as David Bowie (January 8, 1947 - January 10, 2016) was an English singer born in London, the son of a fundraiser and a waitress. He is credited for his experimental and creative musical discography which has won praise and accolades for many critics and fans. ...read more.
Bowie's birth name was originally David Jones. After calling himself Davey Jones for a couple years, he changed his last name to Bowie to avoid confusion with Davy Jones from The Monkees.
3
John Paul Jones

John Baldwin, better known by his stage name John Paul Jones, is an English multi-instrumentalist, songwriter, composer, arranger and record producer. He is best known as the bassist for the English rock band Led Zeppelin. ...read more.
His original name was John Baldwin. A friend of his, original Rolling Stones manager Andrew Loog Oldham, suggested the new name after seeing a poster for the movie John Paul Jones while he was in France.
4
Michael Anthony

Michael Anthony Sobolewski, known professionally as Michael Anthony, is an American musician who is currently the bass player in the rock supergroup Chickenfoot. Anthony is best known as the former bass player for the hard rock band Van Halen.
His full name is Michael Anthony Sobolewski; he had it legally shortened in 1978 after Van Halen started to take off.
5
John Lydon

John Joseph Lydon, also known by his former stage name Johnny Rotten, is an English singer, songwriter, and musician.
I think most music fans know by now about "Johnny Rotten" and how John Lydon changed his name back as soon as the Sex Pistols were finished.
6
Johnny Ramone

John William Cummings, better known by his stage name Johnny Ramone, was an American guitarist and songwriter, best known for being the guitarist for the punk rock band the Ramones.
Everybody knows that the Ramones adopted the same last name as part of their image, but Johnny and Tommy Ramone were the only two original members who kept their first name. His original name was John Cummings.
7
Johnny Thunders

John Anthony Genzale Jr. (July 15, 1952 – April 23, 1991), better known by his stage name Johnny Thunders, was an American rock and roll/punk rock guitarist, singer and songwriter. He came to prominence in the early 1970s as a member of the New York Dolls. He later played with The Heartbreakers and ...read more.
His birth name was John Genzale; the other guitarist in the New York Dolls, Sylvain Sylvain, also changed his name (from Sylvain Mizrahi).
8
Chris Cornell

Christopher John "Chris" Cornell was an American rock musician and singer-songwriter, best known as the lead vocalist, primary songwriter and rhythm guitarist for Seattle rock band Soundgarden and as former lead vocalist and songwriter for the supergroup Audioslave. His vocal range was C2 to A5, while ...read more.
9
Lonnie Mack

Lonnie McIntosh, better known by his stage name Lonnie Mack, was an American Texas-blues guitarist who had influenced the likes of Stevie Ray Vaughan. He died on April 21, 2016.
Lonnie Mack, one of the original pioneers of blues rock, shortened his name from Lonnie McIntosh.
10
Jon Bon Jovi

John Francis Bongiovi, Jr., known as Jon Bon Jovi, is an American singer-songwriter, record producer, philanthropist, and actor, best known as the founder and frontman of rock band Bon Jovi, which was formed in 1983. He is famous for his band's hit song "Livin' On A Prayer" released in 1986. He ...read more.
The Contenders
11
Bill Wyman

William George Wyman, known professionally as Bill Wyman, is an English musician, record producer, songwriter and singer best known as the bassist for the English rock and roll band the Rolling Stones from 1962 until 1993. Since 1997, he has recorded and toured with his own band, Bill Wyman's Rhythm ...read more.
His birth name was William George Perks Jr. He said he took the name Wyman from a friend he met while serving in the Royal Air Force; he first changed it to Lee Wyman, and then changed it again to Bill Wyman.
12
Peter Green

Peter Green was a British blues rock guitarist. As the founder of Fleetwood Mac, he was inducted into the Rock and Roll Hall of Fame in 1998.
Woah I didn't know
13
Johnny Marr

Johnny Marr is an English musician, songwriter and singer, best known as the guitarist and – with Morrissey – co-songwriter of the Smiths, who were active from 1982 to 1987. Born in Ardwick, Manchester, to Irish parents, Marr formed his first band at the age of 13.
His birth name is John Martin Maher. He started spelling it as Marr at the age of 14 to make it easier to pronounce and to avoid any confusion with Buzzcocks drummer John Maher.
14
Bob Dylan

Bob Dylan is an American singer-songwriter, author, and artist who has been an influential figure in popular music and culture for more than five decades.
Born Robert Zimmerman. Since Bob is a common nickname for Robert, I thought this would fit the concept of the list.

Dylan taken from the poet Dylan Thomas
15
Tom Verlaine
The guitarist for the band Television. He changed his name from Thomas Miller to Tom Verlaine because he took inspiration from French poet Paul Verlaine. He was also inspired by the story of how Bob Dylan changed his name as a form of inspiration from Dylan Thomas.
16
Henry Rollins

Henry Lawrence Garfield, better known by his stage name Henry Rollins, is an American musician, actor, writer, television and radio host, and comedian.
Changed his last name from Garfield to Rollins. He never stated why when asked. I have two theories but take them with a grain of salt. Theory #1 He didn't want to carry the name of that his father passed to him due to the resentment he has towards him (abandoning him and his mom and not being involved in his life). Theory #2 Angry tough guy "Rollins" didn't want the name of a famous fat cat cartoon character (Lol).
17
Elton John

Sir Elton Hercules John (born Reginald Kenneth Dwight; 25 March 1947) is an English singer, pianist and composer. Collaborating with lyricist Bernie Taupin since 1967 on more than 30 albums, John has sold over 300 million records, making him one of the best-selling music artists of all time. He has ...read more.
To whoever keeps voting for Elton: please stop. Elton John changed his entire name completely (from Reginald Dwight to Elton John). This list is about people who only changed their last name, not the whole thing.
Elton John changed his last name, Dwight to John. He also changed his Christian name, Reginald to Elton.
BAdd New Item