Adrian Peterson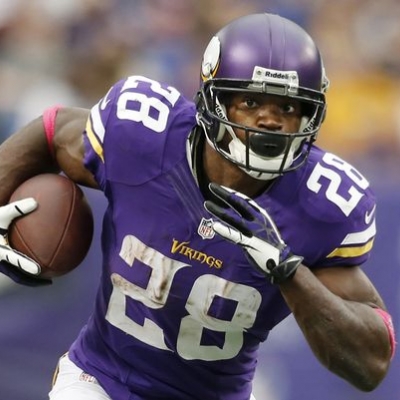 Uploaded by htoutlaws2012
Info
Adrian Lewis Peterson is an American football running back for the Minnesota Vikings of the National Football League.
Comments
Top
Popular
Newest
Equally capable of running away from defenses or powering it in from short distance. He won't have the career of Smith or Payton due to durability, but Peterson is faster and more powerful than both. Campbell was more powerful but not as fast. Sanders was more elusive, but had less speed and power. I'm too young to have seen Jim Brown, so he's disqualified. Peterson is the best pure runner ever, but probably won't have the durability to have the best career.
Adrian Peterson rushed for 2097 yards in a single year. This is the second best ever season by a running back in NFL history, only 8 yards shy of Eric Dickerson's legendary season. This man is a beast, and truly at the time was the Viking's only main offensive weapon. The Vikings don't and never have had an amazing offensive line to easily carry him to the top like some other backs on this list and he's never had an amazing quarterback or receiver taking some of the tension off of him *cough cough* Emmit Smith. Teams against the Vikings went into the game knowing all they had to do to win was focus on stopping this one man, and they still failed time and time again. He truly deserves to be the best on this list.
Peterson has averaged 1,445.2 rushing yards and 13.5 touchdowns per season in his first four years in the league.
Peterson is the best pure runner of all time. No other RB is as capable of scoring from both 99 yards and the goal line. He needs a few more good years, but has a good chance to finish with the top rushing game, second best season, and top 5 career yards. He gets no sympathy for the suspension, but it is amazing how he has come back from two lost seasons. I don't have the numbers in front of me, but I'd like to see how his best 5 years compare to the other greats.
Peterson's power and speed are evident to everyone who has seen him play. Three other factors weigh in favor of his continued greatness. First is his vision. Those cuts as he bursts into the second level result in Peterson's "running where they ain't". Second, Peterson has an amazing 5% body fat, maintaining an overall fitness level that will continue to serve him well. Finally, Peterson's work ethic is legendary. His work schedule after the knee surgery and leading up to the 2012 season resulted in arguably the finest season any running has experienced in football.
"Iowapaindoc"
Adrian Peterson deserves to be ranked higher than LaDainian Tomlinson. Tomlinson was a good running back, but he will never be great. Since Peterson's rookie year people have known that he will be a hall of famer. Although he doesn't have a ring he doesn't need one. For all of you who judge him because he doesn't have a ring, you could never do anything he has done.
It's a bird. It's a plane. No it's Adrian Peterson. Fast as a speeding bullet. Strong as a locomotive. He is unstoppable look at the numbers. No one does it like him. Adrian Peterson rushed for 4,000 yards 40 Touch Downs in for years.
For those of you who think he shouldn't be in this list for spanking his kid in an age were you should look at society today but that's besides the point this is based on his personal life but his football period
No other running back has show the shear power, agility and speed in a single player the way Peterson has. If he remains healthy the rest of his career he will shatter all the records.
Adrian is phenomenal, no one can deny that people are astounded by everything he has accomplished. Hands up to AP for being the quintessential running back of a passing league.
He is a freak of nature and the best downhill runner of all time. Think of how many years he's been playing and how hard he runs, he fights for every single yard, something that is rare in this league.
Best ever. Only time will tell. He is such a violent runner and if he can stay healthy, watch out Emmitt!
He the greatest no question he's got the second most rushing yards in one season and his body weight is only 3 percent fat
Adrian Peterson might not be the best but I guarantee that when he retires he'll easily be the best back in history
He is by far the best player in the NFL and once he gets done with his punishment he will blow the earth's mind!
More speed than Barry Sanders and more elusiveness than Emmit Smith (compare highlights). His stats are phenomenal at this point in his career and he plays for my Minnesota Vikings (I must confess they are struggling quite a bit). If he continues to play, he will be the best!
In a time when running is almost obsolete, this man is still carrying the entire team on his back, even at his age.
Hands down best in the business so far. Runs harder then any one in the game and is extremely explosive.
Maybe others will consider him great once he's older, but you are witnessing greatness right now..
dude unstopabble oncehe learns to hold on to the bal better its a warap - tjda1
Hes in the majors when every one else is in the little league.
If Peterson was used better in Minnesota he would be better than what he already is
lets have a competition now shall we? all your dead people vs a living guy - myopinionactaulycounts
By the end of his career he will have surpassed all of the ones ahead of him
There is no better back to play football then AP
Related Lists

Top 10 People Named Adrian

Top 10 People Last Named Peterson

Iron Maiden Songs With The Best Adrian Smith Solos

Best Clubs Adrian Mutu Has Played For