Barry Sanders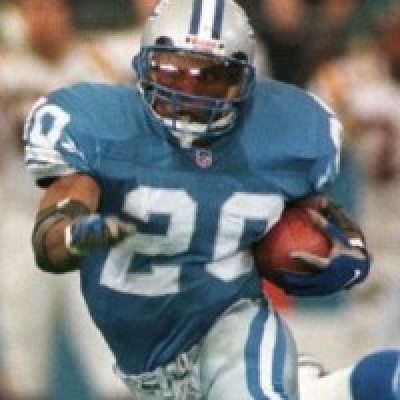 Uploaded by htoutlaws2012
Info
Barry Sanders is a former American football running back who spent his entire professional career with the Detroit Lions of the National Football League.
Comments
Top
Popular
Newest
Barry Sanders is easily the best ever. Only he and Jim brown had a full career average of 5.0 ypc lifetime. Barry ran for 19 yards in his first every carry in his long career. If he had played for a team with an offensive line he would have no doubt ran for multiple 2000 yard seasons and probably have 1 or 2 close to 3000. He crated his own holes, got out of more situations than I can think of, he was more exciting to watch lose 3 yards than watching most great backs run forward for 70. Most electrifying, and yet with his greatness was by far the most humble I have ever seen. No TD celebrations, never. He could have had more records but he didn't care for records at all. He had 4 years left when he walked away, he would have had 20,000 yards for his career if he hadn't left as he was still in prime condition.
none you have clue 8 rush titles 9 yrs domination 12 games 1st2-3yrs no blocking with hands no FAKE turf speed power great moves JIM BROWN beat all one more thing he quit in his prime LEROY KELLY Sayers OJ all better that smith payton

sanders not to put them down just let you know you need some history. BIG JIM had A 5.2 YDS A POP career STAT THINK ABOUT THAT, THAT MEANS JUST OVER 15 FEET PER CARRY IN "63" 305 CARRIES 1863 YDS THATS 18 FEET, 12,312 IN 9 YRS 2359 CARRIES, ERA NEEDS TO SPOKEN ABOUT, BABE RUTH 154 GAMES, BASKETBALL YOU CAN TRAVEL WITH THE BALL NOW TAKE A LOOK AT SOME HISTORY. PAYTON, SMITH

GOOD BACKS GOOD THING FOR THEM THAT BROWN RETIRED YOUNG NOE GO COMPARE THEIR CARRIES TO BROWN AND YRS TO YRD TO GET WHAT THEY GOT, NOW TELL ME WHOS THE BEST
This was difficult because I love Payton too, but Barry Sanders was simply the most entertaining back to watch play. In fact, I say he's the single most entertaining athlete I've ever watched in any sport. He made opposing defenses nervous before the game, not that he would beat them, but that he would make them look stupid on national T.V.. If he had kept playing he would have beat out Emmitt for the rushing records, easily... Not even a contest Dallas fans. In fact, I'm surprised Emmitt is in the top 5. - OfficerNegativeIII
I never seen a single Barry Sanders game only because he retired a year after I was born;However, I was watching a video on YouTube called The Greatest NFL Running Backs of All Time, of course Walter Payton was one and disagreeably Emmit Smith, but the Back that I was most amazed with was... You guessed it... Barry Sanders. What makes him great is not his stats because to me stats do not mean anything but for you stat lovers think of this put Barry Sanders behind the Dallas Cowboys line at the time and I guarantee in 10 years Barry would've won 8 superbowls and set the record for over 40,000 yards. Not put Emmit Smith in Barry's shoes and I guarantee he would've had a lot of seasons where his Ave Yards Per Game would've been very low. Barry was humbled he never took credit for his success nor did he brag, he gave all credit to God. His running style was unbeatable it was metaphysical Barry didn't think on the field he reacted. By the way I'm 17 so if I can see that he's the greatest ...more
Barry Sanders was like Houdini when running the football. He would be in one spot with the defense coming at him, and all of a sudden he would be somewhere else running the ball. He could change direction and never lose a step or drop momentum. Very hard skills to find in todays players. The closest I've seen is my #2 pick Marshall Faulk, and Priest Holmes looked like he was heading in the direction. It's too bad we never got to see what he had for a full career.
he and jim brown in my book are in my book a dead tie, I mean just look at sanders

only 10 years- over 15,000

Terrible team

No o-line

Retired at his prime, i figured it out if barry and emmitt both had the same number of attempts, by taking emmitt's first 3,000 some attempts, his total would only be around 12,300 and well barry's would be 15,000 +

Barry was bar-none the most electrifying running back ever to play the game. The way he juked, spun, and head-faked his way out of closing holes made you doubt everything Sir Issac Newton ever said about inertia. Were it not for the single-back setup Detriot employed throughout most of Sanders' career, he would probably own most, if not all, of the NFL's rushing records.
emmitt and barry will alway have the comparisons being probably the best backs of their generation. Barry had a lot less talent around him in detroit then emmitt in dallas. Watching barry run is like watching an artist paint a canvas. Watching him make his cuts, like watching a skilled dancer, a true artform. Guy was amazing and in my opinion best of all time.
Not even close. Barry is the best runner in NFL history "hands down:Barry Sanders never had an o-line at Detroit. Played with a relatively weak team in a one back set. If he had not retired early he would have easily passed Emmet Smith who was surrounded by great players at every position with the cowboys!
Look at Barry's average yards gained per carry. He is at 5.0 which is close to Jim Brown's 5.2 which Jim earned against many defenders who were smaller than him. Considering the teams Barry played on his career stats are even more impressive. Every defense was geared directly toward Barry unlike what Emmitt had to deal with.
Some of the things Barry did on the playing field defy human explanation; I never saw so many befuddled defenders clutching air. If he played for a better team, he might have obliterated pretty much every record out there (probably wouldn't have retired early). I often didn't understand how he was used by the Lions, who frequently pulled him in goal line situations. Yes, he was relatively undersized, but he was tremendously strong, with legs like tree trunks. With just a halfway decent OL, he could have scored many more TDs, either by running through people, squeezing through a tiny hole, or bouncing outside. He was also underutiIized as a receiver. I think he's the greatest of all time, but even those who don't would be hard pressed to say he wasn't the most fun to watch, ever!
Barry Sanders was the best player to ever touch a football. He was unarguably the best college running back. If he would of played 1 more year of NFL he would of beaten Walter Payton's all time rushing yards. If Barry Sanders had the Dallas Cowboys offensive line, he easily would've beaten Walter Payton's rush yards record.
Every Thanksgiving, He Would Run His Ass Off. I Believe They Played Green Bay Every Year. The Fact Is That He Could Of Broke The Rushing Yard Record! Out Of A Deep Rooted Respect For Walter Payton. Humility Is Something Everyone Should Learn! Thank You Mr. Sanders For The Great Memories!

I know someone who said jim brown was the best, but barry had electrifying skills. He could juke anybody and once he was on the outside he was gone. But every one knows he ended his career too quickly, I believe he could of gotten a super bowl ring if he stayed longer, now you can hate me lions fans, but you know its true
Hands down the best of all time. From the day he walked into the league to the day he retired he was the top back. Even though he played for one of the worst teams of his time and the defense knew what was coming he still managed to eclipse 1000 yards with ease every year. Barry You the Man
If you were coaching in a superbowl tomorrow and could choose any rb in history to play for you...U... That's right, no doubt, barry!
Definitely tied as best ever with good old jim brown.... Thing is it only gonna last a good 3-5 years longer than LT is going to take that title away from both of them at the same time... By the way Reggie Bush better than any of the top ten guys listed,HAHAHA quit kiddin yourself. hes descent not great
Gimme a break with the "touchdown" statistics. Some backs play for good teams, so do not. Another thing, don't say "best back ever" if the guy didn't break 2000 yards. Barry Sanders and Walter Payton should be #1 and #2. Both played behind terrible offensive lines. - XO
Because who else can make moves like Barry. Walter and Smith played many more seasons than Barry. Barry Sanders had one of the worst offensive lines in history and still got over 15, 000 yards in 9 seasons. He is also the greatest elusive player in history.
First off, Im a huge Jim Brown fan, but my number 1 vote goes to Barry Sanders. With some of the worst offense the NFL has ever seen. Barry Sanders looked like a gazelle in a heard of elephants. Barry is and amazing player to watch. Thank you for the memories Barry. - buckeye720
Jim Brown is a legend. Emmitt is the record holder. Walter can never be overlooked. But Barry Sanders always made your jaw drop with what he could do. Every time he got the ball he amazed every person watching. Whether you were a lions fan or not, you loved to see him run.
Could've easily won the all-time rushing record. 1,457 yards is a season's worth. Emmitt Smith would hang up the cleats trying to beat this guy. If he played the amount of seasons Payton played, he has 20,000 yards rushing EASILY. It's good to see him number 1 like he should be.
if he would have had the supporting cast that emmit, walter, thurman, oj and many of the other running bcks have had throughout history he would have finish with at least 20,000 yards. explosive, untouchable, and a hurricane on the field. loved him.
During the time of the great runners, Barry Sanders showed the skill set that could not be matched.When you look at how he gained the yards and the skill to make defenders miss it was truly my honor to watch. I herd someone saw god didn't know what he made when he made him. I will say god allowed us the pleasure to amaze at such a running back that was truly a humbled person. He was the graetest of all time.
He's the best... Only guy towards the top who NEVER had a good team!

Detroit was horrible for him, imagine switching him and Emmitt Smith, his numbers would be ridiculous (and I Emmitt would not have top 5 yardage maybe not even top 10).